While the works of European and American mystery writers from the 19th and 20th centuries are most commonly celebrated, Japan had its own golden age of mystery fiction. Japanese detective fiction from the 1920s established a subgenre known as honkaku, or "orthodox" detective fiction. In the late 1950s, there was a rise of shakai, which were novels that adhered to a more social-minded narrative. Following after in the 80s, shin honkaku bent the rules of classic detective fiction and called for more self-reflective tales.
We've collected some of the very best translated works for you to revitalize your TBR. Whether you like dangerous tales of erotic danger or baffling locked room mysteries, there's a book below that's just to your taste. Here are eight Japanese mystery and thriller novels!
Out
There are terrible things going on behind closed doors in this Tokyo suburb. A young mother is being abused by her husband—until she finds a way out by strangling him to death. Now she turns to the other women she works with in the night shift, asking for their help to dispose of the body and cover up the crime. The cunning Masako takes the lead, but this murder may be the tip of the iceberg as they step into the terrifying underworld of Japanese society.
The Tokyo Zodiac Murders
Kiyoshi Mitarai is an astrologer, fortune teller, and amateur detective. Now the brilliant mind has just one week to solve a case that has stumped the entirety of Japan for the past 40 years. It was a gruesome three-part crime: the murder of the artist Umezawa, the rape and murder of his daughter, and the dismemberment of six others to create the "perfect woman." This puzzle is one of the bloodiest yet.
The Black Lizard and Beast in the Shadows
This book contains two tales of classic Japanese detective fiction, published in the early 20th century. In The Black Lizard, detective Akechi Kogorō has a charged relationship with the criminal mastermind and femme fatale, The Black Lizard. In Beast in the Shadows, a mystery writer must play detective to protect the woman he secretly loves.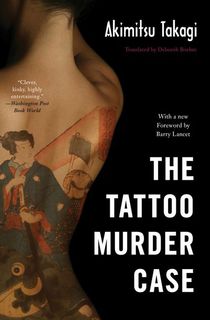 The Tattoo Murder Case
After surviving the horrors of World War II, Kinue Nomura is murdered in Tokyo. Her severed limbs are found inside a locked room, but her breathtaking full-body tattoo is missing. A young doctor, Kenzo Matsushita, jumps onto the case to help his detective brother. There's just one, vital secret he's keeping: he was Kinue's lover.
Masks
When Mieko Toganō's son dies, she becomes overly invested in the personal life of her newly widowed daughter-in-law, Yasuko. Wracked with grief, she manipulates the relationships Yasuko has with two men in love with her, pushing instead a relationship that could end only in devastation. But Mieko's mentally disabled daughter has a part to play in this charade as well.
The Village of Eight Graves
A classic tale featuring investigator Kosuke Kindaichi. In the 16th century, a bloody legend unfolds: eight samurais take refuge deep in the mountains, tucking away with a secret treasure. When the inhabitants murder them, a dark curse befalls the village. Centuries later, a man named Tatsuya arrives in the Village of Eight Graves. Unfortunately, a series of poisonings follow in his path.
Malice
Bestselling author Kunihiko Hidaka has plans to leave Japan and settle down in Vancouver. Unfortunately, the night before his trip, he's brutally murdered inside his home. When his wife and his best friend find his body in his locked office, their alibis seem to be airtight.
Police Detective Kyochiro Kaga recognizes Hidaka's friend as one of his own former colleagues, Osamu Nonoguchi. Years ago, they'd both been teachers at a public school. While Kaga left to join to force, Nonoguchi left to pursue writing...albeit not as successfully as Hidaka.
The Lady Killer
By day, The Lady Killer leads the life of a devoted husband and honorable worker. By night, he slips into a double life in Tokyo's underworld, stalking clubs for lonely women to seduce. But now the predator has become the prey. A trail of gruesome murders seems to follow him wherever he goes and to figure out the culprit, he must untangle a complicated web of clues.