Most mystery books have a grain of humor (even Sherlock Homes makes the occasional joke) and many feature offbeat characters (is there a private detective who isn't just a little bit odd?) but some authors push things further.
Madcap mysteries offer a delightful blend of slapstick humor and clever sleuthing, where improbable plots, quirky detectives, and a dash of absurdity combine to create a uniquely entertaining reading experience.
Here are a few of the best eccentric and funny examples you'll find.
The Moving Toyshop
Crispin wrote some of the more oddball crime novels to spring from the Golden Age of Detective fiction. His series featuring amateur sleuth and Oxford professor of English, Gervase Fen has the feel of the popular 1920s musical The Boyfriend—an arch air of English upper-crust foppishness.
In this 1946 novel, a poet visiting Oxford enters a mysterious toy shop and discovers the body of a murdered man. Before he can raise the alarm, he's knocked unconscious. When he wakes up the toyshop has vanished and been replaced with a grocery store. He calls in his friend Fen and the pair are soon on the trail of the disappearing emporium. Fast-paced, weird, and waspishly witty, The Moving Toyshop is regarded as one of the best British mystery books of all time.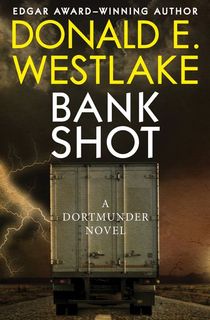 Bank Shot
A master of sharply crafted comic crime capers, Westlake is at his terrific best in this tale of career criminal John Dortmunder and his attempt to steal a bank. Not rob a bank, you understand, but actually make off with the whole thing. Luckily for Dortmunder and his hapless associates, the bank has been temporarily relocated to a mobile home. All they have to do is get past the security guards, turn the ignition, and drive the bank away. Piece of cake, right? Unfortunately for them, but luckily for the reader, everything that can go wrong does. Genuinely laugh-out-loud funny.
The Fairy Gunmother
Pennac has written a long series of comedy crime mysteries set in the Belleville district of Paris, an area settled by immigrants from the former French colonies of Africa and Indochina. The Fairy Gunmother (1987) is the one that catapulted him to fame in his native country and gained him appreciative nods from crime fans across the planet.
As the title suggests the book features a little old lady with a large revolver and a habit of rubbing out anyone who gets in her way. However, the investigations of dogged Inspector Van Thian also uncover whole networks of silver-haired criminals running everything from drug smuggling operations to protection rackets. The result is eccentric, amusing, uplifting, and very, very French.
Double Whammy
Any mystery novel that is set in the outlandish world of competitive large-mouth bass fishing is bound to be a little unusual. In the hands of Florida's master of zany noir Carl Hiaasen, the setting is just part of a savagely satirical romp through a world of trailer parks, TV evangelism, pit bulls and live bait. Hiaasen's book fizzes with great one-liners and he populates the sweaty landscape of his home state with characters who are so much larger than life they could stamp on Miami like Godzilla.
Seventy-Seven Clocks
The third in Fowler's fabulous series featuring detectives Bryant and May of London's controversial Peculiar Crimes Unit, sees the bad-tempered English coppers investigating an apparent attempt to wipe out an aristocratic family using the oddest weapons available (a snake, a bomb, a haircut…). To complicate matters further it is 1973 and Britain is in the grip of an economic and social crisis. There are power cuts, strikes, and shortages of everything from sugar to toilet paper.
And then there are the 77 ticking clocks of the title—what have they got to do with the murders, if anything? Thought-provoking fun from the author who—as a film copywriter—came up with The Alien poster tagline "In Space No One Can Hear You Scream."
The Appeal
A twee English town, a murder at an amateur dramatic society. Fifteen suspects all with chintz curtains and comfy lives. So far, so Agatha Christie, but in her debut, Hallett gives these conventional cozy staples a host of fresh and unexpected twists. Her witty, sharp, and downright fiendish mystery is told entirely through the emails and letters of the potential murderers. Detectives and readers must sift through them to identify the criminal. The Appeal is a singular, funny, and brilliantly constructed puzzle. There's little wonder it won the 2022 Crime Writers Association prize for best first novel.
The Golden Spoon
Like Double Whammy, The Golden Spoon is set against the backdrop of competition—in this case the finale of a TV baking show. With the six finalists gathered at the Vermont home of top TV baker Betsy Martin, tension is in the air. Things are made worse by sabotage and a lecherous co-host who seems to have an interest in more than just the contestants' cupcakes. Soon tempers are flaring and muffins exploding (well, if you put gasoline in your mixture...) Inevitably the febrile atmosphere leads to murder. Terrific fun for anyone who loves crime writing and sugar frosting. Which is everyone, surely?
Featured photo: Alexandra Fuller / Unsplash