With Valentine's Day right around the corner, there's no time like the present to delve into a romantic mystery novel. In some of these books, the romance takes a playful backseat, but in others, jealousy and affairs gone wrong turn downright deadly. Either way, you can spice up your standard suspenseful read with some flirtatious banter, undeniable attraction, and a love triangle or two. Check out these seven romantic mysteries to get into the spirit for Valentine's Day.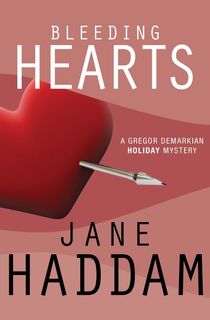 Bleeding Hearts
In this murder-mystery featuring retired FBI agent Gregor Demarkian, Valentine's Day is right around the corner. Gregor lives in a close-knit Armenian-American community in Philadelphia, and is both surprised and pleased when his neighbor Hannah Kerkorian gets together with a charming mystery man. Hannah's been widowed for years, and everybody's overjoyed about her good luck—until they realize her new beau is Paul Hazzard, a man who went to trial four years ago for the murder of his wife. Though he was never convicted, his ex-lover is rumored to be writing a tell-all to spill her side of the story. Things heat up when this ex-lover shows up uninvited at a dinner party Hannah planned...a dinner party that ends with Hannah standing over Paul's bloody body—holding the same weapon that was used to kill his wife. Though she was literally caught red-handed, Gregor Demarkian is convinced of his neighbor's innocence and is on the case to clear her name. The more he uncovers about this baffling string of crimes, the more he becomes entangled in a web of juicy scandals, lies, and love affairs.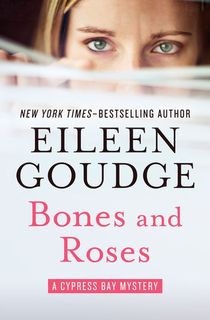 Bones and Roses
Tish is finally in a good place in her life. She's four years sober, in a content relationship with her boyfriend, and has (mostly) kicked the trust issues she's had ever since her mother abandoned her as a child. But then she gets a strange anonymous gift: a trunk filled with bones and roses. Suddenly, Tish's world is turned upside down as she comes to believe her mother didn't choose to leave, but was murdered. The police don't seem to have any sense of urgency about the case, so Tish takes matters into her own hands. Her plan to intervene doesn't go as smoothly as she'd hoped when she becomes pitted against her high school crush, a devastatingly handsome police detective who doesn't want her meddling. The first novel in the Cypress Bay mystery series, Bones and Roses has well developed and likeable characters that will leave you wanting more.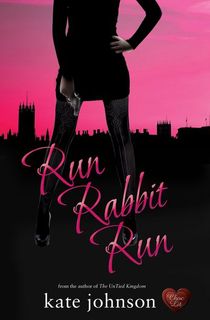 Run Rabbit Run
The fifth novel starring ex-spy Sophie Green, this book stands on its own just fine. You'll be on the edge of your seat reading about the daring protagonist, who's on the run after being falsely accused of murder. The dead man was shot with her gun and her fingerprints are all over his office, so things aren't looking too good. While on the lam, Sophie meets a bounty hunter named Jack who teams up with her to find the real killer. As if being framed for murder wasn't bad enough, Sophie finds herself internally conflicted. She is irresistibly attracted to Jack, even though she has a loving boyfriend back at home. Come for the badass protagonist and thrilling mystery, and stay for the sizzling love triangle.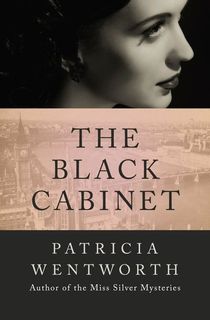 The Black Cabinet
While Patricia Wentworth is best known for creating the beloved amateur sleuth Miss Silver, her novels outside the series are just as captivating and well worth a read. The Black Cabinet is about a poor young woman, Chloe Dane. Chloe remembers playing as a child at Danesborough, her family's crumbling estate, but she hasn't been there in years. She's shocked when her cousin names her as the sole heir to the estate shortly before his death. However, Chloe soon realizes that he re-built the family fortune by blackmailing people, and she's now in danger of a revenge plot. Meanwhile, she has two suitors promising to protect her—but who can she trust when someone near her is plotting her death?
Rebecca
This classic Gothic novel by Daphne du Maurier was a bestseller of its time and today—published in 1938, the book has never been out of print. It is narrated by an unnamed woman in her twenties who finds herself in a whirlwind romance with a handsome older widow, Mr. de Winter. They fall madly in love and get married, but the new Mrs. de Winter finds that all is not as it seems when she is whisked back to her husband's residence in Cornwall. There, the presence of Rebecca, Mr. de Winter's first wife, seems to hang over the mansion. The servants have a creepy obsession with the dead woman, and don't take kindly to the new lady of the house—believing she will never live up to their beloved Rebecca. Though the second Mrs. de Winter truly loves her husband, she begins to fear for her safety in the strange mansion and wonders whether there was foul play surrounding Rebecca's death…
Mr. Perfect
It started off as a joke, but ended in murder. Four friends started a list of all the qualities the perfect man would have, and it circulated among their workplace. Some found it hilarious, others offensive, but the seemingly innocuous list led to one of the women being murdered. Demanding justice for her friend, Jaine turns to her neighbor Sam, a police detective. Before she knows it, she's fallen for him—he may not be perfect, but he's perfect for her. But Jaine can't afford to get distracted. Her friend's killer is still out there, and he may be coming for her next. Veteran of romantic suspense Linda Howard will keep you on your toes with this enjoyable read that has hilariously raunchy moments to balance out the sinister mystery.
Sex, Murder and a Double Latte
Murder mystery writer Sophie Katz would be flattered by the attention of her fans—that is, if she wasn't being stalked by one of them. She believes that someone is sneaking into her apartment to recreate distinctive scenes from her books, but no one believes her. And when a filmmaker friend is found murdered in the style of one of his movies, Sophie has a sinking feeling that she's next. With the police scoffing at her fears, Sophie is forced to do some amateur sleuthing of her own. Luckily, she has help in the form of a handsome new love interest, Anatoly Darinsky. But with a target on her back, it would be dangerous to trust anyone...right? This romantic mystery book truly has the best of both genres. Anatoly is definitely swoon-worthy, and you can't help but be drawn into the fast-paced plot.
This post is sponsored by Open Road Media. Thank you for supporting our partners, who make it possible for Murder & Mayhem to continue publishing the mystery stories you love.