Netflix's new gritty mystery series,The Irregulars, peels back what we've come to know of the world of Sherlock Holmes, and exposes an excitingly dangerous underbelly. Centering on a rough and tumble group of friends who go by the moniker Baker Street Irregulars, a name familiar to fans of Arthur Conan Doyle's Sherlock stories, the show stars Henry Lloyd-Hughes, Royce Pierreson, Clarke Peters, Olivia Grant, Aidan McArdle, and Sheila Atim.
Related: 12 Books for Sherlock Holmes Fans
Piggybacking off of the success of the 2020 mystery film, Enola Holmes, which starred Millie Bobby Brown (Stranger Things) as the titular character, Sherlock Holmes' little sister, Netflix is targeting a younger generation of mystery fans once again.
Related: The Best Enola Holmes Mysteries for Clever Sleuths of All Ages
The Irregulars introduces an element that's entirely new to what we've seen from the Holmes franchise in that it revolves around the Baker Street Irregulars working with Dr. Watson (Royce Pierreson) to protect London from dark supernatural forces that mean to do harm in the cobblestoned streets of foggy London.
Watch the official trailer below, and click over to Netflix on Friday, March 26, 2021 for the debut episode.
Looking for even more Irregulars fun? Check out the following books!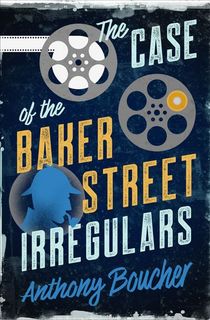 The Case of the Baker Street Irregulars
A Sherlock Holmes script sparks controversy and murder in Hollywood in a "most engrossing mystery" from the author of Nine Times Nine (The New Yorker).
Anthony Boucher was a literary renaissance man: an Edgar Award–winning mystery reviewer, an esteemed editor of the Hugo Award–winning Magazine of Fantasy and Science Fiction, a prolific scriptwriter of radio mystery programs, and an accomplished writer of mystery, science fiction, fantasy, and horror. With a particular fondness for the locked room mystery, Boucher created such iconic sleuths as Los Angeles PI Fergus O'Breen, amateur sleuth Sister Ursula, and alcoholic ex-cop Nick Noble.
When Metropolis Pictures announces plans to make a movie out of an Arthur Conan Doyle classic, it triggers outrage from a group of Sherlock Holmes fans called the Baker Street Irregulars. In hopes of calming their protest, the studio invites the five members to advise on the film, and even throws them a celebration in a house numbered 221B.
Also on the guest list is Los Angeles police detective A. Jackson. He was hoping to spend his night off hanging out at a Hollywood party with his brother, Paul, the famous actor. Instead he finds himself in one of the most bizarre murder cases he's ever encountered, complete with cryptograms and a disappearing corpse, all of which results in a "delightfully farcical narrative, which offers a surprise on nearly every page" (The New York Times Book Review).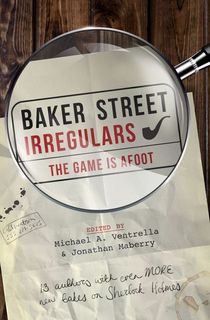 Baker Street Irregulars: The Game is Afoot
Thirteen contemporary authors—including Narrelle M. Harris and Jody Lynn Nye—riff on the iconic detective Sherlock Holmes in this imaginative anthology.
In the first Baker Street Irregulars anthology, Sir Arthur Conan Doyle's brilliant and beloved character appeared as a hologram, a parrot with great deductive skill, and on a reality show. Now in this second edition, thirteen more authors offer their own highly original takes on the mystery genre's greatest crime solver.
In Keith DeCandido's "Six Red Dragons," Sherlock is a young girl in modern New York City. In Sarah Stegall's "Papyrus," Sherlock is a female librarian in ancient Egypt. In Daniel M. Kimmel's "A Scandal in Chelm," Sherlock is a rabbi. Derek Beebe sends Sherlock to the moon, while Mike Strauss casts him as a comic book character.
The settings of these stories range from a grade school classroom to an alien spaceship. While preserving the timeless charm and intrigue of Sherlock Holmes, these authors pen stories of the world's greatest detective as you've never seen him before.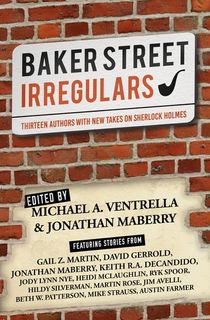 Baker Street Irregulars
Sherlock Holmes is reimagined in this anthology of 13 new stories by contemporary authors including Gail Z. Martin and Jonathan Maberry.
Sir Arthur Conan Doyle's immortal character Sherlock Holmes has been captivating mystery lovers since his first appearance on Baker Street in 1887. Now contemporary authors take the brilliant detective far beyond his usual stomping grounds in thirteen wildly imaginative stories.
In Ryk Spoor's thrilling "The Adventures of a Reluctant Detective," Sherlock is a re-creation in a holodeck. In Hildy Silverman's mesmerizing "A Scandal in the Bloodline," Sherlock is a vampire. Heidi McLaughlin sends Sherlock back to college, while Beth Patterson, in the charming "Code Cracker," turns him into a parrot.
The settings range from near-future Russia to a reality show, a dystopian world, and an orchestra. Without losing the very qualities that make Sherlock so beloved, these authors spin their own singular riff on one of fiction's truly singular characters.