A whole new year means a whole new selection of mystery and thriller books to rip into, and believe us when we say that there's a lot to look forward to in 2020. Whether you're in the mood for the latest releases from tried and true favorites like J.D. Robb and Michael Connelly, or looking to discover something new from first-time genre authors like Romy Hausmann, whose debut Dear Child has been described as "Gone Girl meets Room," there's something on this list for every kind of mystery lover. Keep reading to discover new additions for your ever-growing "to read" pile.
House on Fire
In this new thriller from New York Times bestselling author Joseph Finder, we follow the exploits of private spy Nick Heller. Finding himself in the middle of a messy web of secrets and lies spun by a powerful family that made their fortune in the opiates industry, Heller works to expose their sins and avenge an army buddy who lost his life by abusing the very drugs this wealthy family creates.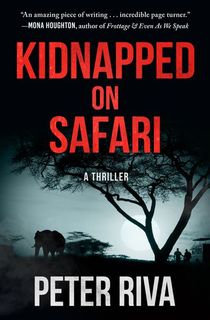 Kidnapped on Safari
The third Mbuno & Pero thriller sees the duo back in action—and plunging headfirst into a terrifying plot with the highest of stakes. Expert safari guide Mbuno and wildlife television producer Pero Baltazar are filming in northern Kenya when they're informed that Mbuno's son has been kidnapped in Tanzania. Their frantic search to locate him leads them to Boko Haram, a Nigerian terrorist organization that doesn't take kindly to meddling.
Related: Dead Before Dying: 12 Pulse-Pounding Deon Meyer Books
Black 13
The first novel in Adam Hamdy's Scott Pearce series, Black 13 is a nail-biting thriller filled with espionage and intrigue. A rule-breaking loner fighting on the side of justice, ex-MI6 officer Pearce proves he's not afraid to make enemies as he slyly one-ups a vast array of twisted radical extremists.
The Other People
C.J. Tudor, celebrated author of The Chalk Man and The Hiding Place, returns with The Other People, a thriller about a man who refuses to give up the search for his missing daughter, even though public opinion has long since concluded that she's never going to be found...because she's dead.
When You See Me
In her latest thriller, Lisa Gardner groups together three of her most beloved characters: Flora Dane, Detective D.D. Warren, and Kimberly Quincy. The three work together to investigate an old homicide case that has come full circle, and they find themselves in the midst of a whole new heap of trouble.
Golden in Death
The 50th novel in the In Death series by J.D. Robb—one of Nora Roberts' many pseudonyms—sees homicide detective Eve Dallas through yet another harrowing investigation. This time around, Dallas seeks to crack the case of the death of pediatrician Kent Abner, who received a strange package that has set off a series of deadly twists and turns.
A Cold Trail
This follow-up to New York Times bestselling author Robert Dugoni's near-perfect book, The Eighth Sister, is shaping up to be his biggest hit yet. A fast-paced procedural thriller, A Cold Trail pairs readers with homicide detective Tracy Crosswhite as an attempt to get her life in order derails and sends her and her family straight into the path of danger.
Related: 9 Chilling Winter Thrillers That'll Get Your Blood Pumping
Release date: February 18
The Dark Corners of the Night
The Midnight Man, a legendary figure akin to Slender Man that torments parents, but leaves children safe, is the terrifying force at the heart of Meg Gardiner's latest. The Dark Corners of the Night, part of Gardiner's Unsub Series, sets FBI behavioral analyst Caitlin Hendrix out to investigate a serial killer who uses an adult's worst fears against them, rendering them weak, vulnerable, and easy targets. This intense read is scary enough to satisfy even Stephen King, who deemed Gardiner "as good as Michael Connelly and far better than Janet Evanovich."
Release date: February 25
Coconut Layer Cake Murder
For the 25th installment of her Hannah Swensen series, Joanne Fluke sends everyone's favorite bakery owner to Southern California to help a friend. As is often the case in this series, what begins with the best of intentions unravels into a complicated web of mysteries. Swensen's trip is cut short when her sister alerts her to trouble back in Minnesota, and she makes her way back home to untangle a murder mystery involving her sister's boyfriend.
The Herd
This timely new thriller from Andrea Bartz centers around an exclusive women-only workspace in New York called The Herd. Those who live in New York may be familiar with The Wing, a real-life workspace for women that has been the subject of numerous debates about gender discrimination since it opened its doors. The Herd takes that sort of buzzy controversy and turns it on its head in a chaotic and thrilling way. This is a must-read for that hip intersection of readers of thrillers and sites like The Cut and Jezebel.
Fair Warning
In the latest from #1 New York Times bestselling author Michael Connelly, he brings back reporter Jack McEvoy, who fans will remember from the bestsellers The Poet and The Scarecrow. King of churning out slam dunk page turners, Connelly puts his hero through the wringer as McEvoy investigates the murder of a woman he had a brief sexual encounter with, mainly to clear himself as the main suspect.
Our Dark Secret
Jenny Quintana follows up the success of her first novel, The Missing Girl, with Our Dark Secret, a terrifying look at the intensely twisted loyalty often found in toxic friendships. The story follows two such friends, Elizabeth and Rachel, and their fiery dynamic that circles deadly before diving into darkness headfirst. Our Dark Secret will be released in the UK on February 6, and is tentatively slated to hit the U.S. this summer.
Release date: September 3
The Thursday Murder Club
This debut crime thriller by Richard Osman is a nearly perfect mix of humor, mystery, and suspense. The story centers on a group of four friends in a retirement community who meet up once a week to obsess over, and work to solve, a wide variety of murderous cold cases. It's all fun and games at the old folk's home—until an unexpected twist in their lives sets them off on their first actual investigation.
Dear Child
Described as a mix between Gone Girl and Room, this debut novel by German writer Romy Hausmann is chilling. The plot centers on a woman who finally manages to escape her kidnapper after being held captive for 14 years, but she doesn't find the relief or peace that she thought she would once she's free.