On a pleasant day, the sea can put you at ease. After all, what's better than a stroll along a sandy beach listening to the lapping of the waves? But just like that, the sky grows dark, the fog rolls in, and the mood shifts from relaxing to downright ominous.
Perhaps that's why the sea makes for a perfect backdrop to a thrilling mystery—as evidenced by the must-read seaside mystery books below. The following seaside mysteries written by bestselling and award-winning authors will transport you from the windswept cliffs of the Emerald Isle to the crashing coastline of Northern California. Whether you're in search of a suspenseful oceanside thriller or a coastal cozy swimming with suspects, you're sure to find a gripping beach read on our list. Grab your swimsuit and dive in!
Murder in Galway
USA Today-bestselling author Carlene O'Connor whisks you away to the medieval harbor city of Galway in this seaside cozy mystery set on the Emerald Isle—the first in O'Connor's new Galway Ireland Mysteries series. New Yorker Tara Meehan is on her way to Ireland for the first time, albeit for solemn reasons: she's transporting her mother's ashes. It was her mam's dying wish to return to Galway and tell her estranged brother Johnny Meehan she was sorry. So Tara sets out to fulfill her mam's last request. Upon arrival, Tara's charmed by Galway's magic harbor setting, though something sinister hangs in the seaside air. And when she visits her uncle's stone cottage, the bad feelings turn all-too-real. A dead man lies in a pool of blood upon the threshold, while Johnny is nowhere to be found. As Tara searches for her uncle and the truth behind the crime, she uncovers her family's troubled past and gets dangerously close to the killer.
Related: 7 Mysteries Set in Ireland
Murder on Cape Cod
You may know Maddie Day as the Agatha Award-nominated author of the delectable Country Store Mysteries. In Murder on Cape Cod, she kicks off a new series perfect for cozy fans: the Cozy Capers Book Group Mysteries. It's summertime in the Cape Cod hamlet of Westham, Massachusetts. Mackenzie "Mac" Almeida is gearing up for a busy tourist season at her bike shop—when she stumbles upon the body of handyman Jake Lacey. Mac's shocked by the discovery and even more surprised to recognize that the murder weapon belongs to her brother Derrick. To make matters worse, police are increasingly suspicious of Mac after she admits to arguing with Jake mere hours before his death. Of course, Mac knows she's no killer, and in her heart she believes Derrick is innocent as well. So who did the deed? To clear her family's name and stop the killer, Mac turns to her fellow armchair detectives in her mystery book group, the Cozy Capers. Together, these bookish sleuths must apply the tips and tricks learned from their favorite fictional mysteries to crack a real murder case.
Murder by the Sea
Mark your calendars, mystery fans! Bestselling author Kathleen Bridge will release a new book in her A By the Sea Mystery series next month—and she's doing so in style. Novelist Liz Holt is finally settling in to her new life at her family's island paradise hotel in Melbourne Beach, Florida. And with New Year's Eve fast approaching, she's ready to put the past behind her and start anew. The party is in full swing at the Florida Writes Literary Masquerade Ball. Liz is dressed to kill and set to ring in the New Year when her ex-boyfriend makes a surprise appearance at the masked soiree. It's hard to ignore the argument that ensues. And when her former beau's body is found shot through the heart on the hotel grounds, Liz finds herself at the top of the suspect list. Now it's up to Liz to unmask the killer before he sails off into the night. Murder by the Sea hits shelves on May 21. Click below to pre-order.
Murder at the Marina
Prefer a sweeping Pacific backdrop to your seaside mystery? Check out USA Today-bestselling author Janet Finsilver's Kelly Jackson cozy mystery series, set at the Redwood Cove Bed and Breakfast in Northern California. Murder at the Marina, which was published this April, is the latest entry in Finsilver's popular cozy series. It's hard to miss a jewel-encrusted dagger glinting in the sun—especially when its blade is covered in what appears to be dried blood. Such a knife is precisely what Kelly Jackson, owner of the Redwood Cove B&B, spots on a boat owned by Rudy and Ivan Doblinsky, two Russian brothers who double as members of a local senior citizen crime-solving group called the Silver Sentinels. The dagger startles Rudy and Ivan as well; it appears to be a relic from their childhoods in Russia. The eerie episode takes a lethal twist when a body turns up, with the victim connected to the local Russian Heritage Festival. Clearly, mystery is afoot. The bold B&B owner must use her wits to crack the case before her friends are sunk.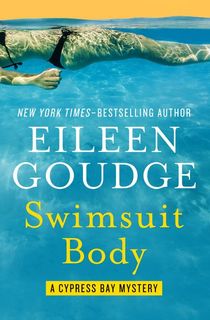 Swimsuit Body
New York Times-bestselling author Eileen Goudge crafts a suspenseful cozy suffused with romance in this mystery set on the California coast, the second in the author's Cypress Bay Mystery series. Hollywood has come to the seaside town of Cypress Bay. A major motion picture is set to film there, and Tish Ballard, owner of Rest Easy Property Management, is more than happy to help the film's charming star Delilah Ward settle in to a new home. But the dazzling lights go dark when Delilah is murdered. Investigators hone in on one of Tish's closest friends. In response, Tish launches her own investigation—much to the frustrations of her one-time crush, detective Spence Breedlove. Soon, Tish is neck deep in the treacherous waters of Cypress Bay's new celebrity scene in search of the killer. Packed with twists and turns, and featuring a strong female lead, Swimsuit Body delivers a gripping read that's "sure to make fans of darker cozies feel right at home" (Publisher's Weekly).
Related: Classic Mystery Authors to Read Based on Your Favorite Contemporaries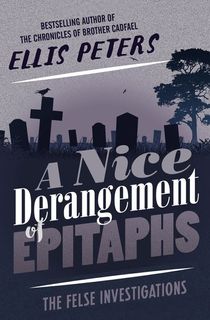 A Nice Derangement of Epitaphs
Cartier Diamond Dagger Award-winning author Ellis Peters published a wide range of beloved mysteries throughout her career, from her influential Cadfael Chronicles set in medieval England to the Felse Investigations set in post-WWII London. A Nice Derangement of Epitaphs is the fourth in the Felse series. It follows Inspector George Felse, who sets out on a vacation to Cornwall with his teenage son, Dominic. The good detective is in desperate need of a little peace and quiet by the sea. Instead, he unearths a centuries-old mystery in a rundown seashore cemetery. Two bodies are discovered in the tomb of a renowned Cornish poet, and neither one matches the name on the headstone.
Related: 12 Enchanting Ellis Peters Books for Every Kind of Mystery Fan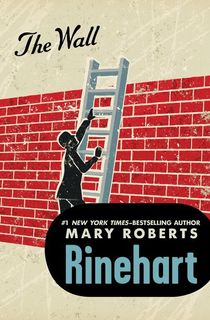 The Wall
Golden Age mystery author Mary Roberts Rinehart was wildly successful in her day and is often called America's Agatha Christie—this despite the fact that Rinehart published her first mystery novel, 1908's The Circular Staircase, years before Christie's 1920 debut, The Mysterious Affair at Styles. In The Wall, published in 1936, protagonist Marcia Lloyd returns to the crumbling summer home of her childhood, where a deadly mystery threatens the tranquility of the seaside estate. Marcia and her brother Arthur have fond memories of their family island manor known as Sunset. They spent their youth exploring the old beach house and its coastal grounds. Juliette Ransom, Arthur's wife, never liked the place; she abhors the ocean and is increasingly dissatisfied with her marriage to Arthur. The not-so-loving couple divorce, and Juliette makes one final visit to Sunset, demanding alimony from Arthur. But after a few stressful days, Juliette vanishes, then turns up dead and buried in a shallow grave. It's not the only body that surfaces this summer season. Can Marcia unmask the killer before she becomes the next victim?
Murder Wears Mittens
USA Today-bestselling author Sally Goldenbaum crafts "a brilliantly written crime mystery, full of suspense and human warmth" (The Washington Book Review) in the first book in her beloved Seaside Knitters Society series. Autumn has arrived in the tight-knight community of Sea Harbor, Massachusetts. Cass Halloran and her knitting circle friends in the Seaside Knitters are settling in for a sleepy off-season along the coast. Instead, they unravel a knotty murder mystery that involves the death of an elderly recluse, her hidden fortune, a missing mother, and two seemingly abandoned children. Rich with local color and caring characters, Goldenbaum's charming New England cozy series is sure to delight—and the author even weaves recipes and knitting patterns into her books.
I Found You
Fans of the suspenseful narratives of Ruth Ware and Paula Hawkins will find much to love in this "dark and moody" (Kirkus) mystery by internationally bestselling author Lisa Jewell. On the windswept beach of the British seaside town Ridinghouse Bay, single mom Alice Lake makes a startling discovery: a man sits on the sand in the cold, with no jacket, no identification, and no idea how he ended up by the sea. Warily, Alice invites the man inside. In so doing, she uncovers a multi-layered mystery that stretches back decades and across England. Expertly crafted, Jewell's intricate thriller of identity and loss will keep you guessing until the very end.
This post is sponsored by Kensington Books. Thank you for supporting our partners, who make it possible for Murder & Mayhem to continue publishing the mystery stories you love.