The downside to reading all thrillers—all the time—is that getting to the end can be a letdown. The mark of a good thriller is when the ending is truly a surprise. We love a twisted ending, and if you do too, check out these books below with twisted endings you won't see coming!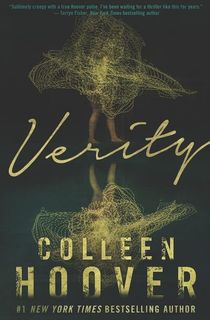 Verity
Author Verity Crawford is involved in an accident. Her husband Jeremy is looking for someone to continue and finish her book series, and decides on Lowen Ashleigh. Lowen hates publicity and hasn't worked in a while, but decides to take on the task. To help her with her writing process, Jeremy invites Lowen to come stay at his house with him, his son Crew, and Verity. Verity is confined to her bed and considered permanently disabled.
Originally Lowen only wants to stay for a few nights, but she ends up finding an autobiography written by Verity that contains terrible things. Endless pages of frightening confessions, including Verity's recollection of what really happened the day her daughter died. Lowen doesn't reveal the manuscript to Jeremy, knowing the contents could further intensify his grief.
But as Lowen starts to care for Jeremy more deeply, she becomes tempted with how Verity's chilling admissions might bend the situation in Lowen's favor. Jeremy is commited to his wife, but a truth this frightening might make it impossible for him to stay with her. Then, strange things start happening…
Behind Her Eyes
Louise is a single mom working as a secretary, caught in the monotonous cycle of her domestic responsibilities. When she meets an attractive stranger during a rare night out, she's caught off guard by the sparks between them. It feels wonderful to have finally found someone she might connect with.
But Louise is in for a surprise Monday morning. Her new boss David arrives...and it's the stranger from the bar. And he is married. He apologizes for the kiss but that doesn't stop him looking at her with longing.
When Louise runs into David's wife Adele in town, she has a moral dilemma. It wouldn't be right to befriend the wife of the man she kissed, yet Adele is sweet and lonely and Louise likes her. The more she gets to know Adele, the more confused she becomes. Why does Adele seem so afraid? And why is David so controlling of her?
Now, I know what you're thinking. This premise is as old as time and it's a "what will she do, choose female friendship or good sex" kind of story….but buckle up friends, that is not this story.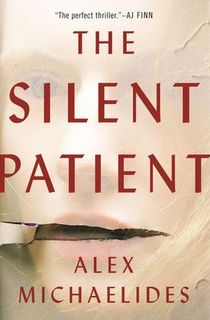 The Silent Patient
Theo is a psychotherapist who takes on the case of Alicia Berenson. Alicia was a famous painter when one day she is found standing over her husband who has been murdered. Ever since that day, Alicia refuses to speak. She is tried in court, sentenced to an in-patient therapy program, and still doesn't utter a word.
Theo thinks he can help Alicia and works with her to figure out what happened. Simultaneously, a story about Theo's past and present with his wife Kathy emerges. Theo is determined to get Alicia to talk and unravel the mystery of why she shot her husband. This requires him to confront his own secret motivations as he becomes consumed with a desperate need to know the truth...
twisting path into his own motivations and
His & Hers
When a woman is murdered in Blackdown, a quintessentially British village, newsreader Anna Andrews is reluctant to cover the case. Detective Jack Harper is suspicious of her involvement until he becomes a suspect in his own murder investigation. They were both involved with the first murder victim, and things only get more twisted from there.
Some people will kill to keep a secret safe. This is the ultimate unreliable narrator story and I had no idea who to trust. Every. Single. Person. is suspicious and your mind will be going crazy until the very last page.
I Know Everything
In this book, a psychiatrist grapples with his own sanity as murder evidence mounts against him. Police investigator Susan Adler is ready to close the case on a deadly car accident, but after the medical examiner discovers some evidence, she realizes that she has a murder on her hands. The victim was the wife of Randall Brock, a popular psychiatrist who treats patients with disturbing, brutal fantasies. Randall has a violent past but despite this, he knows he didn't kill his wife.
Soon after, Randall receives a visit from a stranger that says they have information to share about his wife's death. But there's a catch: in exchange for the stranger's information, Randall must reveal some dark secrets he's kept hidden for years. As this mystery person applies more pressure, Randall begins to doubt himself and what he believes is true.
Lock Every Door
Jules Larsen has a new job: apartment sitter at the Bartholomew, a mysterious luxury apartment building for high-profile people. The only rules are: she can't have any visitors, can't spend any nights away from the apartment, and she can't bother the other (rich and famous) residents. Jules accepts these rules without question—she is heartbroken and broke and seduced by the glamour of the apartments.
Jules befriends another apartment sitter named Ingrid, who strangely reminds her of the sister she lost eight years prior. Ingrid tells Jules that the Bartholomew has a haunted history—and while Jules is frightened, she brushes the story off as a rumor.
Jules finds herself investigating the Bartholomew's dark secret—and she learns that Ingrid is not the first sitter to disappear. Now Jules races the clock on her quest to unmask a killer, expose the building's hidden past, and escape the Bartholomew—before her temporary status becomes permanent.
Safe
Your child is missing. She was only six years old when she disappeared. Posters went up, the police investigated. But no one could find her. Now, twelve years later, she's home, and knocking at your door. You're so happy to see her. But soon you start to wonder why she can't answer your questions. Where has she been? How did she find her way home? And who is she really?
This story has a traditional thriller plot where a girl goes missing and shows up 12 years later. But that's about the only part of this book that was traditional. From there, the story evolves into a whirlwind of unique plot points, dynamic characters, and intriguing storylines.