Walter Mosley is the bestselling author of over 43 critically acclaimed books, in such diverse genres as science fiction, politics, and erotica. However, he is first and foremost known as a standout mystery novelist. Mosley's career first took off in 1990 with the publication of Devil in a Blue Dress. It was the start of a long-running series of hardboiled mysteries featuring Ezekiel "Easy" Rawlins, an African American private investigator and World War II veteran who solves crime in 1950s Los Angeles. By far Mosley's most popular character, Easy Rawlins cemented Mosley's place in crime fiction and even made it to the big screen, with Denzel Washington playing the part of the sleuth in the 1995 neo-noir film adaptation of Devil in a Blue Dress.
Mosley hasn't slowed down in the intervening years. Since then, he's added 13 books to the Easy Rawlins series, created two more mystery series, and released a wide range of standalone novels and nonfiction books. His latest release, Trouble is What I Do, is the sixth installment in the Leonid McGill mystery series. McGill is a private investigator and ex-boxer living in modern-day New York City. A troubled character whose moral compass occasionally leads him astray, McGill is nevertheless a voice for the downtrodden due to his own experiences of being treated as a second-class citizen.
Related: L.A. Noir: 11 Must-Read Mysteries Set in Los Angeles
It's no coincidence that many of Mosley's characters are black men working on the margins of a corrupt justice system. Mosley himself is from a mixed-race household, with a Jewish mother and an African American father. He grew up in Los Angeles at a time when his parents' interracial marriage was taboo, and racial tension had a firm grip on the city. That tension weaves its way into many of his novels, and makes his stories stand out: "Hardly anybody in America has written about black male heroes," he once said. "There are black male protagonists and black male supporting characters, but nobody else writes about black male heroes." Luckily, Walter Mosley is here to fill that gap with his gripping and thoughtful crime fiction. For your reading pleasure, we've rounded up the 11 best Walter Mosley books that are not to be missed.
The Long Fall
This is our first introduction to New York City-based private investigator Leonid McGill, who has a habit of burying himself in his work as a distraction from his rocky marriage. In this series debut, McGill has recently decided to turn a new leaf and stop accepting shady jobs. But his commendable choice is complicated by the realization that his latest client has murder on his mind—a discovery that warrants a visit from the hitman himself.
All I Did Was Shoot My Man
This is another thrilling installment starring Leonid McGill, who "doesn't so much walk the city as case it for danger" (The New York Times Book Review). Zella Grisham shot her boyfriend after finding him in bed with another woman. At least, that's what the courts determined; Zella doesn't remember a thing. After serving eight years in prison, Zella is finally free and itching to clear her name. Who better to call on than private investigator Leonid McGill?
Trouble is What I Do
The sixth and most recent entry in the Leonid McGill series sees the P.I. accepting a seemingly simple job from Phillip "Catfish" Worry, an elderly Mississippi bluesman. McGill is tasked with delivering a scandalous letter proving that a famous and wealthy heiress has been hiding her black lineage. But when the woman's corrupt father somehow catches wind of their plan, he hires a couple of crooks to whack Catfish.
Related: 11 Gripping Mysteries and Thrillers Set in New York City
Devil in a Blue Dress
The first and arguably most famous Walter Mosley book opens with a seemingly average day in 1950s Los Angeles. Easy Rawlins is shooting the breeze at a bar when he's suddenly pulled into a mystery involving a missing white woman. Though he doesn't consider himself a sleuth, Easy realizes he has a knack for discreet investigating, and considers making it his full-time gig. Devil in a Blue Dress was adapted into a 1995 film, with a "striking" performance from Denzel Washington as Easy (Los Angeles Times).
Bad Boy Brawly Brown
By 1964, Easy Rawlins has settled into life as a father and a high school custodian—who, of course, still does the occasional investigating on the side. This time around, he's been asked to keep tabs on a young man named Brawly Brown, whose parents fear that he's fallen in with a bad crowd. Easy confirms that Brawly is involved with an extremist group that has turned to violence to fight discrimination, and is headed straight for trouble unless Easy can intervene.
Little Scarlet
Just days after the racially-charged Watts riots of 1965, the city of Los Angeles is still smoldering. Easy Rawlins's latest job takes him to the morgue, where the body of a striking red-haired woman nicknamed "Little Scarlet" is being examined. Little Scarlet was murdered, but the search for a black woman's killer won't be easy when the police are more concerned with saving face than investigating her brutal demise. That's where Easy comes in.
Blonde Faith
This "searing and moving" novel nabbed Walter Mosley his first NAACP Image Award for Outstanding Literary Work (Publishers Weekly). Easy Rawlins may be middle-aged now, but he's not slowing down anytime soon. When he comes home one day to find his friend's adopted Vietnamese daughter alone on his stoop, Easy knows something terrible has happened. His friend would never willingly abandon the girl. Easy's fears only intensify when his investigation reveals links with a dangerous drug smuggling ring operating out of a military base.
Related: 12 Crime Noir Books That Will Have You Reaching for Your Trench Coat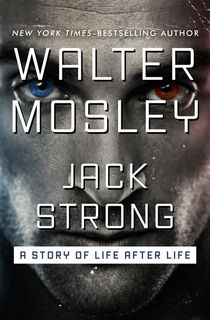 Jack Strong
In this standalone suspense novella with a sci-fi twist, "the only disappointment to be found...is that it ends too soon" (Library Journal). Jack awakens in a Las Vegas hotel room as a patchwork man: covered in scars and vying for control of his own mind, which contains a multitude of souls whose lives were tragically cut short. Seeking to right the wrongs committed against one of them, he strikes out against corrupt casino bosses and tries to figure out the identity of the mysterious figure who's been tailing him.
Down the River unto the Sea
This 2018 standalone novel earned Walter Mosley an Edgar Award for Best Novel. Joe King Oliver was once one of the NYPD's most brilliant investigators, but he was eventually put away for a crime he didn't commit. After spending a decade behind bars, he's now running a private detective agency alongside his daughter. But no matter how much he tries to distract himself with other cases, a haunting question lingers: Who framed him and why?
Related: 10 Hard-Boiled Crime Novels for George Pelecanos Fans
Fearless Jones
This noirish thriller takes place in 1950s Los Angeles, where Paris Minton owns and operates a used book store. One day, the lovely Elana Love enters, seeking refuge from her jealous boyfriend. Her presence is both intoxicating and dangerous; before he knows it, Paris has been shot at, robbed, and his store burned to the ground. To get him out of trouble, he turns to his notorious and aptly named friend Fearless Jones. The first order of business: spring Fearless out of jail.
Fear Itself
Fear Itself continues the entertaining dynamic between brainy Paris Minton and brawny Fearless Jones. The wealthiest woman in Los Angeles has hired the duo to track down her missing nephew. Their sleuthing will launch their first foray into the black bourgeoisie, a world of deceit and hidden dangers that neither is prepared to face.