Thriller master James Patterson has been a titan in the literary field for decades. He's known for his popular Alex Cross series—which follows the widower detective as he hunts down criminals while protecting his family—and his female-driven thriller series, Women's Murder Club. While Patterson's reads are certainly engrossing, he's made some social commentary recently that has kicked up quite a stir.
Patterson came under scrutiny for commenting that white male authors in the publishing industry face "another form of racism." Patterson's narrow-minded view on the state privilege within the publishing industry has turned a lot of people off from reading his sprawling bibliography. This might leave you in a conundrum—you love the intoxicating thrall of his style yet you are interested in broadening your own exposure to a diverse array of voices.
While Patterson did later apologize for his remarks, you may still be seeking to expand your horizons. If you're one of the masses looking for greener pastures, have no fear! Here are 11 books for fans of James Patterson that you can read instead!
For Texas Ranger Fans
Bluebird, Bluebird
East Texas has its own ideas about law and order—a fact that back Texas Ranger Darren Matthews knows all too well. Darren was the first of his family to run as fast as he could from the lone star state, but duty has called him home. With his hometown loyalty putting his job in jeopardy, he travels to the small town of Lark to the scene of a double homicide. The murders of a black Chicago lawyer and a local white woman have unearthed a well of resentment, and Darren must serve justice before racial tensions erupt.
For Lifeguard Fans
Blacktop Wasteland
Beauregard "Bug" Montage used to be one of the best getaway divers on the East Coast. Now, he's settled into life as an honest mechanic, attentive husband, and devoted father. He was sure he left the wild life behind—but his comfortable life starts to crumble as he's dragged back into a world of danger.
A slick former associate hits up Bug with an enticing jewelry store heist that he can't turn down. Now Bug must reconcile the man he used to be with the family man who knows all too well what happens when a father disappears on a child who needs him.
For Alex Cross Fans
Hard Target
The second book in the OPSIG Team Black series follows the team as they investigate an explosion that destroys the president-elect's helicopter on election night. They soon find that the people behind the attack are attempting to turn America's political system on its head. The fast-paced thriller is perfect for those looking for more of the action and suspense found in Alex Cross novels.
For Step on a Crack Fans
New York Dead
When Stone Barrington witnesses a horrific crime, his life is turned upside down. Now, he's entangled in the death of the country's most popular television anchorwoman, Sasha Nijinsky, and though he fights to say away from it…he can't help being thrown into a web of lies, crimes, and danger all revolving around Sasha. Fans of Patterson's Michael Bennett series, which begins with Step on a Crack, will enjoy Wood's plots that include famous victims and New York City detectives.
For Women's Murder Club Fans
The 7th Victim
The first book in the Karen Vail series introduces us to the titular FBI agent, currently heading up the task force to investigate a serial killer known as "Dead Eyes." But this killer knows more about the FBI's strategy than usual, and Vail will have to unlock secrets of her own in order to find the psychopath. Much like the crime-solving quartet in the Women's Murder Club series, Vail must rely on her own instincts to solve these murders.
Autopsy
Dr. Kay Scarpetta first launched her career as a forensic pathologist in Virginia—and now after years away she's made her return to Old Town Alexandria as the chief medical examiner. With her new position, she inherits a clingy secretary and a department that may be corrupted. She's barely had time to settle in before she's called to a scene by the railroad tracks. A woman's throat has been cut through to the spine, and as Scarpetta trails the evidence, it brings her uncomfortably close to her own neighborhood.
Meanwhile, a top secret laboratory out in space is the site of a major catastrophe that puts the lives of two scientists at risk. As part of a highly classified Doomsday Commission, Scarpetta is summoned to the White House to find out what happened. But as she tries to solve a space case, the killer on her home turf strikes again.
For NYPD Red Fans
Final Jeopardy
The first book in Linda Fairstein's Alex Cooper series follows Manhattan's top sex crimes prosecutor as she awakens to the shocking news of her own murder. Of course, the victim turns out not to be her, but rather a Hollywood film star, Isabella Lascar. Cooper must discover if the killer was Lascar's stalker, or if they mistook the starlet for Cooper herself. Similar to the NYPD Red series, which follows the team who protects New York City's elite, Final Jeopardy is a twisted thriller that will keep you on your toes.
For Truth or Die Fans
The Enemy Inside
Steve Martini's Paul Madriani series is perfect for those looking for fast-paced legal thrillers. But when looking for a book similar to Patterson's Truth or Die, the thirteenth installment in the Mandriani series is sure to satisfy. In The Enemy Inside, successful lawyer and keeper of dirty secrets, Olinda Serna, is killed in a roadside crash, causing leaders in Washington to worry that their secrets aren't safe anymore. Though he can't remember the previous night's events, Alex Ives wakes up in a hospital room accused of the vehicular manslaughter of Serna. Now, it's up to Madriani to defend an innocent young man and uncover the truth behind what really happened.
For Now You See Her Fans
The Silent Girl
The ninth book in the popular Rizzoli & Isles book series, which has also been adapted for television, follows the duo as they investigate the murder of a woman in Boston's Chinatown. Though evidence is scare, what's more important is the setting: the victim's body was found on the rooftop of a restaurant where a massacre occurred nineteen years before…and one woman connected to those murders might be the answer to cracking the case. Like Patterson's Now You See Her, secrets and lies unravel in this suspenseful mystery.
For Zoo Fans
The Island
When Emma heads to her grandmother's remote island to prepare it for sale, she ignores the rumors that it's cursed. But when she gets there, she can no longer avoid the fact that something strange is going on. With plenty of bizarre and horrific events like Patterson's Zoo, this book will have you constantly checking over your shoulder.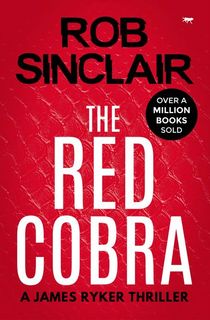 The Red Cobra
Carl Logan devoted nearly twenty years of his life to the Joint Intelligence Agency. He's adopted a new identity as James Ryker and he craves an anonymous existence in order to be free to start fresh—without all the turmoil, brutality, devastation, and deception of his life as a spy.
Ryker's dreams of an idyllic life soon prove too good to be true. His former JIA boss, Peter Winter, discovers his location and identity—effectively ending Ryker's peace. The infamous woman killer known by the monicker "the Red Cobra"—whose fingerprints match Kim Walker's—was murdered in Spain. Winter enlists Ryker's help in finding her murderer...and he's back in the game.
This post is sponsored by Open Road Media. Thank you for supporting our partners, who make it possible for Murder & Mayhem to continue publishing the mystery and thriller stories you love.