Life influences fiction, and the genre of political thriller is no different. Popularized in the late-1960's, the Cold War brought the possibility of international espionage into the average American's home. People were asked to question their neighbors and characters like the charismatic James Bond were brought to life on the big screen. By the end of the 1970's, Americans were becoming acclimated to the idea that power and corruption, particularly in the political arena, went hand in hand.
Over the years, the stories and characters have evolved as political scandal on a global scale continues to feed into our worst fears. But these experiences are far more varied than the 1960's and we're seeing more women bringing a feminine perspective to the genre. Their knowledge and skills give political thrillers added depth and dimension through their varied and nuanced views. We've gathered nine page-turning political thrillers written by women.
Red Widow
Red Widow follows two female CIA agents, each reeling from catastrophe. Lyndsey Duncan is on administrative leave after crossing a line with a British Intelligence Officer. Theresa Warner is known as the "Red Widow" after her husband, a former director, was killed under mysterious circumstances. After three CIA Russian operatives are exposed, the agency suspects a mole. Lyndsey jumps at the chance to prove her worth and her investigation leads her directly to Theresa. But as Lyndsey investigates, she discovers Theresa may hold secrets that could threaten the entire agency. Katsu brings covert office politics to life through her experience as a former intelligence analyst. But it's her signature ability to tap into our psychological fears that makes Red Widow a thrilling spy novel.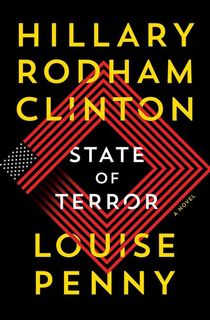 State of Terror
Hillary Clinton pairs her expertise as former-Secretary of State with award-winning mystery writer Louise Penny in this political thriller, where the stakes are the nothing less than the end of the world. Ellen Adams is a novice Secretary of State with a newly inaugurated administration. But when a series of terrorist attacks throws global stability into chaos, she has to put together a task force to find the source of the deadly global conspiracy before it's too late. Behind-the-scene details hint at insider knowledge, while Penny's cozy mystery sleuthing makes intricate politics easy to follow and understand.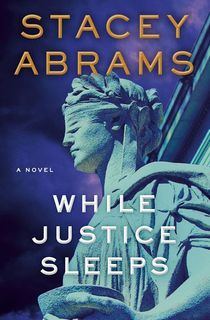 While Justice Sleeps
Avery Keene is doing her best to stay ahead. When the judge she works for slips into a coma and names her his legal guardian and power of attorney, her life is thrown into complete disarray. Unraveling a trail of clues, Avery unravels a dangerous conspiracy that extends throughout the highest levels of Washington. But to find the truth, she has to put herself in direct danger. While Justice Sleeps is a complex, layered, and nuanced thriller—with plenty of twists. Abrams weaves her political and legal knowledge into a stunning novel that will keep readers turning the pages well into the night.
Related: 8 Legal Thrillers That Will Have You on the Edge of Your Seat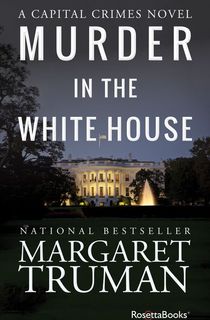 Murder in the White House
The first in her expansive Capital Crimes series, Murder in the White House is a thrilling mystery that implicates the most powerful people in the nation. Ron Fairbanks is called to investigate the murder of the Secretary of State. The Secretary was strangled in the Lincoln Bedroom where only few insiders had access––including the President. With ties to a glamourous call girl, along with other unscrupulous characters, the motive seems obvious. Until Fairbanks discovers the Secretary was also tied to international players who could threaten a tenuous trade agreement. With sharp Washington insight, Truman weaves a fast-paced political mystery.
Related: Murder in the White House: 11 Gripping Margaret Truman Books
Velvet Was the Night
Set in early 1970's Mexico during actual events, Velvet Was the Night follows a secretary who dreams of a more exciting life and, conversely, an enforcer who wants only to escape his violent life. Both are desperate to find a missing young woman connected to student radicals and dissidents. Maite imagines herself in one of her soapy comics and quickly finds herself in over her head. Elvis trails her, hoping she'll lead him to the missing girl. But the more Maite and Elvis learn, the more likely her disappearance is tied to high-ranking government officials—and they'll do anything to keep their secrets buried. Velvet Was the Night is a compelling mystery thriller written in a gritty crime noir style.
Related: 8 Modern Gothic Mystery Books
Quantum
In a new sci-fi thriller series, Patricia Cornwell introduces a brilliant new heroine, Captain Calli Chase. Calli is racing to stop a cybersecurity threat that could not only destroy the entire US Space Program, but the security of the nation. She's is a quantum physicist, a NASA pilot, and a cybersecurity investigator. When an alarm is triggered deep in the tunnels beneath a NASA research center, she finds clues tying her missing twin sister to a deadly conspiracy. In a race against an impending launch, Calli tries to expose the truth before disaster strikes. Blending plenty of science along with Cornwell's well-known forensic detail, Quantum launches readers into the dangers of cybertechnology and our expanding reach into space.
Our Woman in Moscow
Iris Digby, her American diplomat husband, and their two children disappear in the fall of 1948. It's suspected they defected to Moscow, taking all of their diplomatic secrets with them. Four years later, Ruth Macallister receives a postcard from Iris—her twin sister—who she hasn't seen since the summer of 1940. Determined to save her sister, Ruth heads to Moscow, posing as the wife of a counterintelligence agent. But the truth is complex, and as the sisters try to reach safety, a relentless KGB officer gets to them first and forces them to make an impossible choice. Based loosely on true events involving the Cambridge Five, Williams takes us into the heart of the Cold War in this complex and emotionally taut spy thriller.
Related: 8 Must-Read Crime Thriller Books
The Royal Secret
When ambitious journalist Joanna Haslam is assigned to cover the funeral of renowned actor, Sir James Harrison, she couldn't be happier. She's practically guaranteed access to myriad celebrities and juicy gossip. But she stumbles onto something much darker instead: a letter kept secret for decades. Desperate to make her mark, Joanna follows the clues and lies around the hidden letter. Except, the letter has been concealed for a reason. The closer she gets to the truth, the more she realizes her life may be in danger. Someone is following her, and in the letter is something the royal family will do anything to keep buried. Action-packed and filled with all the glitz and glam of royal politics, The Royal Secret is a layered story filled with danger, romance, intrigue and more.
Related: The Grandfather of James Bond
American Spy
Marie Mitchell is a brilliant FBI intelligence officer. But being the only Black woman in a good-old-boys club has stagnated her career. When she's offered the chance to join a task force to take down Thomas Sankara, the Communist President of Burkina Faso, she jumps at the chance. She has plenty of reservations, like secretly admiring his work and knowing the position is more for how she looks than her skills, but she's determined to prove her worth. Over the course of the next year, Marie observes Thomas, seduces him, and plays a direct role in the coup to take him down. But every decision changes her, redefining her beliefs around her family, herself, and what it means to be a good American. Inspired by true events surrounding "Africa's Che Guevara" in the 1980's, American Spy brings to light rarely examined perspectives of the Cold War.
Related: 10 Female Noir and Mystery Writers You Need to Read
Cover of While Justice Sleeps by Stacey Abrams