Alan Parks came to writing relatively late in life, not publishing his first novel until he was over 50. Before that, he worked in the music industry for more than a quarter of a century, and the history of the Glasgow music scene can be felt throughout his crime novels, all of which (so far) have been set in the 1970s.
He graduated from the University of Glasgow with a degree in moral philosophy, and, when he had trouble finding work fresh out of school (as people with degrees in moral philosophy are wont to do), he worked as an office manager for a couple of college friends, one of whom had started a band called The Commotions. It wasn't long until Parks was headhunted, becoming creative director for London Records, where he worked with bands like New Order and All Saints.
Related: Scotland's Finest: Explore the Thrilling World of Tartan Noir
Parks had a long love of music and, perhaps especially, the lore of musicians, and it served him well in his career. From London Records, he became creative director for Warner Music UK, working with artists like Cee Lo Green, Gnarls Barkley, and The Streets. At Warner Music, he helped put together campaigns at almost all levels, ranging from cover artwork to photo shoots to music videos. When he turned 54, however, he began to see the writing on the wall.
The music industry was changing, after all. Streaming services like Spotify had altered the landscape of music irrevocably, and Parks saw many of his younger colleagues becoming obsolete in this new world. He decided to move back to Glasgow and pursue something he had always wanted to do: chronicling the history of his home city. Initially, he planned to write a straightforward historical novel, but in the process of doing research, he realized that the story he wanted to tell—one that showed the class divisions in the city, and how they seemed to only mix when sex, drugs, and crime were involved—would be better served by a Tartan noir.
Related: Splinter the Silence: 11 Gripping Val McDermid Books
Hence, Blood January—the first novel in Parks' ongoing series following detective Harry McCoy—was born. Today, Parks continues to live and work in Glasgow, offering freelance visual and marketing consulting while also working as a full-time author. So far, all of his books have been released in the UK first, before making their way onto the global market, and have been shortlisted for both the Grand Prix de Litterature Policieree and the Edgar Award. While his books are detective stories, his 25 years in the music business can be felt throughout, especially in stories that deal with the industry, such as Bobby March Will Live Forever.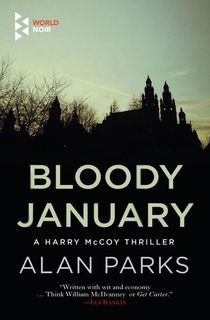 Bloody January
It's 1973 in Glasgow, and the divisions between the haves and the have-nots have never been more stark. Into this moral morass plunges Detective Harry McCoy, whose investigation into a daylight murder committed by an eighteen-year-old assailant who then takes his own life leads him to the inner circle of one of the city's wealthiest families. The Dunlops seem to be untouchable, and their appetites come at the expense of the city's most vulnerable. McCoy isn't about to stand for that, though. "Parks' debut novel has an in-your-face immediacy that matches its protagonist," writes Kirkus Reviews, while readers are sure to see why Parks has been compared to legendary Tartan noir author William McIlvanney, who the author has admitted to looking up to and emulating.
Related: L.A. Noir: 11 Must-Read Mysteries Set in Los Angeles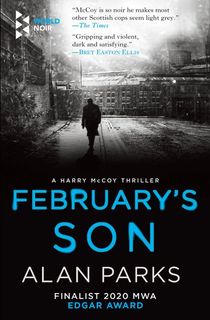 February's Son
Parks' follow-up to Bloody January earned him a position as an Edgar Award finalist, and "dissects a city where cops and crooks depend on one another to maintain order" (The Wall Street Journal). When a prominent athlete is found brutally murdered, Detective Harry McCoy's suspicions turn toward the young man's prospective father-in-law, a notorious local gangster. His investigations will take him throughout the seamy underbelly of a Glasgow that the Herald describes as "a dark, brooding city where the line between the police and the underworld is frequently blurred." If Bloody January showed Parks' promise as a novelist of Tartan noir, it was February's Son that had readers hooked.
Related: 13 Thrilling Nordic Noir Novels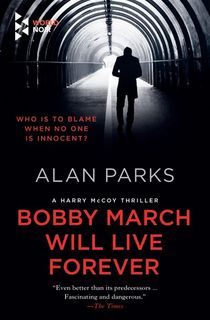 Bobby March Will Live Forever
"Even better than its predecessors," The Times raved about Alan Parks' third Harry McCoy novel, naming it their Book of the Month and calling it "fascinating and dangerous." In July of 1973, Glasgow is rocked by the news that Bobby March, the city's own home-grown rock star hero, has overdosed in a downtown hotel. Of course, there's more going on than meets the eye, and Harry McCoy finds himself drawn into the cases of two different missing girls—cases that may have more in common than they initially appear. As he attempts to bring justice to the perpetrators and perhaps save a life or two in this "breathless and tense retro crime caper" (The Sun), he'll have to grapple with the question, "Who is to blame when no one is innocent?"
Related: 12 Crime Noir Books That Will Have You Reaching for Your Trench Coat
The April Dead
In Parks' new release, the fourth installment of his popular Harry McCoy series, the story promises to become even more ambitious. McCoy is investigating the disappearance of an American sailor when a series of bombings grip the city—bombings that are planned by a group that means to create a new kind of Scotland, by any means necessary. With bigger and bigger explosions rocking Glasgow and the body count stacking up, McCoy has to try to find his man and hope that he can come out of it alive. At the same time, his longtime criminal buddy Cooper is out of the pen and has found himself surrounded by potential enemies. Attempting to solidify his position as a crime boss, Cooper is unsure who he can trust and who he can turn to —besides his old friend McCoy…
Related: 11 Thrilling Southern Noir Books to Read Now That You've Binged Ozark