We love our pets, but we'd love them even more if they stopped chewing our iPhone cords and started helping us find items we've misplaced...
In the cozy mystery books below, the four-legged heroes and heroines do just that—although they're more likely to uncover a dead body than your missing car keys. When their owners encounter murder and mayhem, they're the first to offer a helping paw in the investigation, or simply the comfort of their company. See them in all their detective glory in the following animal cozies—from a holiday tale that follows a sleuthing pet sitter and her basset hound to a novel about a rookie PI and her talking Chihuahua.
The Pomeranian Always Barks Twice
Unfortunately for Stewie, an elderly Pomeranian, his owner Timothy Fuller is now too old to care for him. But when pet-rescuing Liz Denton and her son, Ben, agree to take Stewie in, they have no idea what's in store. After an unpleasant argument, Mr. Fuller winds up dead...and Ben is accused of murder. With the help of her furry friends—including Little Wheels, the calico cat who gets around with the help of a wheelchair, and her two beagles—Liz will have to solve the case if she hopes to clear her son's name. The first book in the Furever Pets mystery series will have you diving head-first into a compelling whodunit.
Cut to the Chaise
Caprice De Luca is just weeks away from tying the knot with her fiancé, Grant, at Rambling Vines Winery. Like most soon-to-be-brides, she's experiencing wedding day jitters—though her anxiety is compounded by the local gossip mongers. There are whispers of Rambling's imminent financial ruin, which not only jeopardizes its existence but threatens to turn Caprice's "I do" into an "I can't." But before she can silence the source of the rumors and protect the venue, even bigger problems arise when the owner is murdered in the tasting room. Further fueling the drama is the fact that the widow enlists the help of her lawyer ex-lover—who just so happens to be Caprice's brother, who just so happens to be dating Caprice's best friend. Exhausted yet? Imagine how Caprice must feel! Luckily, she can rely on Grant—and their menagerie of cats and cocker spaniels—during her quest to track down the culprit and get hitched without a hitch.
A Midwinter's Tail
Where pet sitter Daphne Templeton is concerned, Sylvan Creek's annual Bark the Halls Ball is proof that the holiday season is truly "the most wonderful time of the year." On this one night, every two-legged and four-legged resident comes together for a pawfect evening of celebration—and now, pet care franchise owner CeeCee French will also be joining the festivities. But while Daphne can't wait to meet such a major figure in her industry, others see CeeCee and her future Sylvan Creek storefront as a life-threatening source of competition. So when CeeCee winds up dead under a Christmas tree, it's no surprise that Daphne's friend, Moxie—a vocal critic—is considered a prime suspect. Much to the chagrin of Detective Jonathan Black, Daphne feels it's her responsibility to don her sleuthing cap, enlist the help of her intelligent basset hound, and try to find the real killer before Moxie is put in the dog house.
Related: The 30 Best Female Detectives and Amateur Sleuths in Mystery Fiction
Botched 4 Murder
At William Investigations, Sophie has found professional passion for crime-solving and romantic passion with one of the detectives. But things take a disturbing turn when the team is called to a place "Phee" knows all too well—the Sun City West retirement community, where her mother's friend Myrna is suspected of killing board member Sorrel Harlan with a wayward bocce ball. It's no secret that Myrna has a terrible throw, but surely she isn't a terrible person? When Phee and her beau, Marshall, learn the victim actually died of an arrow through the neck, they know Myrna isn't a criminal—though one of the other senior citizens most certainly is. In fact, the late Sorrel earned quite a few enemies after she launched an environmental crusade against West's golf courses...Aided by Marshall, her mother, and her mother's adorable dog, can Phee manage to track down the bloodthirsty retiree before someone else is forced to retire early from life?
Slay in Character
For authors looking for inspiration, there's no better place to turn than Cat Latimer's writer's retreat, which has become a magnet for murder and police investigations. This latest one is no exception: On a day trip to a Colorado tourist attraction—a 19th-century mining town where everyone dresses in period-appropriate clothing—it's "The End" for the friend of Cat's customer Jessi Ball. But subsequent attempts on Jessi's life make it clear that she, not the now-dead Danielle, was the intended victim. Amateur sleuthing may not be in Cat's job description, but she feels responsible for Jessi's safety and for the killer's arrest. Throughout the book, she'll get a bit of investigative help from her police chief uncle, her best friend, and her adopted pet kitty.
Death by Committee
Death by Committee kicks off a brand new series that pet cozy fans need to fetch from the bookstore. Abby's life has been a nonstop rollercoaster ever since her not-so-amicable separation from her husband. Her elderly Aunt Sybil died shortly afterwards, saddling her with a crumbling house, a huge Mastiff, and an irascible tenant in one fell swoop. As if these new responsibilities weren't enough, Abby is now at the center of a murder investigation—one that casts a very suspicious light on her dead relative. A body has been dug up in the backyard, leaving the residents of Snowberry Creek to question if sweet Sybil wasn't so sweet after all. With her aunt's reputation on the line, Abby must wade through the damning evidence to prove her innocence—all the while wiping up dog slobber, managing the estate, and improving her quilting skills. Why can't there be more than 24 hours in a day?
Related: Patricia Wentworth: An Introduction and Mystery Series Guide
A Literal Mess
Years ago, Allie Cobb swapped Indiana for New York, hoping to follow in her father's career footsteps while also making a name for herself. Now a successful literary agent, she's enjoying her life among the bustle of Manhattan—until her father dies suddenly. When she and her cat Ursula leave the city to attend his funeral, they're surprised to find Rushing, Indiana mostly unchanged: Allie's best friend, Sloane, is still there, and everyone awaits the annual Fall Festival with baited breath. But the peace of Allie's hometown reunion is quickly derailed by the murder of Sloane's father, an alcoholic author who was also one of papa Cobb's most valued clients. Though police assume Sloane is at fault, Allie sees potential culprits in plenty of other locals—from the mayor to a scorned girlfriend. Can Allie use the people-reading skills that have made her a successful agent to clear her friend's name and bring a murderer to justice?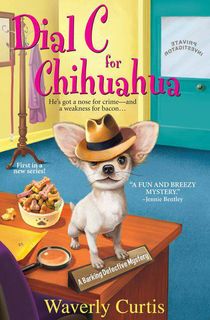 Dial C for Chihuahua
You've never met a pup quite like Pepe, who's basically the canine version of Dos Equis' "Most Interesting Man in the World." Once a member of the Mexican circus and the darling of an up-and-coming starlet, he's mastered multiple languages and the art of the snarky one-liner. Now he's entering the field of criminal investigation with his new owner, Gerri, who's just landed her first gig as a private eye. As a Chihuahua who is wise in the ways of the world, Pepe knows not everyone is who they appear to be—whether it's Gerri's quirky employer or the ambitious widow who's been accused of murder—and he vows to keep his human safe no matter the cost. The ensuing adventure is an outrageous mystery romp that sees Pepe and Gerri navigate the corrupt world of reality television and prove their mettle as an unstoppable detective duo.
Related: 9 Delightful Cozy Mysteries for the Aspiring Poirot or Miss Marple
Murder, She Meowed
In the seventh book in the Pawsitively Organic Mystery book series, Kristan "Stan" Connor is getting ready to wed her fiancé Jake. But before she does, Stan will have to ender the traditional "girls' night out." What this gourmet pet food chef doesn't expect is the night to take a murderous turn. Before the stripper can even start his show, he winds up dead—stabbed to death with one of Stan's kitchen knives. Now, Stan and Jake have a wedding guest list that doubles as a pool of suspects; and when Stan starts being stalked, she'll have to determine if it's connected to the murder. Together with her Maine coon cat, Nutty, and Stan and Jake's many other dogs and cats, they'll have to solve a murder before they say "I do."
The Puppy Who Knew Too Much
After solving the death of her husband, Lilly and her toy poodle Aggie are in desperate need of a fresh start. They're hoping to find it in Chattanooga, Tennessee, which also happens to be the hometown of Lilly's best friend Scarlett "Dixie" Jefferson. But when dead bodies start showing up—and Lilly becomes a murder suspect—she realizes this might not be the fresh start she was hoping for. With the help of her daughter, Stephanie, and Dixie, they'll have to solve the crime in order to clear Lilly's name.
This post is sponsored by Kensington Publishing. Thank you for supporting our partners, who make it possible for Murder & Mayhem to continue publishing the mystery stories you love.