Anne Perry, the period piece crime writer with an abundance of series and stand-alone novels, passed away on April 10th, 2023, due to health complications. She was 84 years old.
Before her life as a mystery writer began, Anne Perry, born Juliet Hulme, grew up in Christchurch, New Zealand. When Perry was fifteen, she and fellow classmate Pauline Parker developed an obsessive relationship with one another. Parker's mother, concerned with the girls' strange bond refused to send her daughter with Perry, as her parents were sending her abroad. To avoid separation, the girls murdered Parker's mother, ending in jail time for them both. Five years later, Perry was released and began writing her first novel, The Cater Street Hangman, which introduced the world to her well-known series regulars Inspector Thomas Pitt and Charlotte Ellison.
Her dark past has cast shadows over her career and helped it gain popularity. For some time, it was unknown that Anne Perry was Juliet Hulme. Her identity was revealed after the tragic event served as inspiration for the 1994 film Heavenly Creatures, starring Kate Winslet and Melanie Lynskey. This connection sparked both controversy and intrigue for the writer.
Perry wrote well over 100 books, many of which were part of her three major series: Charlotte and Thomas Pitt, William Monk, and the Christmas Murder Mysteries. Her novels explore the depth of morality and raise questions about right and wrong. Many of her characters represent the hardships of the time they are set in and reflect common struggles. Circling themes of ethical issues and the dualities of sin and repentance, her books are not only gripping thriller novels but deeply thought-provoking reads.
In her memory, we have curated a list of her greatest works for readers to immerse themselves in. Below are thirteen of her historical crime novels, written during her 40-year career. May she rest in peace and her books live on.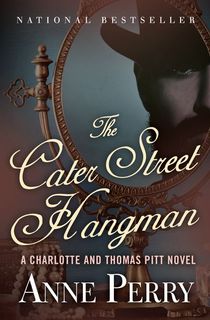 The Cater Street Hangman
A serial killer has come to Victorian London. The weapon of choice? A cheese wire. The latest victim? A maid employed at the posh Ellison household. While most of the surviving residents are left shaking in their petticoats, young Charlotte remains as unflappable as ever. The most rambunctious and curious of the Ellison brood, she butts heads with Thomas Pitt, the inspector on the case, when he insists she minds her own business. But as the plot thickens, the pair's connection deepens—and soon, they become a sleuthing duo no criminal can outrun.
Though originally written as a standalone novel, The Cater Street Hangman became the first in Anne Perry's 32-book mystery series.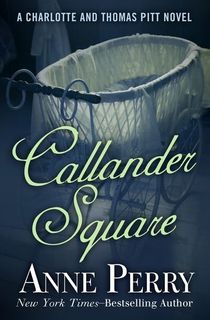 Callander Square
When two dead infants are dug up in the local gardens on Callander Square, the upper-class residents are quick to dismiss it, and they certainly don't want Inspector Thomas Pitt nosing around in their lives. But Pitt thinks that the case might be more than the desperate act of a young, unwed mother. Charlotte also senses that something more is going on, and launches her own investigation in the places Thomas can never go, using her own high social status to infiltrate the inner chambers of the homes on Callander Square. It soon becomes clear to both of them that the residents of Callander Square have many secrets to hide. Secrets some may be willing to kill for.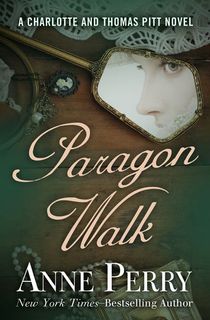 Paragon Walk
Innocent Fannie Nash has died in her sister-in-law's arms—and it certainly wasn't of natural causes. All eyes are on the gentlemen within the victim's social circle, though it's hard to know which waistcoat to tail. Enter the newly-married Thomas and Charlotte Pitt, whose combined skill set may just put all doubt to rest. While Thomas goes about the standard investigative procedure, Charlotte takes her signature grass-roots approach: mining information from her sister's upper-class friends. With enough evidence and hot society goss, can the Mr. and Mrs. of crime uncover which man is not the paragon of virtue he claims to be?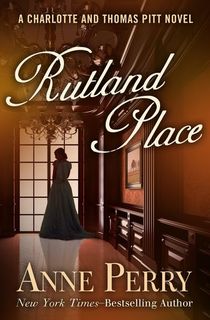 Rutland Place
Much has changed since we first met Charlotte and Thomas in The Cater Street Hangman. Not only are the partners in life and crime-solving, they're also new parents to an infant daughter, Jemima. But even domestic bliss can't keep the Pitts from getting involved in England's criminal wheelings and dealings. In the series' fifth installment, Charlotte realizes that her mother's missing locket isn't a matter of misplaced jewelry—but one thread in a community-wide web of crime. Things escalate when a neighbor suddenly drops dead, bringing Thomas into the fold and to the ultra-exclusive Rutland Place. Who needs date night when you can catch a killer, side by side?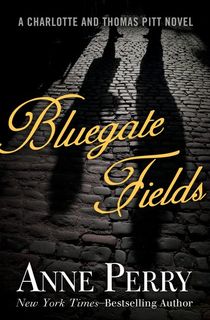 Bluegate Fields
Thomas and Charlotte Pitt's sixth adventure finds the couple racing against time to solve a murder before an innocent man hangs for it. When the body of young gentleman Arthur Waybourne turns up in the sewers beneath one of London's worst slums, Thomas Pitt is on the case. The murder becomes continuously more shocking and perplexing when it comes to light that Arthur had been sexually violated and infected with syphilis before his death. Suspicions quickly fall on Jerome, Arthur's tutor, and he is soon convicted and sentenced to death. Both Thomas and Charlotte suspect that the real culprit is still out there, but their efforts to investigate further are stonewalled by the Waybourne family. Will they be able to discover the truth before it's too late?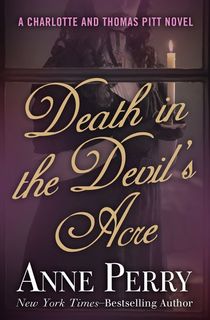 Death in the Devil's Acre
In the slums of Devil's Acre, a serial killer is on the loose. The killer's signature is so violent that it even shocks Thomas Pitt. The case takes a turn when he recognizes one of the victims as a footman he met during his and Charlotte's investigations in Callander Square. What began in the slums and brothels of London now seems to extend to the upper echelons of Victorian society. Meanwhile, Charlotte pursues her own investigation, re-entering the parlors and homes of Callander Square with the help of her sister Emily, Lady Ashworth. Thomas and Charlotte begin to reach the same conclusion, but it will lead them down a path that may just be their most dangerous yet.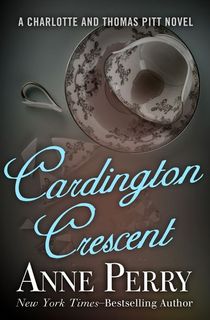 Cardington Crescent
One morning, George March, Lord Ashworth, fell over dead, poisoned by his own cup of coffee. All eyes immediately turn to his wife Emily, who just so happens to be Charlotte Pitt's sister. When Emily then discovers the corpse of her husband's suspected lover, almost the entire March clan turns against her. It's now up to Charlotte, Thomas, and George's formidable Great-aunt Vespasia to find the truth. Along the way, they discover a world of hidden corruption, depravity, and murder that has infiltrated all aspects of London society.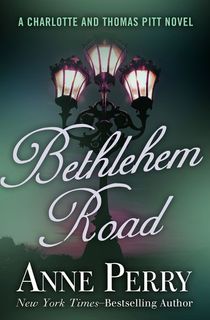 Bethlehem Road
Member of Parliament Sir Lockwood Hamilton had made the short walk across Westminster Bridge hundreds of times, but this trip ended with his throat slit and his killer slipping away into the night. When Thomas Pitt begins his investigation, he ponders whether or not the motive was personal or political. When another MP is killed, it becomes clear. After a third victim is discovered, suspicion turns towards almost anyone, from anarchists to suffragettes. As Thomas investigates, Charlotte, once again with the help of Great-aunt Vespasia, takes to the drawing rooms of London's upper-class to look for clues. Tensions are rising and social issues about as the trio race to solve the mystery before another MP falls victim.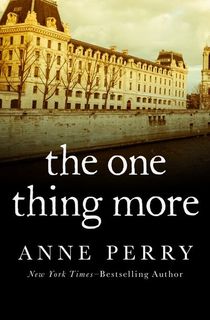 The One Thing More
Tensions are mounting in Revolution-era France, and the shadow of the guillotine looms before doomed King Louis XVI. A court ruling has set his execution in four days' time—but Célie, an unwavering royalist, is determined to keep the blade from falling. While she and likeminded supporters plot to keep their king alive, their group leader is murdered by someone on the inside. It's up to Célie to root out the snake, or both she and Louis will meet violent ends. This 2000 novel is just one in a handful of Perry's standalone books, but it features the mystery, intrigue, and historical detail of her beloved ongoing series.
Murder on the Serpentine
The year is 1899. It has been decades since Thomas Pitt first laid eyes on Charlotte Ellison—then, just an inquisitive lady eager for freedom. Now, both husband and wife have well-honed detecting skills, and Thomas holds the most prestigious position at UK's Special Branch. His latest assignment comes directly from Queen Victoria, whose closest confidante has been fished from the shallows of a Hyde Park lake. Given the nature of the case, Thomas is reluctant to involve his wife—but as always, Charlotte refuses to twiddle her thumbs in the background. As they pursue their own leads, Perry gives readers glimpses of the Pitts' two children and insight into turn-of-the-century London, the Boer Wars, and Germany's rise to power.
Twenty-one Days
Set eleven years after Murder on the Serpentine, Twenty-one Days is the first book in a spin-off series. Thomas and Charlotte have passed the torch onto their son, 25-year-old Daniel, who is working as a junior barrister. Anxious to escape his parents' very long shadows, he eagerly takes a case that will either make or break his career: In three weeks, his client is scheduled to meet the hangman's noose, though he insists on his innocence. Can Daniel save his client's neck, live up to his parents' reputation, and thus earn the respect of his peers?
Triple Jeopardy
Perry's latest novel picks up where Twenty-one Days left off. Young lawyer Daniel Pitt is tasked with defending Philip Sidney, a British diplomat who's been charged with embezzlement. But Daniel's sister Jemima informs him of a separate case against Sidney: He's the prime suspect in the assault and robbery of an American woman. Claiming diplomatic immunity, Sidney fled the U.S. shortly after this allegation surfaced. Convinced of Sidney's guilt, Daniel plans to only provide him an adequate enough defense to avoid a mistrial. That is, until he catches wind of a murder in the British embassy that may be connected to the theft. Daniel enlists the help of accomplished scientist Miriam Croft to chase down new leads in the investigation before an innocent man is put behind bars.
The Face of a Stranger
The Face of a Stranger introduces Perry's other iconic hero, William Monk: a gentleman, a former banker, and a professional sleuth. Not that he knows it. A coach accident has left him without his memory, essentially wiping his brain of all detecting know-how. When a hero of the Crimean War is murdered, William must set aside his pride, start from scratch, and be persistent if he hopes to find the culprit. Along the way, he gets a little help from Hester Latterly—a nurse and friend of Florence Nightingale—whose presence adds a dose of romance that Thomas Pitt fans will love.
This post is sponsored by Open Road Media. Thank you for supporting our partners, who make it possible for Murder & Mayhem to continue publishing the mystery stories you love.