While fans of crime, espionage, and thriller novels may know him best as an author, to the rest of the world, Henry Porter is a journalist and activist, regular columnist for The Observer, and former British editor of Vanity Fair. Alongside his novels of spies and counterintelligence agencies that span the decades—from the fall of the Berlin Wall to the near future—he has written extensively about the erosion of civil liberties, particularly in his native Britain, and he was the co-founder of the 2008 Convention on Modern Liberty, which organized the largest civil liberties gathering ever held in the UK the following year.
Porter has campaigned against Brexit, raised funds for areas devastated by tsunamis, directed the Snowden debates, and served as president of the Birlingham Cricket Club. He was Vanity Fair's British editor for 25 years, and had previously worked in magazines even before that, including Private Eye Magazine, where he met his wife, Liz Elliot.
Related: 10 Underrated British Mystery Books to Add to Your Bookshelf Now
His novels of espionage have won the Ian Fleming Steel Dagger Award—an honor he's been shortlisted for several more times—and also won him numerous fans on both sides of the pond. His latest, The Old Enemy, continues the tale of Paul Samson—a former agent of MI6 turned private eye, and the recurring hero of many of Porter's most popular novels—as he shadows a young woman on the dime of a private security company. The job is a little dull, at first, but then assassins begin targeting Paul and many of those in his circle, and he must race to find out who has put a target on his back.
Acclaimed author Lee Child has called Henry Porter "part of the reason why" British espionage fiction is considered some of the best in the world. But what are fans to do when they run out of new Porter novels to read? Fortunately, we've rounded up a few likely suspects for those who're looking to scratch that itch…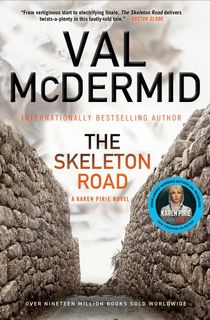 The Skeleton Road
One of the most beloved Scottish crime writers of the genre that has come to be known as "Tartan Noir," Val McDermid is the author of more than a hundred books, most of them dealing with crime in one form or another. In The Skeleton Road, one of her novels following inspector Karen Pirie, the discovery of human remains inside a Victorian-era building in Edinburgh kicks off a mystery that may take her all the way back to the Balkan Wars of the '90s and embroil her in a worldwide conspiracy that takes her from Scotland to Yugoslavia and beyond.
Related: Scotland's Finest: Explore the Thrilling World of Tartan Noir
Tinker, Tailor, Soldier, Spy
The Library Journal called Henry Porter's Steel Dagger Award-winning novel Brandenburg Gate a "tour de force on par with John le Carre." Those who know le Carre's work know what a huge compliment that is—when it comes to British espionage writing, names don't come much bigger. For those who haven't yet delved into le Carre's books, perhaps the most well-known is this tale of unassuming intelligence operative George Smiley, which has found its way onto the screen more than once, most recently in an Oscar-nominated film starring Gary Oldman.
The Enemy
Though Lee Child was born in the "exact geographic center of England," as his biography reads, his most famous protagonist, star of the long-running Jack Reacher series of novels, is part of the United States Army, at least at the time of this eighth novel in the series, which is set against the backdrop of the fall of the Berlin Wall. A conspiracy with global implications begins to unravel in unexpected places, beginning in a no-tell motel in North Carolina.
Related: Hard Luck Mysteries Worth Taking a Gamble on
Child has praised Henry Porter's espionage writing, and fans of Porter's Paul Samson will find much to like in Child's Jack Reacher novels—plus, there's lots of them once you get hooked!
A Woman in Berlin
Henry Porter's most celebrated book, Brandenburg Gate, takes place in the tense days surrounding the fall of the Berlin Wall. It's far from the only book to document life around the Wall, however, and one of the most lauded is this anonymous diary chronicling eight weeks in the life of a woman living in a conquered Berlin in 1945. A New York Times Book Review editors' choice, A Woman in Berlin has been called "one of the essential books for understanding war and life," by author A. S. Byatt, while Elle magazine described the prose as "bald honesty and brutal lyricism."
A Colder War
Someone is wiping out potential defectors who have been recruited by Western intelligence agencies in this thrilling espionage novel from a former British Secret Service recruit who has been called "among the most skillful spy novelists" by the Washington Post. Though it's the second in Cumming's series featuring disgraced MI6 agent Tom Kell—who spends this book trying to detect a mole somewhere in the highest ranks of the intelligence game—it's a perfect potboiler for those who can't get enough of Henry Porter's scintillating tales of international espionage.
Related: 13 Cold War Thriller Books for the Spy in All of Us
The Last Testament
Like Henry Porter, Jonathan Freedland is a British journalist and regular columnist. He also writes espionage thrillers under the pen name Sam Bourne, the second of which was this thriller set against the backdrop of Israeli-Palestinian peace talks.
Like most of the Bourne novels, it has religious themes related to Freedland's Jewish heritage, and is informed by his coverage of the peace talks as a journalist. It also involves conspiracy theories with global repercussions and the "last unsolved riddle of the Bible," in a saga that the Lincoln Journal Star calls "a bloody well-done tale and it might even someday be true."
The Standardization of Demoralization Procedures
The Washington Post called this assured and astonishing debut the "story that John le Carre might have written for The Twilight Zone." It tells the tale of Bernd Zeiger, a Stasi officer in the twilight of his career, which mirrors the twilight of the Cold War. The Berlin Wall is about to come down, and Zeiger finds himself pursuing the disappearance of a young waitress at his regular café, a pursuit that sends him down a rabbit hole into his own past, where he must confront the horrors and absurdities of war—whether cold or otherwise—and wrangle with his involvement with a physicist who was involved in an attempt to weaponize the paranormal.
Related: 10 Female Noir and Mystery Writers You Need to Read
Queen & Country
So far, we've stuck mostly to the realms of spy novels (with a departure into memoir), but some of the most celebrated espionage writing of the 21st century actually happened in the pages of Greg Rucka's long-running Queen & Country comic book series. The series follows the adventures, bureaucracy, and espionage that surround the life of MI6 agent Tara Chace as she navigates both geopolitics and deadly firefights in a world that—despite its comic book format—feels sometimes frighteningly real. The entire series has been collected in four paperback "Definitive Editions," which span some 32 issues published between 2001 and 2007.