Charlotte MacLeod was once considered the "mistress of the cozy mystery." She wrote more than thirty books, all featuring charming settings, quirky characters, and minimal blood.
Over the course of her career, she sold over a million copies of her books, won five American Mystery Awards and the Nero Wolfe Award, received several lifetime achievement awards, was nominated for multiple awards, donned a pen name, edited two anthologies, wrote two non-fiction books, and was co-founder and past president of the American Crime Writers League. She passed away in 2005.
MacLeod grew up on cozy mystery novels and set out to embrace the quieter and more polite side of mysteries while offering more novels for young girls and women to read.
Whether you're a long-time fan or a curious newcomer intimidated by her enormous body of work, we've got you covered. We've gathered her most pivotal works ranging from her debut to her award-winning books to help guide you through her incredible career.
Mystery of the White Knight
Eighteen-year-old Sandy Kellick went to Massachusetts to help her aunt with her antique shop. Because she looks young for her age, her family was concerned she may not be up to the task. But Sandy is looking forward to learning the antique business. Besides, nothing can hurt her with handsome Don Miller next door. But when a strange man in a blue car becomes a frequent visitor the closer a Currier & Ives print is expected, she suspects there's more to the man than meets the eye. There's a collector who will stop at nothing to get the print. And Sandy is the only one who can stop them.
MacLeod's debut mystery novel has been noted as reminiscent of Nancy Drew. It's a charming mystery without a dead body with a young woman investigating. It's a delightful start to an amazing career.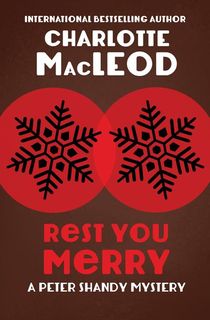 Rest You Merry
Balaclava Agricultural College is known for its Christmas lights. The whole campus sparkles in the snow. Except for one spot: Professor Peter Shandy's house. Known as the campus Scrooge, he decides he's finally had enough. He installs megawatt lights and loud outdoor speakers to overwhelm the neighborhood and flees town. But feeling guilty, he comes back home only to find his lights turned off and a dead librarian in his living room. The school wants to keep the investigation quiet as Christmas is lucrative for the entire town. Shandy is about to discover that even the Whitest Christmas can have a dark side.
Peter Shandy was MacLeod's first adult mystery protagonist and the epitome of her style. He was quirky, interesting, and always willing to try and solve any crimes that occurred in Balaclava Junction.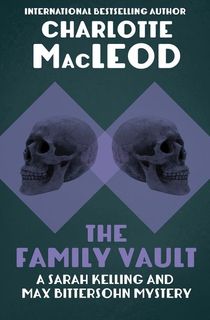 The Family Vault
Like many generations of New England families, the Kellings own certain things. A house on Beacon Hill. A family vault. But for Sarah Kellings' great-uncle, none of that is good enough. He wants to be buried in the ancient family tomb. But when they crack it open, they find a wall. And behind the wall, is a corpse with rubies in its teeth. The body belongs to Ruby Redd, a once prominent burlesque dancer. But as Sarah tries to figure out how she got in her family crypt, she realizes emotions still run hot Ruby. Can she figure out who killed Ruby? Or will she end up in the family vault?
Set in Boston, Massachusetts, the husband-and-wife team struggles to maintain her old-money family home on a no-money budget. Their eccentric investigations often include disguises, and their outrageous relatives are always the highlight of the book.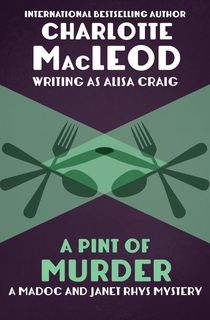 A Pint of Murder
Agatha Treadway was self-sufficient. She baked her bread and canned her vegetables. But then she died of botulism. Dr. Muffit says it was an accident, and so does her neighbor. Until the doctor ends up dead. Now Detective Inspector Madoc Rhys of the RCMP agrees. And is investigating. With no shortage of suspects, Detective Inspector Rhys has his hands full. Especially when right when he starts getting it sorted out, an even tougher problem stands in his way.
Her first novel written under the alias of Alisa Craig, it's the start of a fun five-book series. With a Canadian setting and a police officer who relies on his resourceful wife to solve crimes, this series is perfect for anyone who looking for mysteries about love, death, and everything in between.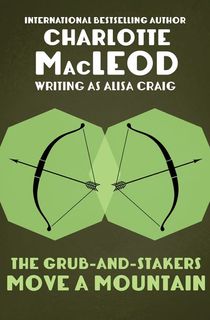 The Grub-and-Stakers Move a Mountain
Lobelia Falls is a quiet paradise for its residents. But change is coming. When freelance secretary Dittany Henbit goes to the woods to shoot her bow, she finds a surveyor taking surveys in a place he shouldn't be. As she's telling him off, an arrow whizzes above her head. She and the surveyor set out to find the arrow—and who shot it, only to find the head of the water department, Mr. Architrave, dead under his favorite tree.
In a town where everyone learns to shoot an arrow as a young child, there is no shortage of suspects. But Dittany is determined to find them. Another first in a cozy mystery series with an unforgettable setting, wacky characters, and a wonderful sense of humor.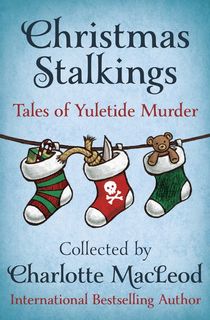 Christmas Stalkings
Charlotte MacLeod edited this Chistmas mystery collection of her fellow authors in crime. With stories featuring a counterfeiting Scrooge, a tight-fisted patriarch with numbered days, a politician's wife who receives an explosive gift, and more. It includes thirteen stories of holiday mayhem, ranging from the Deep South to midtown Manhattan. There's even a story from MacLeod herself.
The first anthology MacLeod curated and edited; Christmas Stalkings was nominated for Best Short Story Collection for the Anthony Award in 1992.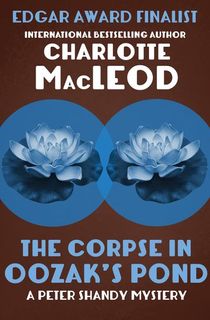 The Corpse in Oozak's Pond
Balaclava Junction sees Groundhog Day as one last winter fling. The people in the town and campus drink cocoa, throw snowballs, and if the lake is still frozen, ice skate the day away.
Unfortunately, Oozak's Pond isn't quite frozen. And there's a body bobbing in the slush. Botany professor Peter Shandy is first on the scene. But one look at the badly decayed corpse wearing clothes from the nineteenth century tells Peter he may be in over his head. Luckily his librarian wife is an expert on local history. Together, they dive into the gilded past to try and solve a murder.
The sixth book in the Peter Shandy series is well worth the read given it won the Nero Wolfe Award in 1987 and was nominated for the Edgar Award for Best Novel in 1988.
We Dare Not Go A-Hunting
A summer ago, the daughter of a wealthy family who summered on Netaquid Island was kidnapped under mysterious circumstances. And she was returned under even stranger ones. No one talked about it. They simply went about their business, cottagers ignoring islanders. Until young Molly Bassett. She was hired to care for a rambunctious four-year-old. But when a new kidnapping occurs, one that could keep the cottagers—and the island's source of income—away permanently, Molly sets out to find the truth.
We Dare Not Go A-Hunting was nominated for the Edgar Award for Best Juvenile Novel in 1981 and was nominated for the Vermont Golden Dome Book Award in 1982.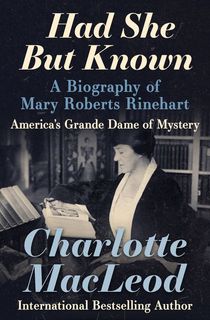 Had She But Known
The British had Agatha Christie, but Americans had Mary Roberts Rinehart. She was known as the Mistress of Mystery. But while she was once a household name, history has largely forgotten her. But her work still influences modern writers. Her novel, The Bat, inspired Bob Kane's creation of Batman, and award-winning mystery author Charlotte MacLeod grew up on her novels. Once MacLeod had established a career of her own, she decided it was time to remind the world of this extraordinary woman and the work that once dazzled in print and shined on stage and the silver screen.
Featured photo: Clarisse Meyer / Unsplash