Nothing quite fills out a holiday spread like a cheeseboard. Bries, chevre, and chunks of cheddar with jams and nuts as sides bring smiles to people's faces. Naturally, a lot of mystery writers, notably cozy writers, have found joy in writing their mysteries around cheese, whether at a cheese shop, restaurant, or farm.
Mysteries have one thing in common with cheese: there are so many different types of cheeses out there just like there are so many different murder mystery series. If you don't like one kind of cheese or mystery, there's likely a different one that's perfect for you.
So here's my list of eight murder mysteries revolving around the wonderful world of cheese.
Cheddar Off Dead
This is the first in the new Cheese Shop Mystery that came out earlier this year. Willa Bauer is opening her cheese shop, Curds & Whey, in Yarrow Glen. She's hoping that this will be a fresh start: her own shop and a new town to call home. She's hoping to make a good impression on the local food critic to give her shop the boost it needs. But soon she finds out that he's a real jerk who threatens to give her a terrible review. Worse enough, when he's found dead in his car with her cheese shop knife in him, she's now got to clear her name while getting the word out about her shop. Book two Gone for Gouda is already out and book three Curds of Prey is due in 2023.
Up to No Gouda
Nothing says comfort food like grilled cheese. In this new series, Carly Hale is opening up her dream shop, Carly's Grilled Cheese Eatery, after the death of her husband. Sandwiches all have very punny names (like most cozies!). But not everyone is taken by Carly's grilled cheese; Hale's ex-boyfriend owns the building and wants Carly to vacate the premises. When he is found dead behind the shop, Carly has to figure out which of the many people wanted him dead. The second book in the Grilled Cheese Mystery series, No Parm No Foul, is already out and book three Cheddar Late Than Never is due in 2023.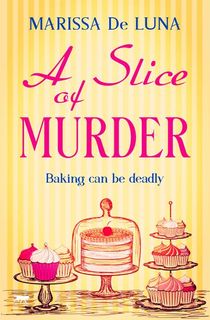 A Slice of Murder
Not only is cheese great as grilled cheese, but it's also a classic on pizza. Sisters Eleanor Swift and Madeline Spencer own a pizza shop named A Slice of Delight. Things are going well until Eleanor finds a body when she's delivering pizza and the police have their laser sight pointed on her and only her. Can she clear her name? It's the first in the Pizza Lover series with seven total books so far.
The Long Quiche Goodbye
Aames had me at the Raymond Chandler reference in the title. Here's a long running series centered on Fromagerie Bessette, a cheese shop run by Charlotte's grandparents. Now Charlotte is taking over the family business and is determined to make it a success. Unfortunately, when a man is found stabbed outside the shop during an event and Charlotte's grandmother is suspected of the crime. Charlotte will have to use her love of police procedurals to clear her grandmother's name. There are seven books in the A Cheese Shop Mysteries Series.
Christmas Cow Bells
We've had cheesemongers and cheese-related restaurants. Now, we've got a series based on a dairy farm. It's Christmas time and Brynn MacAlister wants to start anew. She's started a tiny farm where she can milk cows and make cheese. But when one of her cows finds a woman's body, Brynn decides to find out why she was killed. Turns out the deceased was unpopular for her plans to redo the town church but the menacing events don't stop there. Is someone trying to put Brynn out to pasture for good? The second book Goodnight Moo is also available in A Buttermilk Creek Mystery series.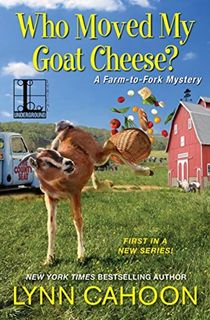 Who Moved My Goat Cheese?
Who doesn't love a farm to table restaurant? After the death of her grandmother, Angie Turner and her best friend Felicia have returned to their hometown in Idaho and are about to open their restaurant, the Country Seat. They're working on developing connections with local producers to ensure that their restaurant delivers on its farm to table promise. Angie seems to have gotten along with Old Man Moss, known for his delicious goat cheese, but when he's discovered murdered, Angie decides she has to find out who wanted to take the man out. The Farm to Fork Mystery series has six books so far.
Edward Trencom's Nose: A Novel of History, Dark Intrigue, and Cheese
This one is a little different from the rest of the books on this list. It's more family mystery than murder mystery and not a cozy but it's a lot of fun. Edward Trencom comes from a long line of cheesemongers who have run Trencom family's cheese store that began in 1662. Trencom has taken the shop to new levels with his incredibly astute nose. But things start to stink when he finds papers about the family and how many family members have all died under mysterious circumstances. Soon Trencom finds himself investigating his family and the origin of his nose. But will he survive the journey of discovery?
Laid Out to Rest
The first book in the new Charcuterie Shop Mystery series, Katie Aubrey has left the tech world behind to open her own charcuterie shop. Cheese and cured meats are a match made in heaven. But little does Aubrey know when she rents her house that it is haunted by former food critic Edith Ellory who is keen on Aubrey investigating Ellory's murder. But no one thinks the food critic was murdered. That doesn't stop Ellory forcing the issue and Aubrey has to figure out who made sure Ellory gave her last review.