It's that wonderful time of year again: the season of thanks. The leaves are turning brown and the temperature is dropping fast, and that means the holidays are right around the corner. As Turkey Day approaches, some people are prepping their DVRs for the Macy's Thanksgiving Day Parade, the big football game, or even the Westminster Dog Show. But some of us prefer to use our time off to curl up with a good book.
For most of us, the toughest parts of Thanksgiving involve figuring out how to carve the turkey right and making conversation with our extended family for several hours. But when you're an amateur sleuth, you're bound to run into a case to solve...no matter what time of the year it is. With a crisp, foreboding chill in the air, these investigators are taking on cases with victims who don't have all that much to be thankful for.
So hurry up and scarf down that delicious cranberry sauce and pumpkin pie, and leave the dirty dishes for another day! Whether you're in the mood for a nail-biting airport shooter suspense, or a high-drama family reunion that comes complete with a corpse, these thirteen mystery and thriller novels are sure to liven up your holiday and give you an insatiable craving for murder and mayhem.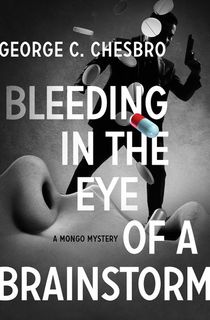 Bleeding in the Eye of a Brainstorm
On the Eve of Thanksgiving, New York City is thrown into a state of panic as an ice pick killer terrorizes the streets. However, criminology professor Dr. Robert Frederickson—a brilliant circus-performer-turned-private-eye better known as "Mongo the Magnificent"—has his mind on someone else. The notorious neighborhood kook, "Mama Spit," has showed up at his home looking and behaving as docile and ordinary as they come. She comes with claims of a mysterious man who gifted her miracle pills before meeting his death.
Related: 8 Psychological Thriller Books That Will Torment You For Days
Now with way more on his plate than turkey, Mongo sets out on an investigation that will entangle him in conspiracies and government cover-ups. But will he survive 'til Christmas?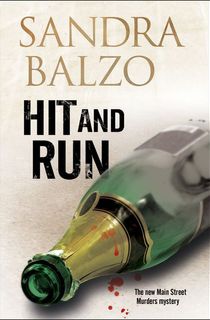 Hit and Run
When journalist AnnaLise Griggs visits her rural hometown back in North Carolina, her entire world is shaken to its core. The local womanizer Dickens Hart reveals that he's her biological father, and that puts her in the running for his massive fortune. In an effort to make amends for his past mistakes, Hart puts together a Thanksgiving weekend at his lavish mansion for AnnaLise and her mother, Daisy. It just so happens that he also invites his other past lovers and potential progeny.
Related: 9 Classic Detective Fiction Novels Every Mystery Fan Needs to Read
Anyone could have expected this to go poorly. But when a dead body turns up, AnnaLise's holiday goes from a dysfunctional family reunion to a race to identify a killer.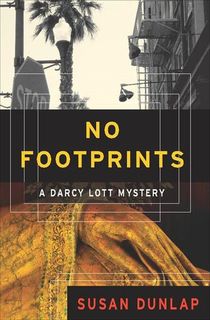 No Footprints
As Zen Buddhist and film industry stunt double Darcy Lott scouts a location along the Golden Gate Bridge, another woman prepares to jump to her death. Darcy intervenes, but the suicidal woman insists it doesn't matter—she won't be alive past Thanksgiving. With the clock ticking, Darcy races to save a woman she doesn't even know, picking up clues through a sketchy area of San Francisco. Things only get more bizarre when suspicious tragedies start happening on Darcy's set.
Related: 9 Chilling Winter Thrillers That'll Get Your Blood Pumping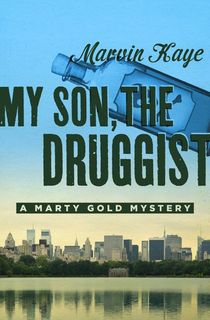 My Son, the Druggist
Marty Gold lives a happy life as a Manhattan pharmacist, filling prescriptions and saving lives. He has no problems, except the fast approaching Thanksgiving dinner with his nagging parents. That is, until he's accused of murder.
A pharmacy patron suffers an allergic reaction to the pills she's been getting filled for years, and Marty takes the heat. Running up and down the West Side in search of clues, Marty is on a mission to clear his name. Investigating murder is something he'll just have to learn along the way.
Thankless in Death
Time is of the essence as Lieutenant Eve Dallas walks into a Thanksgiving crime scene. A beloved couple—the Reinholds—lie dead in their own home, stabbed and bludgeoned in a violent display of deep-rooted hatred. Jerry, the Reinholds' twenty-six-year-old son, is missing along with the family's money. With known animosity between Jerry and the victims, it's easy enough to presume he's the culprit.
What Lieutenant Dallas doesn't know is where Jerry plans to kill next, now that he's got a taste for blood.
Related: 12 Thrilling Mystery Novels with Badass Female Protagonists
Turkey Day Murder
Thanksgiving is a big deal in the quaint Tinker's Cove. From football to pie, there's something for everyone. But no one was expecting a murder on the roster of this year's events. Curt Nolan—a disagreeable Mentinnicut activist—is the victim of a crime that has a list of suspects a mile long.
Related: 9 Delightful Cozy Mysteries for the Aspiring Poirot or Miss Marple
Luckily, Lucy Stone is on the case. She just has to find time to investigate between orchestrating a dinner for a dozen and taking care of four rowdy kids. What's so hard about that?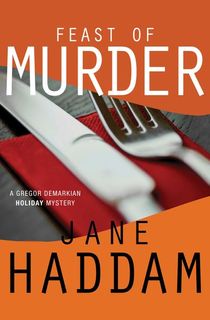 Feast of Murder
Former FBI agent Gregor Demarkian finds himself spending Thanksgiving Day cruising aboard an exact replica of the Mayflower. Unfortunately, his fellow passengers aren't looking to start a new life–they're looking to end one. Demarkian must step in and solve a high-seas murder before the holiday ends.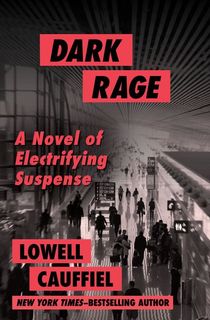 Dark Rage
In this suspenseful novel, Detroit Metropolitan Airport is attacked on Thanksgiving Day when a madman carries out his manifesto. After shooting his wife, Laurel Kring comes to the airport to continue his horrific spree. But what he doesn't plan for is Jack Riker—an ex-homicide cop working as for the airport police until his pension comes through. What starts out as an ordinary day turns into anything but, as Riker must stop Kring before it's too late.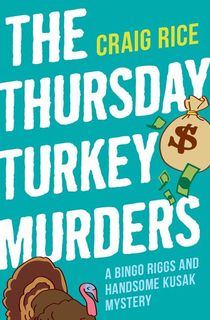 The Thursday Turkey Murders
On their way from the Big Apple to Los Angeles, two con-artists—Bingo and Handsome—get into an accident involving a turkey and become stuck in Thursday County, Iowa. There, they find another scheme that's guaranteed to make them a fortune: a turkey farm that's up for grabs. But Thursday County is harboring dark secrets from its past, and the duo are soon caught up with a bank robbery, escaped convict, and...worst of all...become suspects in a murder.
Speak of the Devil
On an average Thanksgiving morning in New York City, crowds along Central Park would expect to see a giant Snoopy floating down the street. But when Fritz Malone goes to watch the parade, he ends up witnessing a brutal sniper shooting instead. Malone takes his first-hand account to the police commissioner and becomes involved in the fast-paced manhunt.
Related: 11 Gripping Mysteries and Thrillers Set in New York City
Wicked Autumn
Max Tudor serves as the small town vicar in Nether Monkslip, England. But in a former life, he worked as an MI5 domestic security agent. When the outspoken president of the Women's Institute is found murdered at the annual Harvest Fayre, it's up to Tudor to find out which citizen in his adopted hometown committed the crime.
The Colonel's Tale
In 1920s Louisiana, police chief Dassas Cormier spends his holiday helping family, after his sister and her friend Colonel Jedidiah Gilmore run across a bank robbery and murder. Cormier has a tough time believing the colonel's eye-witness testimony, so he works to uncover what really happened before tragedy strikes twice.
Murder, She Wrote: A Fatal Feast
Jessica Fletcher has a case of the holiday blues, even though a gentleman friend from Scotland Yard pays her a visit for Thanksgiving. While she ponders her feelings for him, she finds herself in the midst of solving a murder, meeting a book deadline, and, of course, preparing Thanksgiving dinner.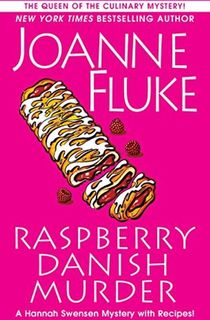 Raspberry Danish Murder
Hannah Swenson is trying to focus on the holiday orders coming into her bakery, the Cookie Jar, as Thanksgiving nears. It's fine; she likes to keep busy. It keeps her mind off of her husband, Ross. She hasn't seen him since he simply up and left, leaving her and their marriage behind without word or warning. Hannah prepares a raspberry danish for P.K., her husband's assistant, and brings it to him—only to find that P.K. has been murdered.
Hannah realizes that whoever murdered P.K. may've been after Ross—because P.K. has been using Ross' car and desk since he left. Hannah may not be feeling particularly grateful at the moment, but she is determined to solve this mystery and catch the murderer before the truth grows stale.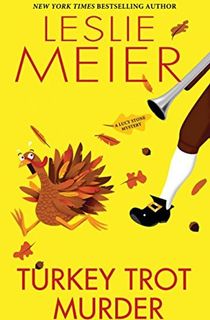 Turkey Trot Murder
The annual Turkey Trot 5k in Tinker's Cove, Maine is quickly approaching. Thanksgiving will be bittersweet for Lucy Stone, but she's determined to make the best of the day. This determination turns to disaster when Lucy finds a dead woman in Blueberry Pond.

Who could've possibly killed the daughter of the most well-to-do investor in a small town? Lucy finds herself racing to catch the murderer and answer questions.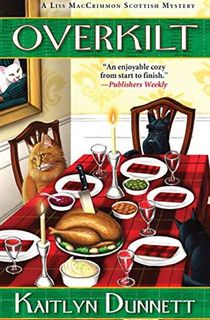 Overkilt
Moosetookalook, Maine, is overrun with business as November closes in and the Thanksgiving rush reaches full fever-pitch. Liss MacCrimmon of the Scottish Emporium and her family have yet to see the same success, however. When a daring marketing campaign leads to a swell in business, the MacCrimmons find themselves in the money. But this campaign upsets a pseudo-religious group that call themselves the New Age Pilgrims, and are led by a man named Hadley Spinner.
The bad blood leads to bad press—and bad press turns into a protest. When Hadley is found dead, Liss finds herself and her loved ones in danger. There are so many suspects, and with the holiday nearing, Liss wants to solve this murder before the it's time for turkey.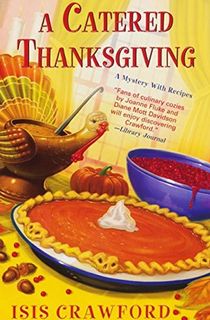 A Catered Thanksgiving
We all have those family members that we're a little wary of seeing when the holidays roll around—but we've got nothing on the Field family. Bernie and Libby Simmons are trying to make it through catering the Fields' Thanksgiving meal before returning to their business, A Little Taste of Heaven, without any incidents. But they find no hope of an easy shift when Monty Field, the crabby patriarch of the family, is murdered.
The caterers find themselves trapped with the Fields family in the wake of the death as a snowstorm sweeps through. Not only are they trapped with the family—they're trapped with the murderer. It's up to Bernie and Libby to find out who committed the murder, before this holiday becomes a true recipe for disaster.
This post is sponsored by Open Road Media. Thank you for supporting our partners, who make it possible for Murder & Mayhem to continue publishing the mystery stories you love.
Featured photo: Val Vesa / Unsplash