In August 2020, crime writer Denise Mina published The Less Dead, adding yet another riveting read her already impressive bibliography. Once you read it, you're sure to become hooked on her style. Born in East Kilbride, Scotland, Mina's career path first landed her in law school. But after using her student grant money to free up time and resources to write her first book, Mina knew her true calling resided elsewhere.
The author's first crime novel, Garnethill, was published in 1998. Since then, she's gone on to publish over a dozen more novels, while also branching out to short stories, plays, television documentaries, and graphic novels. In 2006, Mina kicked off a years-long collaboration on the John Constantine Hellblazer series; in 2012, she worked on the graphic novel adaptation of Stieg Larsson's The Girl With the Dragon Tattoo trilogy.
Denise Mina's books and short stories are closely associated with Tartan Noir, in that they're set in Scotland and draw on Scottish themes and moods. The crime fiction subgenre certainly applies to The Less Dead. Set in the dark corners of Glasgow, the story follows Doctor Margo Dunlop whose search for her birth mother leads her down a very dangerous path.
Once you dive into Mina's latest, we're sure you'll be eager to dive into everything else the award-winning author has to offer. As always, we're here to help. Here are the best Denise Mina books, for seasoned fans and new readers alike!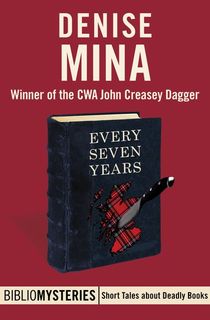 Every Seven Years
This novella is a great example of how a skilled writer can pack a lot of story into just a chunk of pages. Part of a bibliomysteries series, Every Seven Years is set on a remote Scottish Island that the main character, Else, returns to after the death of her mother. Sick with grief, and haunted by painful memories of her past, she comes head to head with the local bullies that caused her to flee the island seven years earlier.
Conviction
Published in the summer of 2019, Conviction marks new territory for Mina. Veering away from the remote Scottish locales of the author's other works, Conviction is set in modern-day Glasgow, where a true crime podcast fan finds her humdrum life turned on end. A five-star review on Goodreads details the appeal of the book quite nicely: "If there is only one crime thriller book you read this year, make sure it is this one from the award-winning Scottish writer, Denise Mina. This is a markedly different read from her previous works, it has a lightness of touch, is darkly humorous, relevant in our contemporary world of #MeToo, and utterly riveting."
The Long Drop
Based on the real-life trial of Scottish serial killer Peter Manuel, The Long Drop takes place in 1950s Glasgow. Centering on a convicted murderer who leverages info in exchange for what he hopes will be a delayed death sentence, this gripping psychological thriller leaves you grappling with which is more important: a speedy conviction or the right conviction.
Garnethill
Although this is Denise Mina's first book, its readability feels as though it came from someone who had already been churning out bestsellers for years. Published in 1998, Garnethill kicks off with Maureen O'Donnell waking up to find her boyfriend dead in her living room. He's been murdered, that much is clear. Since she's the only other person in the house, naturally, she's the main suspect. But Maureen didn't do it. In its review, Kirkus praised Mina's debut, saying: "even apart from its dark secrets, it's easy to see why this witches' brew won the John Creasey Award for Best First Novel. Mina writes with a pen dipped alternately in gallows humor and rage."
Blood, Salt, Water
The fifth in her Alex Morrow series, Blood, Salt, Water delves into the mysterious circumstances surrounding the body of a woman found floating in Loch Lomond. Iain Fraser, the killer responsible, has many sleepless nights as a result of what he's done. Yet he isn't haunted quite enough to come clean about his crime. Unfortunately for Fraser, Detective Alex Morrow is restless as well, in that she won't sleep until the killer is behind bars.
The End of the Wasp Season
Detective Alex Morrow is pregnant with twins, but she doesn't let that slow her down one bit. When she's brought on to investigate the murder of a young woman in a well-to-do part of Glasgow, she quickly realizes that it's not a random incident, but part of a chain of violence fueled by malice, deception, and greed.
Slip of the Knife
Published as The Last Breath in the United Kingdon, the third installment in Mina's Paddy Meehan series opens with Meehan receiving the horrible news that a former boyfriend of hers has been killed. When she loved Terry Patterson so many years ago, she never dreamt that he'd end up naked and dead in a ditch. Even more surprising is that, after assessing the evidence, it appears as though he wasn't just murdered, but was the victim of an IRA assassination. Putting her journalistic skills to their best use, she sets out to get to the bottom of who, exactly, killed her former flame, and why.
Related: Broadchurch Meets Big Little Lies in This Compelling New Scottish Mystery
The Dead Hour
Investigative journalist Paddy Meehan thought that her career was on an upswing when she scooped a huge story. But that was three years ago. Now finding herself in a bit of a rut, and bearing the weight of her family's financial hardships, she stumbles upon a domestic abuse story that reignites her love for investigative work. It has the potential to be her biggest story yet, or, if things go wrong, end her career entirely.
The Field of Blood
Published in 2005, The Field of Blood is first in Mina's celebrated Paddy Meehan series, introducing readers to the investigative journalist we now know and love. Taking place in Glasgow in 1981, Meehan is fresh out of journalism school when she comes across the story of a four-year-old boy found brutally murdered. It initially appears as though the crime has ties to a sexual predator ring—but Meehan is shocked to find that other children, not much older than the one found dead, might be responsible for the killing.
Featured Photo: Nathan Anderson / Unsplash