Looking to discover writers you haven't read yet? Allow us to introduce you to the following talented ladies, all of who represent a crop of contemporary voices that ought to be on every mystery reader's radar. From a housekeeper who takes on murderous messes to a fashionista who can communicate with the dead, the amateur sleuths in these nine titles are as fun, as smart, and as fierce as the female mystery authors who created them.
The Name of the Rosé
Christine E. Blum is truly a jack of all trades: After a quintessentially European upbringing (cigarettes! black pants!), she went on to become an actress, an advertising bigwig, and even the head of her own agency. It wasn't until years later that she recognized a latent talent for mystery writing, put pen to paper, and published the delightful Rose Avenue Wine Club series.
This third installment sees the return of occasional sleuth Annie "Halsey" Hall and the vino-sipping ladies she's befriended since moving from New York to California. This time, one of their afternoon gatherings is disturbed by a nearby plane crash—and the shocking discovery that it carried drugs addressed to Annie. Combine the possibility of Annie's imminent arrest with the murder of a young airport mechanic, and it's a wonder the Rose Avenue women don't go running to the strong stuff. Instead, they band together to solve the investigation themselves before Annie takes the fall for a crime she didn't commit...
Deceased and Desist
As with her Ivy Morris Mysteries and Adventures in Ghost Sitting books, Misty Simon's latest series is filled with the sort of quirky humor and suspense that's come to characterize her work. Tallulah Graver has come a long way from her family's funeral home and an unhappy marriage. Now the owner of her own housekeeping business, she gets a bird's-eye view into the private lives of her clients, who often have secrets even dirtier than their bathrooms. In Deceased and Desist, she's hired to prepare a new B&B for its grand opening—though things get off to a messy start when Tallie finds a dead man lying in one of its beds. While the local police chief writes it off as a natural death, the appearance of a second corpse propels Tallie into swift, detecting action...Can she unmask the killer before someone else—or herself—is window-wiped out of existence?
Related: 9 Quirky Animal Cozies for the Pet-Loving Mystery Reader
Violet Tendencies
Author Kate Dyer-Seeley has explored all sorts of subjects in her books, applying her passion for baking, the Pacific Northwest, and outdoorsmanship to write suspenseful but breezy whodunits. Violet Tendencies is the second mystery in a flower-inspired series—and it offers a bouquet of surprises as mayhem comes to the owners of a Portland floral boutique. Britta Johnson has teamed up with her aunt to design the most eye-catching float for the upcoming Rose Festival—but it seems not everyone is in the mood for peace, love, and flower power. When Britta stumbles across the murdered leader of an anti-parade protest group, she must find a way to sniff out the culprit and nip the situation in the bud before the festival is cancelled entirely.
Fashions Fade, Haunted is Eternal
Throw in some suspense, a witch, and a ghost or two, and you've got yourself a recipe for a Rose Pressey mystery. She's one of the best when it comes to writing a supernatural-flavored cozy—and her Haunted Vintage series comes with some added fashionista flavor. Boutique owner Cookie Chanel isn't your average fashion expert—she can also see and communicate with the dead. Her skills as a medium become her best accessory as she tries to solve the murder of an infamously grumpy photographer (who, in a twist of karmic justice, is now trapped inside the body of a cat). Cookie's go-to sidekicks are quick to answer her rallying cry for spiritual guidance—from her late aunt to the ghost of a 1920s flapper to her occult-obsessed best friend. But with an unknown enemy threatening to send Cookie to the Other Side, is she digging her own grave by digging further into the incident?
Gown with the Wind
Prior to becoming a writer of cozies, Stephanie Blackmoore was an attorney and librarian. But upon publishing her debut novel—the Wedding Planner Mysteries series kick-off, Engaged in Death—she said "I do" to life as a full-time writer. Now she's on Mallory Shepard's fourth sleuthing adventure, which sees the professional wedding planner take on a particularly difficult client: her ex and his wife-to-be, Becca. While Mallory rushes to fulfill Becca's last-minute Gone with the Wind theme change—and to ensure a civil war doesn't break out between the bride and groom's families—she rushes straight into disaster. A tug-of-war over a replica of Scarlett O'Hara's dress has ended in murder, placing Mallory at the center of a homicide investigation even Clark Gable would have trouble charming his way out of...
Related: 9 Delightful Cozy Mysteries for the Aspiring Poirot or Miss Marple
Ghostwriter Anonymous
Hailed as "a very funny lady" by New York Times-bestselling author Donna Andrews, Noreen Wald is the author of multiple light-hearted cozies—the Jack O'Hara mysteries being one of the standouts. Its titular character is a successful writer in New York City, though you wouldn't know it from the names on the book jackets. A ghostwriter who vents her career-related frustrations at "Ghostwriters Anonymous," Jack is now working for Kate Lloyd Connors, a mystery has-been in need of some creative help. Though her employer seems straight out of a creepy Gothic novel, Ms. Connors becomes the least of Jack's problems once her fellow group members start dying quicker than George R. R. Martin characters. Fearing she may be next in line, Jack must conjure the persona of one of her boss' detectives to prevent the killer from writing the premature ending of her own life story.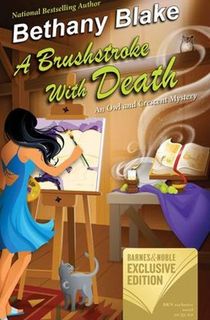 A Brushstroke with Death
Computer programmer and amateur painter Aurora "Rory" Anderson has a creative mind—but even she couldn't have envisioned finding a body in her flowerbeds. The now-dead Hester Bouquet was Aurora's former (and unlikeable) painting teacher, and their connection raises police suspicion. So begins a frenzied race to prove that, though Rory enjoys expressing her artistic passions, she has no interest—or skill—in the art of murder...Currently the star of four mystery novels, Rory isn't unlike her creator. Aside from having a lifelong love affair with Nancy Drew books and Agatha Christie's work, Sybil Johnson has a background in computer programming and still enjoys doing her own art projects (when she isn't writing charming cozies, of course).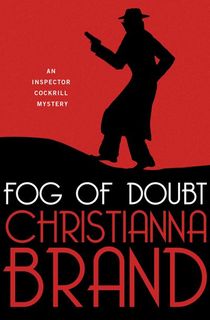 Fog of Doubt
Welcome to the Hollywood, where nobody is truly who they appear to be...Such is the case with Carol Childs' neighbor, who has recently been pegged for the murder of her high-profile aunt. But while the police believe the promise of a hefty inheritance moved her to murder, Carol knows Sam doesn't have a violent bone in her body—or so she thinks. A radio reporter who's on the up and up, Carol decides to prove her theories by partnering with her FBI beau in his quest to track down the killer. But when bodies continue to drop and a psychic named Misty predicts more death on the horizon, Carol begins to have doubts about who she can trust: Sam, a woman she considers a dear friend? Misty, a stranger who seems to know everything about her life? Or her own instincts, which may be clouded by biases? This is the first novel in the Carol Childs mystery series by Nancy Cole Silverman who—just like her star heroine—has a background in radio broadcasting.
Related: The 30 Best Female Detectives and Amateur Sleuths in Mystery Fiction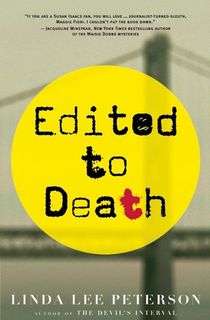 Edited to Death
As the wife of an Italian hunk, the mother of two gorgeous children, and a writer at a respected San Francisco magazine, Maggie Fiori has achieved the "American Dream." But a wrench is thrown into her picture-perfect life when she finds her boss—an editor with whom she's had a long and not-always-platonic past—murdered in his home. Enraged but determined to seek justice on his behalf, Maggie soon adds "amateur detective" to her list of duties, which has damaging effects on her personal relationships. Can she manage to bust a killer in the face of an uncooperative police force, a frustrated husband, and two very confused children—or will her stubborn ruthlessness destroy everything she's worked for? Maggie Fiori is the brainchild of another kickass female, award-winning author Linda Lee Peterson. She's a lecturer, speaker, and expert on marketing communications—but more importantly, an author of "fast-paced, intelligent" mystery novels that always "keep readers guessing until the refreshing end" (Library Journal).
This post is sponsored by Kensington Publishing. Thank you for supporting our partners, who make it possible for Murder & Mayhem to continue publishing the mystery stories you love.