Vintage cookbooks are wonderful windows into the past. You can see what people used to eat, how they cooked, and learn about the writer's culture as a whole. For lovers of food culture and vintage cookbooks, Agatha and Lefty-winning writer Ellen Byron's newest series is for you.
Bayou Book Thief, the first book in the Vintage Cookbook Mystery series, features young widow Ricki James who has moved to New Orleans to start a vintage cookbook shop in Bon Vee Culinary House Museum, the former home of the famous restaurateur, Genevieve "Vee" Charbonnet. She's starting anew after the sudden death of her husband but the specter of death follows Nicki when she finds one of the staff members' bodies in a donation box of books. Now everyone at the Bon Vee House is under suspicion so Ricki has to solve the crime to save her newfound friends and job.
Murder & Mayhem had the chance to talk with Ellen Byron about her new series. The interview has been edited for clarity and space.
Murder & Mayhem: Where did you get the idea for the new series?
I collect vintage cookbooks. I developed this little weird hobby of collecting them at library sales and going right to those book sections in antique shops. My own collection inspired the idea. I gave this characteristic to my character that while I collect them, I never made a recipe out of a single one—until I wrote the first book. Then I'm like, 'Well, you can't write a vintage cookbook mystery, and not include recipes.' This is my third series and they all have recipes. The great irony of my mystery writing career is that I'm not a cook.
I've said before that sometimes the recipes are the hardest part of it for me because I don't just list them, I want to make them my own. With the vintage recipes, some of it involves adapting, because the way you cook is different now than it was in 1935. But it's fun, and I love sharing a little of the history about the book when I do it.
Then also I have always wanted to set a series in New Orleans. Everyone thinks my first series, Cajun Country Mystery series, is set in New Orleans but it's not. It's set northwest of New Orleans.
This gave me the opportunity to actually set a series in New Orleans, which I was really excited about. I started thinking about cookbooks and how the city of New Orleans is unique as a city because it has three very famous female restaurateurs, Ella Brennan, Ruth Fertel, and Leah Chase. Ruth Fertel took Chris's Steakhouse and turned it into Ruth's Chris Steakhouse. The city is very proud of those women and celebrates them.
When I was in college, Ella Brennan greeted you at Commander's Palace. I think it was important to pay homage to the power of a woman who helped to create a family restaurant legacy from almost nothing.
I also get to highlight a little of the importance of the culinary and architectural history of the town. There's the beautiful Bon Vee Culinary House Museum that is being saved and shared with the community, which doesn't exist, but it could.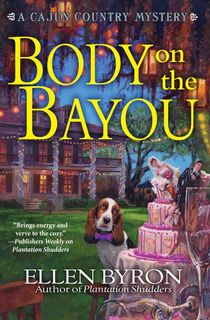 Food cozies are very popular. Why do you think they appeal to people so much?
It's hilarious that I write culinary cozies because that was never my intention. In Plantation Shudders, the only reason that I included recipes is that I hadn't been to New Orleans in a while, and I was writing the book, and it was making me hungry. And I thought, "My readers may get hungry."
I never really intended to write them. If you're writing a series set in a Catering Hall, people are going to be expecting recipes. If I'm writing about vintage cookbooks, how could you not include recipes, and adapt them from their original time? It's like a little gift with every book.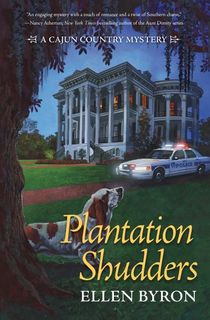 Cozies are comfort food in a general sense, which is one reason I think they get dismissed, which always upsets me. I'm a big proponent of cozies. There's no reason we should think less of them simply because they tend to be lighthearted. Not always. I have books where I talk about racism and anti-Semitism. It's just done in a way that doesn't hit you over the head.
When you read a cozy, it creates a world, and people that you really wish could be your friends, and you could visit and spend time with. So it's comforting in that way. And justice will be served.
Murder in the Bayou Boneyard
How did you start collecting cookbooks?
I bought the first one when I was with my brother. My parents used to have a cottage on the lake in Connecticut. We wandered into an antique store. I was looking around and I saw this really cute little book, the Ford Treasury of Favorite Recipes From Famous Eating Places. It's yellow with these bright decorations in it. And it shows you a map of the United States and it shows famous eateries in different parts of this country. Ford apparently put these out for a while as a way of encouraging people to drive
I always went to the library sales in my neighborhood and looked for mysteries because I love reading them. I'd just wander over to the cooking section because I ironically worked for Martha Stewart as a part-time cater waiter. I started seeing more of the ones that no one else was buying, like the really old ones. Sometimes it was their titles like How to Keep Him After You've Caught Him Cookbook.
The Photoplay cookbook that I'm looking at right now is 150 Favorite Recipes of the Stars. It's from 1928, which was the transition from silent films to the talkies. That's where the Greta Garbo recipe came from in my book.
Thanks to Ellen Byron for talking with us! Check out Bayou Book Thief and forthcoming sequel Wine and Died in New Orleans (February 7th, 2023).
Wined and Died in New Orleans