Mardi Gras, or Fat Tuesday, is the culmination of the Carnival celebration that leads up to Ash Wednesday. The most famous Mardi Gras celebrations today happen in New Orleans, Louisiana, and are traditionally marked by big parades, wearing elaborate masks, and general drunken revelry. During such a high-energy holiday and in a city as infamous as New Orleans, it shouldn't be a surprise that Mardi Gras has proved to be a great setting for mystery books. So even if you're not headed to the Big Easy to celebrate this year, you can enjoy these eight Mardi Gras mystery books to let the good times thrill.
New Orleans Mourning
Chauncey St. Amant is having the perfect Mardi Gras, culminating in him being crowned King of Carnival. But his reign proves to be short-lived when someone in a Dolly Parton costume shoots him. Now rookie police officer Skip Langdon is on the case. A former debutante, she has developed a distaste for the high society world of New Orleans that she must revisit.
As Skip begins her investigation, her list of suspects is long. It seems that Chauncey's squeaky-clean image wasn't as accurate as he would have liked people to believe. Not only did he have enemies across the city, but his own family members had ample reasons to hate him. Everyone has their secrets, and the St. Amants have some that go back generations and may have led to their patriarch's demise.
Mardi Gras Murder
Maggie Crozat has been looking forward to another uproarious Mardi Gras season at the Crozat Plantation B&B. But the celebration gets put on hold when a flood rushes through her town of Pelican, Louisiana and a body washes up behind the B&B. Maggie is already set on discovering who the body belongs to, but things get a lot more complicated—and dangerous—when a judge for the Miss Pelican Mardi Gras Gumbo Queen pageant is shot. The competition is usually quite fraught, but would someone be willing to kill for the crown?
With two deaths rocking the town, Maggie wonders if they have a connection to the forgotten history of the Louisiana Orphan Train. A local museum was set to open an exhibit on it, but the move had been controversial. It's up to Maggie to solve this mystery and get Mardi Gras back on track before anyone else in Pelican becomes a victim.
A Free Man of Color
In 1833, Creole Benjamin January makes his living as a physician and a music teacher. The son of a slave, Ben is among a small population of free Black citizens of New Orleans. With Mardi Gras in full swing, he spends the evening playing piano at the Salle d'Orleans. Then the celebration comes to a grinding halt when Angelique Crozat, an infamous socialite, is found strangled to death.
Whether it is because of the powerful company she kept or because of her mixed-race identity, no authorities are willing to take on Angelique's case. Ben begins his own investigation that will lead him deep into the city's seedy underbelly. But his involvement may put him in jeopardy. Even as a free man, a slave-owning society might still see him as the perfect suspect.
The Chef
Detective Caleb Rooney is a well-known figure in New Orleans. He spends his days solving the city's biggest crimes while his nights are spent feeding the masses at his Killer Chef food truck. Then just a few days before Mardi Gras, his name comes up for all the wrong reasons. He has been accused of murder.
In order to prove his innocence, Caleb sets out to find the truth. But what he finds proves to be much larger than just one murder. Someone is planning a massive terrorist attack, and the culprits seem to be hiding in plain sight. Now it's a race against time to unmask whoever is planning all this before all of New Orleans pays the price.
Glitter Bomb
Carmela Bertrand has always loved Mardi Gras, and as the artsy owner of a scrapbook shop, she especially loves the craftsmanship of the floats. Though she's less excited to see her ex-husband Shamus on board one at the head of the parade she's attending with her best friend Ava. But any lingering distaste for her ex is forgotten when his float crashes and explodes, leaving one member of Shamus' krewe dead.
Carmela and Ava are quick to take on the case. But their digging makes it seem like this accident may have been more premeditated than they thought. As their investigation continues, the clues begin pointing to one suspect, Shamus.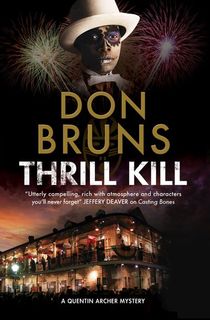 Thrill Kill
This year's Mardi Gras celebrations have been rocked by murder. There have been three so far, though Quentin Archer and his fellow detectives can't find any links between the victims. The only thing the killings have in common is that a can of spray gas called Chill was left behind each time. With nothing to investigate, the cops are forced to play a deadly waiting game.
Quentin has his suspicions though. There may be a pattern that connects the three killings after all, even if he's the only one who's noticed it so far. As he continues to investigate, he joins forces with voodoo queen Solange Cordray. When the truth they uncover points to a vast conspiracy, they may be in more danger than they could have ever imagined.
The Devil's Muse
Rookie New Orleans cop Maureen Coughlin knows she's in for a long night when she's assigned to work the parades during Mardi Gras. But things take a turn when a half-naked man throws himself in front of a moving car. Soon after, gunshots leave three people injured. Suddenly, Maureen is in the middle of a full investigation.
As Maureen sets out to find answers, she's feeling the pressure. City officials want a quick and easy solution in order to keep the festivities going, but the truth is proving to be elusive. Witnesses are either too drunk to remember anything clearly or don't want to talk to her at all, and a group of YouTube cameramen keep getting in the way. It seems this Mardi Gras is going to be Maureen's toughest challenge yet.
Dead Velvet Cheesecake
Mardi Gras season always means big business for Ember Greene and her Lunar Bakery. But this year she's juggling more things than usual as she bakes, learns about her newly discovered psychic abilities, and watches a local witch's cat. Her life is about to get even more complicated when a person drops dead at the Crystal Grande Hotel, seemingly poisoned by Ember's own red velvet cheesecake. Suddenly, the entire Greene family is the subject of gossip and suspicion.
The tension in her town of Misty Key ramps up even more when a parade float explodes. It seems that someone is out for blood, and wants Ember to take the fall. In order to clear her name, she teams up with a medium, a psychic who deals with pets, and her trusty bloodhound Yogi to find the identity of the real killer.