When the Titanic sank in the North Atlantic on April 12, 1912, the luxury liner took with it one of the greatest early US detective writers—Jacques Futrelle. Futrelle had just turned 37 when he ordered his wife May to take her place on one of the lifeboats putting out from the stricken ocean liner. He assured her that he would survive. The last May saw of her husband, he was standing next to Jacob Astor, smoking a cigarette. His body was never recovered.
"Jacques is dead, but he died like a hero, that I know," May would tell the New York Times a few weeks later. A gifted writer herself, May would complete Futrelle's novel My Lady's Garter and publish it with a moving dedication to her late husband. It marked the sad, sudden end of what might have been one of the brightest careers in American crime fiction.
Related: The Gentleman Thief Who Resurrected Sherlock Holmes
Born in Pike County, Georgia in 1875, Jacques Futrelle began working as a reporter on the Atlanta Journal when still a teenager. He married May Peel in 1895. After spells as a war correspondent in Cuba for the New York Herald and as a theatre manager in Richmond, Virginia, Jacques, May, and their two children settled in Scituate, Massachusetts. Futrelle began writing short stories for the Boston American.
Futrelle had been an admirer of Sherlock Holmes from the master consulting detective's debut in A Study in Scarlet. He decided to create an American Holmes in the form of Professor Augustus S.F.X. Van Dusen Ph.D., LL.D., F.R.S., M.D., etc, etc. This brilliant scientist is also known as The Thinking Machine, a nickname given to him by a Russian chess grandmaster he defeated despite having only learned how to play the game a few hours before the contest.
Related: Jack the Ripper and the First Lady of British Crime
In a neat tribute to Holmes' celebrated observation, "There is a scarlet thread of murder running through the colourless skein of life", Futrelle titled one of Van Dusen's earliest cases—the investigation of homicide in a New York apartment block—The Scarlet Thread.
Van Dusen made his first appearance in the Boston American in the late Fall of 1905. The tale, serialized over six weeks, would become one of the most celebrated fictional crime stories of all-time, The Problem of Cell 13. In it, the brilliant scientist vindicates his pronouncement that "Nothing is impossible! The human mind can do anything," by breaking out of the maximum security Chisholm Prison to win a small bet.
Related: The Belgian who wasn't Poirot: Georges Simenon and Inspector Maigret
Right from his first appearance, it is clear Van Dusen is Sherlock with the dial turned to 11. A small, near-sighted man of around fifty with a large head and a mass of fuzzy straw-coloured hair, he is so curt and egotistical he makes Conan Doyle's invention seem like Pollyana.
Van Dusen has Holmes' unemotional, logical mind and his arrogance, but none of his humanizing vices or foibles. He is humorless and crabby, as well as uneasy company. Futrelle makes no attempt to get the reader to like his main character. Admiration is enough. Van Dusen is the prototype of what would become a later staple of US crime fiction—the brooding anti-hero. The Thinking Machine may have been inspired by Holmes, but he also has lot in common with later hard-boiled gumshoes such as Sam Spade.
Related: The Blind Detective, Max Carrados
Futrelle's style is quite different from the gentlemanly British tradition of Conan Doyle. The Van Dusen stories are written in snappy, slang-rich prose that is recognizably and originally American. There's a tough, streetwise twentieth century edge to it. The Sherlock Holmes stories, even those written in the late 1920s, always appear to be set in a Victorian London of horse-drawn cabs, cobbled alleyways, and gas lamps. It's hard to imagine Holmes driving an automobile, never mind traveling by air. That's not so for Van Dusen. His cities are powered by electricity and gasoline, the roads paved with macadam. The setting, like the writing, is modern.
In The Problem of Cell 13 Van Dusen shows that his brilliant mind cannot be constrained even by the thick walls and steel bars of the "escape proof jail." He is aided in his breakout by the reporter Hutchinson Hatch. The smart, quick witted Hatch will become Van Dusen's leg-man, foil, and sounding board. The relationship has echoes of Archie Goodwin and Nero Wolfe. Unlike Dr. Watson, Hatch is no good-natured bumbling dimwit. He knows his way around and how to play the angles.
Related: The Grandfather of James Bond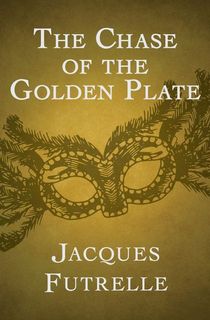 The Chase of the Golden Plate
After Cell 13, Van Dusen surfaced again as a minor character in Futrelle's 1906 novel, The Chase of the Golden Plate. The following year saw the publication of the first collection of Van Dusen stories, The Thinking Machine. The book is widely regarded as one of the 100 best in the detective genre. It was followed a year later by another cracking cluster of tales The Thinking Machine on the Case.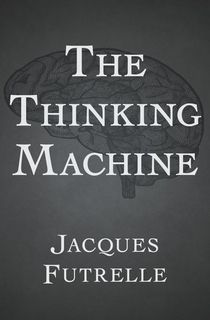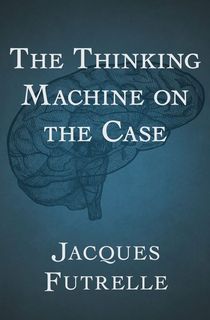 The Thinking Machine on the Case
"As a general rule, the greatest crimes never come to light because the greatest criminals, their perpetrators, are too clever to get caught," Van Dusen tells Hatch. But now that he's on the scene things quickly change, as he proves by outwitting Bradlee Cunnyngham Leighton, a suave English jewel thief (He owes quite a lot to the fictional 'gentlemen cracksmen' A.J Raffles, a popular figure at the time) who has coolly evaded Scotland Yard for decades despite, or perhaps because of, the blatancy of his crimes.
Related: The Eccentric Life and Career of L. A. Morse
The stories proved an instant hit and Futrelle hammered them out at a pace that was almost machine-like, too. In 1907, for example, 17 Van Dusen tales appeared in the Boston American, The Saturday Evening Post and Associated Sunday Magazines. Over the course of some 50 stories, Van Dusen involves himself in all sorts of crimes: finding a stolen Rubens painting, investigating a self-flying aircraft, a phantom automobile, and a fiery specter; unmasking fraudulent gurus, tracking down bank robbers, stolen radium, and kidnapped babies, as well as the exposure of murderers. He is remorseless, both in his pursuit of the solution and in his steadfast refusal to make nice about the stupidity of his fellow human beings.
Related: How Albert Nussbaum Went From Criminal To Crime Writer
The Thinking Machine was much admired in Britain and Europe, and Futrelle's work would influence both Agatha Christie and GK Chesterton. In 1912, he and May crossed the Atlantic to meet with publishers in London and Paris and drum up interest and support for his work. He celebrated his 37th birthday in London. The next morning he made the fateful journey to the port of Southampton to catch the ship that was supposed to carry him home.
For more works by Jacques Futrelle, check out: