Sir Arthur Conan Doyle was a man of amazing energy. Not only was he a prolific author and the creator of beloved literary character Sherlock Holmes, but he was also a top-class soccer player, cricketer, golfer, and skier. People across the world admired him.
Yet to have such a talented, forceful celebrity as your brother-in-law cannot have been easy. Especially if you too were a writer and, even more so, if you lacked his iron constitution. This was the situation in which Ernest William Hornung found himself when he married Arthur Conan Doyle's younger sister, Constance, in 1893.
E.W. Hornung was seven years Arthur Conan Doyle's junior. Since childhood, he'd suffered from failing eyesight, asthma, and generally poor health. When he was a teenager, Hornung's anxious parents had him removed from his English public school and sent him to Australia in hopes that the dry heat would ease his condition.
On his return, Hornung took up journalism and published novels and short stories about life in the Australian bush. One of these stories was about a schoolboy-turned-thief. It would become the template for his most famous creation: A.J. Raffles, the Amateur Cracksman (cracksman being a dated word for a safe-breaker or burglar).
Related: 40 Best Sherlock Holmes Quotes Every Sleuth Should Live By
Like Doyle, Hornung was a passionate cricketer, though he had none of his brother-in-law's prowess for the game. Yet what Hornung lacked in physical gifts, he made up for with charm and impish wit. Constance Doyle found his sense of humour irresistible. Her elder brother enjoyed the young man's company too, or so he said in public.
Sherlock Holmes had been officially dead for five years when Hornung's great literary character was unveiled. A.J. Raffles was a suave and decadent gentleman burglar whose clandestine activities were lovingly chronicled by his young friend and accomplice, Harry "Bunny" Manders.
As well as being an expert in thievery, Raffles was also a cricketer. He was a superior player to his creator, better even than Arthur Conan Doyle. Raffles played for I Zingari, a club whose real-life stars included Andrew Stoddart—a brilliant player who was as famous in Victorian England as Joe DiMaggio would be in the U.S. half a century later.
While the tales of Raffles the Amateur Cracksman were a huge hit with the British public, they stirred up trouble in the family. Doyle voiced his misgivings: "I confess I think they are rather dangerous in their suggestion…You must not make the criminal a hero."
Related: 12 Books for Sherlock Holmes Fans
Doyle's fears may not have been solely about Raffles' skillful thievery. Doyle had based his Sherlock Holmes character on the respected Edinburgh surgeon and early forensic scientist, Joseph Bell. The model for Raffles was an altogether more subversive figure: criminologist George Ives.
Like Raffles, Ives was an educated cricketer and a resident at the Albany, a men-only apartment building in Piccadilly, London. Ives was not a thief, but he did have a secret life he shielded from prying eyes: he was a gay man. In Victorian England, homosexuality was considered just as much of a crime as burglarly and other illegal activities.
Doyle was socially conservative. He had no time for those who did not conform. He even objected to left-handers playing cricket. No wonder he was appalled by the transgressive figures of Raffles and Bunny, whispering intimately together in the dark as they went about their illegal capers.
Hornung and Doyle soon clashed over more personal matters. At Lords Cricket Ground in 1900, Hornung spotted his brother-in-law—whose wife Louisa was terminally ill—sitting in the stands with a young woman, Jean Leckie. He voiced his disapproval to his brother-in-law. The couple insisted their relationship was platonic, but the buzz of scandal surrounded them all the same.
For Doyle, this confrontation appeared to have been the final straw. For eight years, he had resisted the public clamour for more Sherlock Holmes stories. Now, as if to take down A.J. Raffles and the man who made him, he brought the great detective back from the dead in one of his most memorable cases, The Hound of the Baskervilles.
The acclaim for the resurrected hero was tremendous. Doyle was knighted by King Edward VII that year. Hornung's brief spell of ascendancy was over. Raffles the Amateur Cracksman, as if sensing that he was doomed to end his career of crime by staring down the barrel of Dr. Watson's revolver, joined the British Army and died fighting in South Africa.
In the years following Holmes' triumphant reappearance, Hornung tried to revive Raffles in stories and plays, but his heart wasn't in it. The gentleman thief faded into obscurity as Sherlock Holmes' reputation grew ever brighter.
Related: The Best Enola Holmes Mysteries for Clever Sleuths of All Ages
In 1906, Louisa Doyle died. A year later, Sir Arthur Conan Doyle and Jean Leckie were married. In 1921, Hornung's own fragile health failed again, and he died of pneumonia.
Doyle's final verdict on his brother-in-law was a masterpiece of an ancient British art—the back-handed compliment. Doyle pronounced that Hornung was "a Dr. Johnson without the learning but with a finer wit...his writings, good as they are, never adequately represented the powers of the man, nor the quickness of his brain." If life was a game of cricket, there was no doubt who had won their match.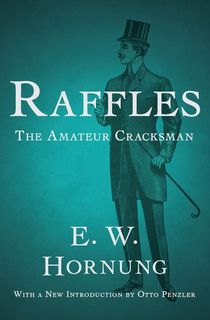 Raffles: The Amateur Cracksman
The cracking debut of A.J. Raffles, proper English gentleman and jewel thief extraordinaire.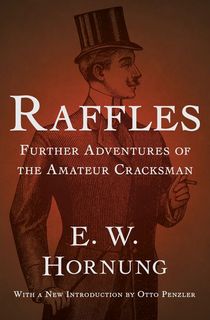 Raffles: Further Adventures of the Amateur Cracksman
England's greatest jewel thief is up to all of his old tricks and many ingenious new ones—none so spectacular as turning Queen Victoria herself into an accomplice.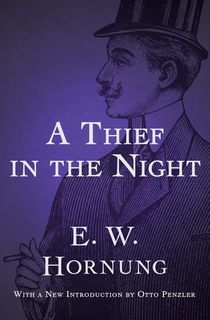 A Thief in the Night
England's most honorable thief and his loyal companion elude criminologists, cops, and ruthless professional villains, stealing whatever they want—and doing it with flair.