Of all the possible settings for historical mysteries, the medieval era might just be our favorite. For one, we get to ditch our trench coats for chainmail armor. For another, the political strife is wildly different from the present day, opening up a whole new world of motives and threats, from heresy and dark magic to shadowy sects and unruly monarchs.
Ready to experience one of these transporting reads? The medieval mysteries below will whisk you away to a dark and intriguing realm where Dark-Age sleuths solve crimes while warding off mad kings, vengeful monks, and the Black Death. And you thought modern detectives had it tough.
In The Presence of Evil
Art historian Tania Bayard's debut novel features the fictional adventures of Christine de Pizan, a real historical figure who gained fame as the first female professional writer in Europe. Set in Paris in 1393, this whodunit follows the newly widowed Christine, who's working as a scribe in King Charles VI's court—a position made dangerous by the king's frequent and inexplicable mental breakdowns. When a book of magic believed to hold the cure to the king's ailment is stolen, leaving a trail of death in its wake, Christine employs her considerable acumen to seek out the real killer before an innocent woman is burned at the stake. Along the way, she investigates people from all walks of life, from sex workers to the aristocracy, placing "her fingers on the collective pulse of Paris in all its grime and glory" (Booklist) and crafting a "richly detailed and atmospheric historical mystery [that] will draw readers into a fascinating medieval world" (Library Journal).
Out of the Dawn Light
The author of the popular Hawkenlye series turns to a different century and a whole new cast of characters. The year is 1087. Tensions simmer across England, where pagan traditions and Christianity clash; however, 14-year-old Lassair couldn't be more bored in her quiet backwater village. When two young men enlist her help in tracking down a treasure, citing the growing powers that she inherited from a long line of healers, Lassair doesn't hesitate to join them. Little does she know that their quest to unearth a 500-year-old solid gold relic is not as innocent as it seems, and will put all of their lives in incredible danger. "A treat that's full of the mysticism, period detail and mystery Clare's reader have to come to expect," Out of the Dawn Light creates a striking portrait of medieval Europe in all its untamed peril (Kirkus Reviews).
The Sanctuary Seeker
1194 Devon: Sir John is a newly appointed coroner, but he fears he may not be up to the task that lies ahead of him. A mysterious corpse has appeared on a riverbank in the village of Widecombe, and the corrupt sheriff already has a suspect in mind. The situation only escalates when the body is revealed to be that of a rich squire's son, and the sheriff wants somebody—anybody—hanged for the crime in order to make himself look good. But Sir John isn't so sure about the culpability of the person in custody, and launches an investigation of his own to prevent a dire miscarriage of justice. Immersive period detail accompanies a head-scratching mystery, and the investigation is profoundly realistic, thanks to the experience of retired British forensic pathologist-turned-author Bernard Knight.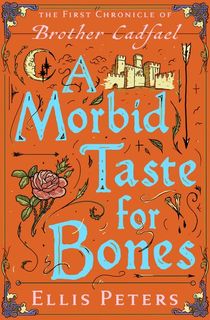 A Morbid Taste for Bones
Ellis Peters is often credited with popularizing the historical mystery; one chapter into A Morbid Taste for Bones and you'll see why. The first installment in the long-running Cadfael Chronicles introduces the star of the series, the charming Welsh Benedictine monk Brother Cadfael. Prior to his arrival at Shrewsbury Abbey, Brother Cadfael fought in the First Crusade and lived in the Holy Land for a number of years. While there, he learned how to be an herbalist. His rich life experiences help him solve mysteries that stump his medieval counterparts. In A Morbid Taste for Bones, Cadfael accompanies a group of monks to Gwytherin, Wales. Their mission: to exhume the holy remains of Saint Winifred and bring them back to Shrewsbury. However, the people of Gwytherin are less than thrilled with the prospect. When one of the townspeople is killed with a bow and arrow, Cadfael puts his sleuthing skills to the test to track down a murderer.
Related: 12 Enchanting Ellis Peters Books for Every Kind of Mystery Fan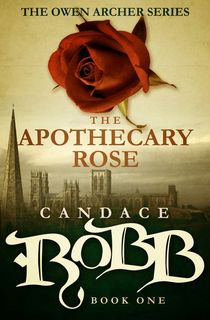 The Apothecary Rose
Set during Christmastide of 1363, the first entry in Candace Robb's Owen Archer series opens with two mysterious poisonings. While a gruesome death is nothing to bat an eye at in medieval England, one of the victims was a ward of the archbishop of York. The powerful lord puts one of England's top spies on the case to deduce who was behind the murders, and why. Enter Owen Archer, who begins working undercover in the apothecary shop believed to have supplied the poison. However, all is not as he expected. The shop owner is bedridden, and it's actually his wife who runs the apothecary. As Owen grows closer to Lucie, he finds it increasingly difficult to believe that she could be a murderer, and struggles not to let his heart interfere with the investigation.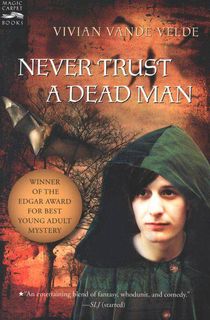 Never Trust a Dead Man
If you like your medieval mysteries with a side of black magic, this one's for you. In this Edgar Award winner, a farmer falsely accused of murder is handed a skin-crawling punishment. Selwyn has been sealed in the village burial cave with Farold's rotting corpse to await starvation and divine judgment. He's saved from death by a witch who reanimates Farold's body. Together, Selwyn and the bewitched Farold hunt down the true murderer, who's still lurking in the village. Although this book is geared toward young adults, readers of all ages will agree with Kirkus Reviews that Never Trust a Dead Man is "universally appealing and difficult to put down."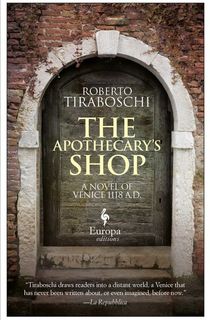 The Apothecary's Shop
Take a trip back to medieval Venice, where revelry disguises a lawless city stricken by poverty. Costanza has disappeared from the embrace of her family, the noble Grimanis, and they're desperate to find the young girl. Their best hope lies with Edgardo, the family scribe, who's volunteered to devote himself to the search despite his failing eyesight. His investigation takes him all over the city, from the bustling port to Sabbatai's Apothecary. There, he discovers phony physicians who market their occult wares to the most desperate patients. A disturbing clue to Costanza's disappearance leads Edgardo down a dark path of heresy and dark magic from which he may not return unscathed.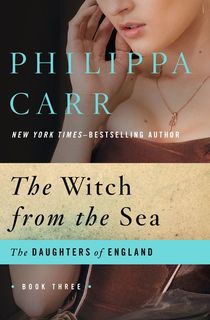 The Witch from the Sea
Romantic suspense novelist Philippa Carr set the third book in her sweeping Daughters of England series in the Tudor era. Linnet Pennlyon hopes to marry a business partner of her sea captain father, but her hopes are dashed when a cunning plot set in motion by Squire Colum Casvellyn forces her to marry him instead. The squire whisks Linnet back to his isolated castle, where she resigns herself to her new life. When Linnet stumbles upon a dark secret concerning the true nature of her husband's business, she finds herself in unspeakable danger. The narrative alternates between Linnet's timeline and that of her daughter Tamsyn, who sets out to discover the truth about what became of her mother. A chilling mystery with Gothic elements, The Witch from the Sea is sure to enchant you.
Absolution By Murder
Peter Tremayne's first Sister Fidelma mystery was published in 1994, and he's been releasing at least one series entry a year ever since. Absolution by Murder introduces the clever heroine of the series, a seventh-century Celtic nun. Raised in a period of relative gender equality in Ireland, Sister Fidelma rose through the ranks to become a top legal scholar before turning to the monastery to continue her career in academia. In 664, she journeys to Whitby to attend a monumental synod hosted by King Oswy, who will decide whether the Roman or Celtic Churches will be favored in his kingdom. But before he can make a decision, a leading speaker for the Celtic Church is murdered. King Oswy tasks Sister Fidelma and her intellectual rival, Brother Eadulf, with outing the killer before political tensions boil over.
A Plague On Both Your Houses
In a Europe ravaged by the Black Death, one more death will probably go unnoticed. At least, that's what the person who murdered the Master of Michaelhouse college at Cambridge must think. Unfortunately for the killer, nothing gets by professor of medicine Matthew Bartholomew. This darker take on the medieval mystery sees Matt endangering his own life and ignoring the wishes of university personnel in order to investigate the curious death. This is the first entry in a long-running series, so if you can't get enough of this ingenious physician's exploits, you're in luck.
Related: 11 Puzzle Mysteries That Will Positively Perplex You
The Name of the Rose
An "intellectual" murder mystery, The Name of the Rose has sold over 50 million copies, making it one of the best-selling books of all time. Umberto Eco's first work of fiction thoughtfully explores theology, philosophy, and literary theory—although readers can rest assured that a compelling mystery is at the heart of this ambitious novel. In the year 1327, Brother William of Baskerville travels to Italy to investigate Benedictine monks suspected of heresy. But when bodies begin to pile up within the abbey walls, Brother William realizes he has a much deadlier problem on his hands. Using the tools in his arsenal—mainly, Logic and Reason—he deciphers clues and explores the abbey's labyrinth to find out what the monks are hiding.
This post is sponsored by Severn House Publishers. Thank you for supporting our partners, who make it possible for Murder & Mayhem to continue publishing the mystery stories you love.