Solving a murder can be a bit of a chess game. You can have all the clues, but you have to play them in the right order if you're going to catch the murderer (or checkmate the king). It can also feel like a game of cat and mouse, or hide and go seek, as the murderer tries to outpace the sleuth, both physically and mentally. Or sometimes it's the game itself that's the alpha and the omega of the murder. Here's a list of seven murder mysteries with board games, card games, and beyond.
Checkmate to Murder
This British Library Crime Classic brings the London Blitz to life in this mystery. During a blackout, four men are at an artist's studio. The artist, Bruce Manaton, is painting his friend and actor André Delaunier, while the other two men are playing chess; the room is shaded in black and white. But then a knock at the door brings in the local Special Constable with a young soldier who is said to have killed the miserable man next door. Inspector Robert McDonald thinks something doesn't add up, and decides to find the murderous strategy that killed the miser. It's the 25th in the Robert MacDonald mysteries.
Board to Death
In this forthcoming debut quozy (a queer cozy), Ben Rosencrantz has returned to his hometown of Salt Lake City, Utah to help his sick dad and to take over the family's struggling board game store. He's just gotten his heart broken in a divorce and now must tackle retail and caregiving. Things get more complicated when a sketchy toy and game collector named Clive shows up with a potentially valuable collectible board game. Ben turns it down, but later finds Clive dead behind the game shop with a backpack filled with money. Can Ben find out who killed the collector and save the shop?
Broomsticks and Board Games
In this magic-filled cozy, Dahlia Poplar must do a good deed every day or turn into stone. Luna Lane, where she lives, is filled with other supernatural beings, including werewolves, vampires, and witches like herself. Thankfully, magical Luna Lane's inhabitants have tons of things to help Dahlia avoid her curse.
When her neighbor's nephew, Cable Woodward, visits his uncle who has just lost his wife, they discover a wonderful collection of board games and learn about the existence of the Luna Lane Games Club. They decide it's only natural to restart it. Soon Dahlia learns that the original group disappeared through terrible means. Can Dahlia help her neighbor, fight off her curse, and protect the town from outsiders? It's the first in the five book Spooky Games Club Mystery Book series.
Death on the Flop
The author's name seems too on the nose for this three-book poker mystery series! Belinda Cooley has decided to take her twin brother's offer of joining him in Vegas for a poker tournament. Why not? She's just left her cheating fiancé and crummy job, so what else is there for her to do? But she soon learns that Ben doesn't just want to win the tournament, he needs to beat a particular player named "Steely" Stan. Then Ben disappears. Now Belinda has to figure out what happened to her brother, and that includes taking his place in the tournament to question "Steely" Stan. Can she find Ben in time, and/or win the tournament?
An Exquisite Corpse
This one is for the art lovers. Detective Juanita Diaz and her new partner have a troubling case: Cuban painter Wilfredo Lam is found dead in his studio. His body is set up like an exquisite corpse, a surrealist game where one artist draws a head, flips over the paper to hide it; the next artist adds the torso and then folds it over to hide it, and so forth. At the end, the drawing is flipped open to see the creature made from all the artists. Fun on paper, terrifying on a human body. Now all of the artist's friends and colleagues are under suspicion for Lam's murder. It's the first of the three book Art of Murder Mystery Series.
A Mah Jongg Mystery
For fans of books featuring elderly sleuths like The Thursday Murder Club and Vera Wong's Unsolicited Advice for Murderers, here's one for you. Every week, Angelina, Myra, Clara and June get together to play Mah Jongg. But when Myra turns up dead, the three remaining women suspect that Myra was murdered. Angelina decides she's going to follow in the footsteps of her favorite television detectives and get to the bottom of her friend's death. An attractive widower detective named Guy is assigned to the case, but he tries to discourage her sleuthing, especially when she gets all of them in danger. Can they get to the bottom of Myra's murder? Will Guy and Angelina get together? This is the first in the three book Dangerous Pastimes series.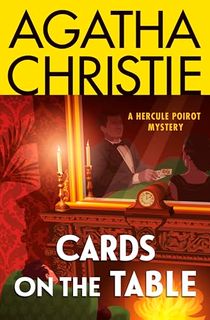 Cards on the Table
Last but not least, we end with a Hercule Poirot story and a dangerous game of bridge. Mr. Shaitana may have held legendary parties, but he wasn't a man to trifle with. He has strange tastes, collecting crime-related objects. He invites Poirot and three other crime-solving professionals to dinner to show off his collection. After dinner, the four of them retreat for a game of bridge, but during the game, someone stabs Mr. Shaitana with a stiletto from his collection. Which one of them was behind Mr. Shaitana's untimely death?