A good mystery novel draws the reader in by making us feel like we're solving the mystery with the characters. It piques our curiosity and keeps us engaged until we reach that satisfying end. And one way an author can escalate the tension and guarantee that we'll keep turning the pages well after our bedtime is by adding to the complexity with an unreliable narrator.
Maybe the narrator simply sees things from their limited perspective, missing key pieces of information before they draw their conclusions. Or maybe they're intentionally keeping things from us to throw us off the scent. No matter the motivation, an unreliable narrator escalates our need to know what is happening and why. Here are nine mystery books with unreliable narrators that will keep you guessing until the very end.
Related: Shifty Eyes: 9 Mysteries Told From Multiple Points-of-View
The Curious Incident of the Dog in the Night-Time
Christopher Boone is fifteen years old and has never gone past the end of his street. He has Asperger's Syndrome, loves math, and is not so sure about people. But when he discovers the neighbor's dog was killed, he embodies his favorite detective, Sherlock Holmes, and is determined to find out who did it and why.
The Curious Incident of the Dog in the Night-Time is a heartwarming mystery that is funny and introspective as you embark on a curious journey with Christopher that will change the way you see the world.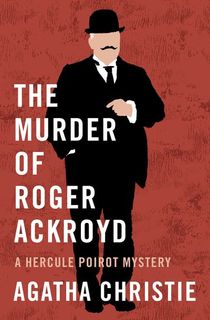 The Murder of Roger Ackroyd
Roger Ackroyd was supposed to marry the woman he loved. Except she was married to someone else. But when she poisons her husband, someone finds out and blackmails her. Less than twenty-four hours later, right when Roger finds out who, he's stabbed in the neck. King's Cross was a quiet village before. And it's going to take everything Hercule Poirot has to figure out who killed Roger Ackroyd.
The combination of an unreliable narrator with Agatha Christie's signature twists makes The Murder of Roger Ackroyd a novel mystery lovers shouldn't miss.
Rebecca
In Monte Carlo, a young, shy woman meets the handsome and wealthy Maxim de Winter. She knows him more for his famous house, the lavish Manderley. After a whirlwind romance, she becomes the new Mrs. de Winter and is now mistress of the grand estate. But instead of new beginnings, every inch of the house is steeped in the memory of Maxim's late wife, Rebecca. As Mrs. de Winter tries to escape Rebecca's lingering presence, the farther Maxim gets. There can only be one mistress of Manderley—and Rebecca was there first.
Related: Rebecca at 80: The Thrillingly Subversive Work of Daphne du Maurier
Charm & Strange
When Andrew Winston Winters was young, he was Drew, an angry boy prone to violent outbursts. But then something unthinkable happened. Now he's Win. A lonely teenager living in a remote boarding school. He doesn't want friends. Doesn't want anything except to escape the pain he feels. But as strange impulses take over, he finds himself in the woods in the middle of the night, battling two sides of himself as he tries to find the truth of who he is and what he did.
Charm & Strange is an intensely intimate battle through severe mental illness. The narration is disjointed as the narrator himself tries to understand what is real and what isn't. It's poignant, raw, and completely unforgettable.
The Secret History
This isn't Richard's story, but he's the one who's going to tell it. About the time when he was in college. Poor, alone, desperate, and impressionable. About how he was swept into a group under the influence of a charismatic professor who convinces them they are capable of rising above mundanity. But as their friendship grows, their boundaries slip, and their quest for elitism leads them to corruption and unspeakable cruelty.
From the very beginning, you know who died. That isn't the mystery. It's unraveling the truth as told through a narrator obsessed with the hazy past and possibly hiding secrets of his own.
The Secret Keeper
When Laurel Nicolson was sixteen, she witnessed a shocking crime that shakes everything she believes about her family and especially her mother. Fifty years later, she's back on the family farm and realizes this might be her only chance to confront the ghosts of her adolescence and discover the truth. But to do that, she has to understand her mother's past where she discovers the secrets of three strangers and how their choices bound them forever.
In a sweeping saga spanning from pre-WWII London to present-day, The Secret Keeper reveals how unreliable our memories can be, especially when influenced by the things we believe to be true.
The Walls Around Us
Violet is days away from achieving her dreams of being a professional dancer when someone threatens to reveal the truth behind her ambitious rise as a star. Amber has been in juvenile hall longer than she can remember. Long enough to forget what freedom feels like, what being a dancer felt like. Between the two once-rivals is Orianna. A girl who once dared to challenge Violet's bullies. A girl who holds the key to justice for all of them. But in a world that mistakes innocence for justice, is there ever room for the truth?
A story with unexpected twists and startling turns takes what seems to be a straightforward setup and obscures it in a shocking story of truth, justice, and revenge.
The Wind-Up Bird Chronicle
Toru Okada searches for his wife's missing cat in the suburbs of Tokyo. But beneath the city is another world, and Toru ends up in the netherworld searching for his wife. Along the way he meets friends and foes, all drifting in and out of the story, adding to his search or taking him away from it, until it all winds together in a magnificent ending.
A strange and ethereal detective story that defies the genre, The Wind-Up Bird Chronicle is a dream-like journey of finding your identity both individually and collectively.
We Have Always Lived in the Castle
Not long ago, the Blackwood home was full. Until arsenic was poured into the sugar bowl and six of them died. Now, it's just Merricat, her Uncle Julian, and her sister Constance. Constance was accused of the murder and Julian lives half-mad from surviving. Merricat knows she has to protect what's left of her family from the distrustful villagers and anyone else who gets too close. But when a distant cousin appears on their doorstep, Merricat is the only one who sees the danger his presence brings. And she'll do anything to keep her family safe.
An eerie story that is deceptive while being honest, We Have Always Lived in the Castle is less about solving the mystery of the murders and more about the sinister implications the murders imply.
Related: 8 Modern Gothic Mystery Books