As summer comes to an end, many of us are eager for a reprieve from the heat. While the early weeks of September may still feel like summer, we can sense the approach of fall. Maybe it's the slight hints of early-turning leave, or cool misty nights and mornings. Maybe it's the bustle of a new school year and a return to a more predictable schedule. Either way, the crunch of fall leaves underfoot is approaching—plus, all our favorite coffee shops are filling up with pumpkin spice everything.
As the summer activities dwindle and we settle into a fall routine, there are new books waiting to be discovered. There's nothing like inhaling a good mystery on your morning public transit commute or curling up on the couch with a thriller after a long day of work.
The year may be coming to a close but the publication of thrilling books to read shows no signs of slowing down. Welcome September—and with it, a slew of great new mystery and thriller books from authors like Baron Birtcher, Stephen King, Tomi Oyemakinde, and more!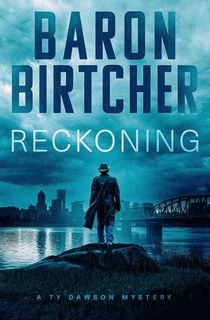 Reckoning
In this gripping crime thriller by the award-winning author of Fistful of Rain, small-town sheriff Ty Dawson battles big-city problems as he confronts a looming showdown over water rights and investigates a suspicious death. Along the way, he uncovers a web of corruption that threatens all he holds dear in rural Oregon during the changing 1970s.
Grave Expectations
When freelance medium Claire Hendricks is invited to entertain at an old friend's country estate, her constant companion Sophie—a ghost from her past—joins her. The gathering reveals a family harboring dark secrets, and a recent death at the house adds to the mystery. Teaming up with the eccentric Wellington-Forge family members, Claire and Sophie embark on a humorous and media-savvy quest to uncover not only the killer's identity but the motives behind the murder. Racing against the clock and a bumbling investigation, they must unmask the murderer before becoming the next target in this refreshingly readable modern mystery.
Holly
In Stephen King's electrifying new novel, Holly Gibney—now a seasoned private detective—faces her most sinister challenge yet. When Penny Dahl begs for help finding her missing daughter, Holly can't refuse, despite her personal turmoil. The trail leads to seemingly respectable professors with a horrifying secret, and Holly must use all her wits to outsmart these cunning and ruthless adversaries in this chilling tale by a modern master of suspense.
The Changing Man
In Tomi Oyemakinde's debut Young Adult thriller, The Changing Man, Ife Adebola—a determined teenage girl—is drawn into the mysterious past of her new boarding school, Nithercott. Despite her financial struggles and reluctance to engage with the school's prestige, strange occurrences involving a fellow student, Malika, lead Ife to question the school's decades-old legend of the Changing Man and its connection to a missing classmate's brother. Teaming up with Ben and Bijal, Ife embarks on a race against time to uncover the truth before they become the next victims of the menacing legend.
The Last Devil to Die
In the fourth installment of the Thursday Murder Club series by Richard Osman, the retired sleuths face a new mystery when an old friend is murdered—and a perilous package he was guarding goes missing. Their investigation delves into the murky world of the antiques trade, uncovering deceit, drug dealers, art forgers, and online scams. As the danger escalates and trust becomes scarce, the clock ticks down, and the body count rises, leaving Elizabeth, Joyce, Ron, and Ibrahim wondering if their luck has finally run out—and who will be the last to meet their demise.
Mother-Daughter Murder Night
In this delightful whodunnit, a grandmother, mother, and daughter trio of amateur sleuths bond over a murder in a coastal town. Lana Rubicon, a savvy businesswoman, shifts her focus from real estate to solving a homicide when her granddaughter, Jack, becomes a suspect. With wigs on and determination in their hearts, the Rubicon women uncover secrets in a community of conservationists and ranchers, forging unity and relying on each other in their pursuit of justice. Think Gilmore Girls with a murder mystery twist—a heartwarming tale of family strength.
Viper's Dream
In the vibrant jazz scene of 1936 Harlem, Clyde "The Viper" Morton pursues his dreams as a musician, but when talent falls short, he's ensnared in the perilous world of the drug trade. Viper's Dream is a gripping, heartrending tale of one man's choices in a challenging era. With a riveting pace, a bold narrative voice, and a poignant exploration of the Black American experience, this novel offers a unique and emotionally resonant reading experience.
Murder and Mamon
In the midst of a grand laundromat opening in Shady Palms, the Calendar Crew, Lila Macapagal's godmothers, are rocked by a shocking murder and a cryptic message. As the grieving process takes its toll on Ninang April and the local police make little headway, Lila takes it upon herself to unearth the truth. With the tables turned, she delves into the lives of her gossip-prone godmothers to uncover who harbors a vendetta against them—and prevent another strike in this engaging mystery.
The River We Remember
In 1958, a murder in a small Minnesota town sparks fresh tension among old grievances. When wealthy landowner Jimmy Quinn is found dead on Memorial Day, Sheriff Brody Dern, a war hero with his own scars, faces mounting suspicions that point to a Native American WWII veteran, Noah Bluestone. As the town erupts in anger and secrets threaten to unravel, a diverse cast of characters grapple with their tragic pasts. The River We Remember is both a gripping mystery and a vivid portrayal of midcentury America, exploring the wounds of war, healing, and the power of storytelling in our homes.
The Traitor
In this electrifying thriller, British spy Emma Makepeace infiltrates a Russian oligarch's luxurious superyacht, walking a perilous tightrope between survival and a watery grave. When an MI6 operative is found murdered with no fingerprints at the scene, Emma delves into his investigation of Russian oligarchs in London, risking her life to uncover a deadly secret. As she sails from the Côte d'Azur to Monaco undercover, Emma races against time to unmask the killer, but the danger lurks closer than she ever imagined—threatening her very existence.