As summer is beginning to come to an end—and unfortunately with it, sandy beach days, poolside lounging, and sunny pier walks—one thing that can chase away those end-of-summer blues is looking forward to reading these highly anticipated mystery and thriller books set to be released this August. Delve into stories filled with family drama, romance, and suspicious suspects as you try to solve the captivating cases alongside the protagonists.
Here's a list of 10 mysteries and thrillers to keep an eye out for—one might just become your favorite book!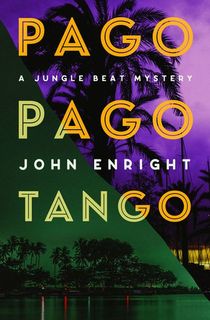 Pago Pago Tango
This four-book series was originally published in 2012 and is receiving a thrilling re-release this August. The first in the series follows Detective Apelu Soifua, who investigates a routine burglary call in the city of Tafuna in American Samoa. The case quickly becomes more complex and sinister after a fatal shooting at a nightclub a few days later.
The VP at SeaKing Tuna, the island's most notable employer, had only reported a few items missing, but why has there suddenly become a string of violent crimes thereafter? What really went missing that day? It's up to Apelu and the local reporter Lupe to find out how these events connect while balancing both his Somoan and American identities. All four books in this mystery series are being published this August, but look forward to the release of the never-before-published fifth book next year!
The Blonde Identity
Romance, espionage, and mystery—this novel satisfies fans of all three! From New York Times-bestselling author Ally Carter comes a story about a woman in Paris who wakes up with no memory but soon realizes that she is being hunted by people wanting to kill her. After seeing footage of herself fighting off a dozen men, she assumes she is a spy but is corrected by a very handsome secret agent tasked with protecting her, who claims the actual spy is her twin sister.
Pretending to be newlyweds, the two try to unravel a dangerous conspiracy and uncover secrets that test one another's trust in each other. This entertaining amnesia plot is a romantic adventure you won't soon forget.
Catch Me If You Candy
Yes, we are still definitely in the midst of summer, but if you're anything like me, then you can't help but look forward to autumn and the exciting anticipation of Halloween festivities! Set in Ashland, Oregon, Catch Me if You Candy, the newest installment of the 18-book Bakeshop Mystery series, will get you in the spooky spirit—and not just from the wonderful descriptions of tasty Halloween desserts or imaginative Halloween costumes this cozy mystery has in store.
Jules Capshaw and her team at Torte, a beloved local bakeshop, are busy preparing treats for the season when one day she finds someone dressed as a dragon dead right outside their doors! Eerily enough, her mother's Mahjong partner had discovered a foreboding note about a dragon in the antique set a few days prior. Now Jules must take a pause from baking treats to figure out who's been taking the "trick" part of "trick-or-treat" far too seriously!
A Clue in the Crumbs
Get ready to devour this delectable cozy mystery from bestselling author Lucy Burdette. There is an unexpected fire at a bed-and-breakfast where the Scottish Scone Sisters, Violet and Bettina Booth (the new hosts of The UK Bakes!) are staying in preparation for the baking competition scheduled for the next day. Food critic Hayley Snow and her friend Miss Gloria were very excited to welcome these sisters to Key West, but now they're beginning to worry about the hosts' well-being.
Rayna, one of the talented chefs that will be featured in the competition (who's also the inn owner's wife), is a person of interest in the ongoing investigation of the fire. However, the next night Rayna's husband is found dead, and the evidence seems to point to none other than the Scottish Scone Sisters. Is someone trying to push the competitors out of the kitchen? Find out in this satisfying latest installment of the Key West Food Critic mystery series.
The Trade Off
To tell a good story, sometimes you need to lie. And to gain recognition, sometimes you need to hurt people. For Stella, deputy editor of The Globe, this has never been a problem; it just comes with the territory of being a successful tabloid journalist. But for starry-eyed rookie reporter Jess, it's part of the job she's unwilling to perform since she knows the damage that kind of power can wreak on its victims.
When Jess' worst fear becomes reality after a celebrity is harassed by The Globe, Jess makes it her mission to get to the bottom of who was truly responsible for the celebrity's slander. She is determined to hold her company accountable and change the cruel culture of tabloid journalism, regardless of the cost. But someone is very eager to make Jess pay the ultimate price for her empathy in this electrifying thriller from New York Times-bestselling author Sandie Jones.
Burlington
Do mean girls grow up to be even crueler adults? At first glance, the stunning, rich mothers of Riverpark Elementary appear docile. They're even welcoming of newcomers—they took Mae Roberts under their wing and even asked her to be a part of their neighborhood watch group. But then one mom disappears and then another goes missing, and Mae must make the decision whether she continues indulging in the intoxicating power of the mom clique or if she dares to defy their rules and uncover their secrets. How far is she willing to go to gain a sense of belonging in this new world of privilege?
A Tall Dark Trouble
This YA debut is a fun twist on Practical Magic and centers around twin sisters Ofelia and Delfi—descendants of Cuban American brujas—who begin having premonitions of murders. They must use their magical gifts to crack this mystery, but not without the help of their best friend Ethan and detective-in-training Andres. The story alternates between present-day and 1980, Cuba, as Anita tries to change her fate since she refuses to be forced to join her mother's coven. This novel, filled with magic, love and family bonds, will keep you intrigued as each of these women learn how to harness their power. Fans of Shea Ernshaw, Nina Moreno, and Elizabeth Acevedo will love this story!
Happiness Falls
An enthralling missing-person tale filled with shocking twists, family secrets, and thrilling storytelling, Happiness Falls focuses on a biracial Korean American family in Virginia whose father goes missing after he takes a walk in a nearby park with his non-verbal son, who has a rare genetic condition—Angelman syndrome. Unfortunately, this makes it difficult to recount what actually happened during their walk to Mia, his twenty-year-old sister. This ticking-clock investigation will have readers on the edge of their seats as they learn about this family's history and delve into philosophical questions about the assumptions we make about family.
The Sunset Years of Agnes Sharp
Many mystery novels weave dark tales of intrigue with thrilling twists and turns, but not all of them are able to do that while also making readers laugh out loud. The Sunset Years of Agnes Sharp is one such book. It follows Agnes Sharp and the other residents of Sunset Hall, an old folk's home, where they must band together to find a murderer. And no, not just to obtain justice for the murdered victim, but to pin one of their fellow Sunset Hall inhabitant's death on the killer (in the meantime, poor Lillith will have to stay hidden in the shed). This gang proves that one can never be too old to participate in a murder investigation, even with a bit of a broken hip!
Good Bad Girl
Good Bad Girl is a complex, clever thriller that explores motherhood, postpartum depression, and trauma. Eighty-year-old Edith finds an unlikely confidante in Patience, a young woman who works at the nursing home Edith vows to escape. They must work together to solve a mystery with three suspects, two murders, and one victim that may also allow them to understand why, twenty years prior, a baby was stolen from a stroller on Mother's Day. No one can be trusted in this novel packed with surprising twists and compelling dialogue.