The arrival of springtime is a fantastic opportunity to get outside and enjoy the sunshine—provided we stay a safe distance away from one another, of course. But as we say goodbye to those winter nights spent curled up inside with a good book, there's one thing to remember: books are mobile, and we can take them with us anywhere the good weather allows us to travel. Even if at the moment, "travel" means planting yourself in the cozy reading chair by the bay window.
So put away that heavy winter coat and grab one of the following new mystery and thriller books set for release this spring. Whether you're a fan of Sulari Gentill, or waiting to rip into the latest Jack McEvoy thriller from Michael Connelly, spring has officially sprung, and it's bringing you some great new reads you won't want to miss.
After She Wrote Him
Australian thriller and mystery writer Sulari Gentill has made quite a name for herself as a genre powerhouse. She spent the totality of the 2010s crafting the popular Rowland Sinclair Mysteries and sweeping myth fantasy series, The Hero Trilogy. This month, she returns with a new novel, After She Wrote Him, which is shaping up to be her biggest success yet.
In Gentill's latest, readers are introduced to Madeleine d'Leon, a writer who is falling in love with a character of her own creation. As the story progresses, we're given clues that make us question whether Madeleine is writing a fictional lover for herself, or, in a mind-bending twist, if it's the other way around. Get ready to be discussing this one for days to come.
Something She's Not Telling Us
Everything is going great for Charlotte. She couldn't be happier with her home life and her career. But when her brother Rocco introduces Ruth, his new girlfriend, into the previously untarnished reality of her life, Charlotte's world goes from sunshine to darkness in some pretty unexpected ways. Pick up this suspenseful new read to find out how.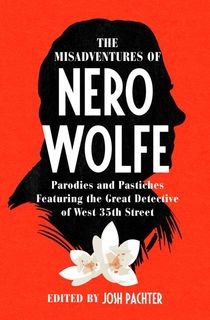 The Misadventures of Nero Wolfe
This collection of stories honors Rex Stout's detective character, Nero Wolfe. Stout first introduced his beloved sleuth in 1934. Now, readers will delight in poring over two dozen new stories honoring the charming armchair sleuth. Contributing writers include Robert Goldsborough—who has continued the Nero Wolfe series after Rex Stout's death, earning him a Nero Award—Lawrence Block, Loren D. Estleman, John Lescroart, and more.
Related: Get to Know Rex Stout, Beloved Creator of Nero Wolfe
Masked Prey
Scheduled for release on April 14, 2020, Masked Prey is #30 in John Sandford's Lucas Davenport series, featuring the eponymous straight-laced investigator. Davenport's latest challenge involves investigating a hateful blog that has been hassling the children of U.S. politicians. When a photo of a well-known senator's daughter pops up on the blog, Davenport jumps into action to unplug the blogger, for good.
If It Bleeds
Stephen King is one of those rare writers who can dip in and out of every genre. His latest book has a little bit of horror, and a whole lot of suspense. On April 21, 2020, King returns with If It Bleeds, a selection of four new novellas: Mr. Harrigan's Phone, The Life of Chuck, Rat, and If It Bleeds. What you find here will take you on a nail-biting journey that knocks you from one emotion to the next, like a pinball machine designed to rattle you to your core.
Walk the Wire
On April 21, 2020, David Baldacci will release the sixth suspenseful installment of his bestselling Memory Man series. His latest, Walk the Wire, finds FBI consultant Amos Decker and his partner in justice, Alex Jamison, headed to London, North Dakota. Sensing danger at every turn, the duo sets out to unravel the mysterious death of a young woman named Irene Cramer. This team is not unfamiliar with the dumping of bodies, but they've never encountered one that's already had an autopsy performed on it.
Related: 13 First-in-Series Mysteries to Keep You Entertained While Under Quarantine
Camino Winds
The second installment in John Grisham's Camino Island series is set to be released on April 28, 2020, and fans of the prolific writer are in for a real treat. Hurricane Leo is headed straight for Camino Island, and residents have been warned to evacuate. Along with a few other brave souls, bookshop owner Bruce Cable has decided to stay behind and face the storm head-on. But after the chaos of the hurricane has passed, he finds a broken body in the wreckage—a body that wasn't beaten to death by high winds...
The 20th Victim
The latest installment in the Women's Murder Club follows Sergeant Lindsay Boxer as she pursues her most ambitious case yet. Three victims, shot and killed in three different cities, propel Boxer into a race against time and distance that even she isn't sure she can win.
Hideaway
If you're not planning on spending the coming spring days with a Nora Roberts novel, we suggest you remedy that, stat. Roberts will give fans a real treat with Hideaway, a novel that tells the story of Caitlyn Sullivan, a privileged star in a long line of celebrities whose life is derailed somewhere along the way. Forced to face her past in order to fix her future, Sullivan proves that she has more gumption than anyone would have expected.
Related: 9 Romantic Suspense Books That'll Convert You to the Genre
Fair Warning
The Jack McEvoy series continues on May 26, 2020 with Fair Warning, the third chapter in the series. Connelly is at his best here, advancing McEvoy's heroics in a way that uses the character's journalism skills to thwart a serial killer unlike any the world has seen or heard of before. When you think about it, there's no better person to hunt down a killer than someone who makes their living by being naturally nosey.
Tom Clancy: Firing Point
Can there be any bigger indication of a writer's success than having other writers adopt their characters? A longtime fan of Tom Clancy's work, Mike Maden—author of his own popular series of books, the Troy Pearce series—first picked up the storyline of Jack Ryan, Jr. with his 2017 novel, Tom Clancy: Point of Contact. On June 9, 2020, Tom Clancy: Firing Point will continue the legacy of Jack Ryan, Jr. as he kicks butt, takes names, and saves lives in Barcelona.
This post is sponsored by Poisoned Pen Press. Thank you for supporting our partners, who make it possible for Murder & Mayhem to continue publishing the mystery stories you love.