On October 4, 2022, Peter Robinson passed away, but his stories and characters will live on in the hearts of his readers.
Robinson was a British-Canadian crime novelist most known for creating the beloved Detective Chief Inspector Banks. The series launched Robinson's career over thirty years ago. Since then, the series has grown into 27 published novels and multiple short stories.
Part of what made the series so wildly popular was how unique they were in the crime drama space. They're detective novels and follow the traditional police procedural structure. Banks and the characters' lives in the town of Yorkshire are detailed in a way that makes their humanity come to life on the page. We get to know them a little more in each book, and in the same way, a deep friendship grows over time—and so does our relationship with these characters.
In addition to the DCI series, Robinson wrote several stand-alone novels, novellas, and short story collections. He wrote psychological thrillers, detective stories, historical mysteries, and even the occasional horror story. No matter how bleak the subject, Robinson infused hope and light into them, always giving us a glimpse into the complexity of human nature without ever succumbing to the dark.
If you're new to Robinson's work—or are looking for new hidden gems to discover—here are eight novels that highlight the breadth and depth of his talent and career.
Seven Years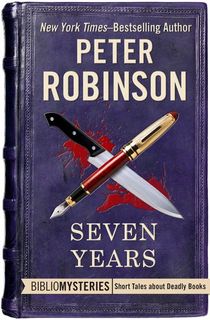 Seven Years
When retired Cambridge professor Donald Aitcheson finds an inscription inside an old Robert Browning poetry book, he's not irritated at the scribble but disturbed by it. It's a threat and his imagination runs wild at what it means. Curiosity takes over and Aitcheson finds himself playing detective. He tracks down the woman, now headmistress at a remote girls boarding school. But as he investigates, he soon discovers even the most innocent actions can have unexpected consequences
Gallows View
Gallows View
Detective Chief Inspector Alan Banks moved to Yorkshire to escape the demands of London, but even in Yorkshire, there is plenty to keep him busy. A peeping tom is targeting blond women in the area, including his wife, Sandra. Two drug-addled youths are breaking into people's homes and robbing them. And an old women is murdered. Are these crimes coincidence? Or are they connected?
The first in the wildly popular international best-selling detective series, this is when readers were first introduced Detective Chief Inspector Alan Banks. It's a quieter police procedural but Banks is who you want on the case. It's steady and satisfying, and a must-read for any detective novel fan.
Before the Poison
Before the Poison
Chris Lowndes spent his career composing Oscar-winning music believing he would always retire in Yorkshire with his wife, Laura. But after Laura's death, Chris has to rebuild a new life for himself alone. He buys an isolated house, hoping the quiet will help him heal. But Kilnsgate was once witness to a murder. A woman killed her husband, only to be hanged for the crime. The more Chris learns about Grace Elizabeth Fox, the more he tries to understand, pulling him into a relentless search into the past for the truth.
Before the Poison reads like a Golden Age mystery. It's a quiet character-driven story, where one man tries to understand the misdeeds of the past to reconcile the present.
In a Dry Season
In a Dry Season
During a harsh drought, the shrinking Thornfield Reservoir reveals a small village that's been underwater for over 40 years. It quickly becomes the perfect place for a young boy to let his imagination run wild, until he finds a human skeleton. Detective Chief Inspector Alan Banks is tasked with identifying the remains. But the town was drowned, and the people dispersed. To find the truth, Banks must return to the past, digging up secrets long buried.
The tenth in the series, this is the first cold case for the Chief Inspector. The blend of current investigation with glimpses of life during WWII, along with the introduction of DS Annie Cabot make this novel stand out from the rest of the series.
Caedmon's Song
Caedmon's Song
College-student Kirsten doesn't think twice about walking home on a late June night. In the middle of the park, she is violently attacked. Luck saves her life as a passerby finds her in the early morning hours before she bleeds out. But she can't remember what happened. In another part of England, author Martha Browne is researching the macabre in Whitby. As Kirsten begins to remember the details of her assault, Martha may be closer to finding what she's looking for. And the two women may hold the answers the other seeks.
A psychological stand-alone thriller, Caedmon's Song ends up being relevant to a future DCI Banks novel, Friend of the Devil.
Cold is the Grave
Cold is the Grave
Chief Constable Jimmy Riddle has been trying to destroy Detective Chief Inspector Alan Banks' career and reputation. But when his runaway daughter's nude photo shows up on a website, he turns to Banks for help. It takes him back to London where a series of gruesome murders occur. He's soon pulled into the murky past of Constable Riddle. And even after he gets the girl back, trouble still follows.
The Price of Love: And Other Stories
The Price of Love: And Other Stories
In addition to stand-alove novels and the 27-book DCI series, Robinson wrote short stories. The Price of Love features twelve short mysteries, including a new short story featuring the popular Inspector Banks. This collection has stories of various lengths and genres, including a horror story. It's a delightful place to experience the range of Robinson's writing talent and introduce yourself to his many different styles of writing.
Not Dark Yet
Not Dark Yet
When property developer Connor Clive Blaydon is found dead, it seems like it will be an easy case for Detective Chief Inspector Alan Banks and his Yorkshire team. After all, there are spy cameras set up all over the property. But while reviewing footage, another brutal crime is exposed. It changes everything about the case, and how police view Connor, but the footage is grainy, and the woman hasn't come forward. Meanwhile, Banks' friend Zelda is determined to pursue the men who abused her, putting her in far more danger than ever before.
The 27th and last published novel in the Detective Chief Inspector series, Not Dark Yet weaves the histories of its growing cast of characters seamlessly into a new and compelling plot.