Author Rita Mae Brown is perhaps best known for her long-running series of Mrs. Murphy Mysteries, which credit Brown's own cat, Sneaky Pie, as the co-author. However, she had been writing and making her voice heard long before the 1990 publication of Wish You Were Here, the first book in the quirky Mrs. Murphy series.
Born in 1944, Brown's first novel was the 1973 autobiographical coming-of-age classic Rubyfruit Jungle, notable for its frank depiction of lesbianism. Rubyfruit Jungle cemented the feminist author's place as a "lesbian writer," even though she, herself, often rejected the term.
"I don't believe in straight or gay. I really don't. I think we're all degrees of bisexual," she told Time magazine in 2008. "It was a misnomer," she added in regards to her reputation as a lesbian writer, "but it's okay. It was a fight worth fighting."
Active in feminist and LGBTQ circles for decades, Brown continued to write books on similar subjects as late as 2002, when she published Alma Mater, a novel about a college student who falls in love with another young woman. She also wrote the teleplays for numerous TV movies and even has the unlikely distinction of screenwriter for the 1982 slasher flick The Slumber Party Massacre.
Related: 9 Fun and Quirky Whodunits by Female Mystery Authors
Brown received a grant from the National Endowment for the Arts to write her 1978 novel Six of One. It was the first of five books in the Runnymede series, which focuses on the eccentric residents of a small town on the Mason-Dixon line and was inspired by Brown's own birthplace of Hanover, Pennsylvania.
She has been nominated for two Emmys, and has received both the Writers Guild of America Award and the 2015 Pioneer Award for lifetime achievement from the Lambda Literary Awards. By the time she began primarily writing mysteries, Brown was 46-years-old, with a distinguished literary career already under her belt. Yet today, her mystery series are among her best-known works, and are some of the most beloved mysteries in print.
Brown's latest, Out of Hounds, is the 12th in her popular "Sister" Jane series. Available on January 19, 2021, the novel stars the aging "Sister" Jane Arnold, Master of the prestigious Jefferson Hunt Club, who solves murders within a close-knit Southern town.
If you've never read any of Rita Mae Brown's popular mysteries, here are a few choice places to start!
Wish You Were Here
This 1990 hit introduced readers to Mrs. Murphy—a tiger-striped cat—and her human companion, small-town postmistress Mary Minor "Harry" Haristeen. Harry gets involved in a murder mystery due to her bad habit of reading postcards not addressed to her, including the ones with tombstones on the front that read "wish you were here." Mrs. Murphy and her human have since been the stars of nearly 30 classic novels beloved by readers of cozy mysteries everywhere.
Related: 10 Quirky Animal Cozies for the Pet-Loving Mystery Reader
Outfoxed
A decade after creating Mrs. Murphy and her human, Rita Mae Brown introduced readers to another well-loved series protagonist, this time in the form of Jane Arnold—also known as Sister—the nearly 70-year-old Master of the Jefferson Hunt Club. Sister must solve a murder committed on the hunting field while also trying to decide who will be her successor as the Master of the club in this unforgettable Southern mystery of manners as only Brown can write it.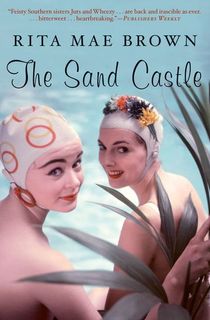 The Sand Castle
The books in Rita Mae Brown's critically acclaimed Runnymede series aren't generally considered mysteries, per se, but there are certainly thriller elements in the fourth book in the series, which follows a seemingly innocent family trip to the beach. Seven-year-old Nickel is busy tormenting her older cousin Leroy, who has recently lost his mother and is terrified of the world around him. Yet she will learn that blood is thicker than the ocean water they swim in when a horrifying event draws the pair closer together before the long day at the beach is over.
A Nose for Justice
As in Brown's popular Mrs. Murphy series, pets take the center stage in her Mags Rogers mystery series, which released its first—and thus far only—two installments in 2010. This time, however, it's dogs, not cats, that are the focus, as Mags leaves a high-paying Wall Street job behind to travel across the country with her dachshund Baxter and her German Shepherd King. She takes up residence on her great aunt's ranch in Nevada, just in time to become embroiled in a series of murders and the bombing of the local water supply.
Murder Unleashed
Baxter and King continue to protect their human companions in the second Mags Rogers novel, which tackles the inequities of the housing crisis that shook America, plunging human and canine detectives alike into the world of ruthless politicians, banking scandals, and cold-blooded murder. As Suspense Magazine noted, "From murder to loveable canines, this book has it all."
Related: 9 Delightful Cozy Mysteries for the Aspiring Poirot or Miss Marple
Whiskers in the Dark
Two of Rita Mae Brown's most popular series brush up against one another in Whiskers in the Dark, a Mrs. Murphy mystery set on the grounds of a Virginia hunting club that could have come straight out of the pages of a "Sister" Jane novel. This time, Harry and her crime-solving cats Mrs. Murphy and Pewter, along with the Corgi Tee Tucker, have to stop a killer who knows the hunting club better than they do, and may be lurking right under their very keen noses.