When Ross Macdonald, whose real name was Kenneth Millar, died from Alzheimer's disease at the far-too-young age of 67, the New York Times credited his Lew Archer series with "lift[ing] the modern detective novel to the level of literature." Macdonald, a notoriously reserved man whose early books were inspired by his wife Margaret Millar's success as a mystery writer and his own reverence for Dashiell Hammett and Raymond Chandler, might have demurred, but to anyone who's followed Archer on a case, the Times's declaration rings as true as a deathbed confession.
Macdonald's twin innovations to the hardboiled detective novel—electrifying poetic imagery and deep psychological depth—are the byproducts of a lifetime marked by stunning reversals of fortune. Born in the San Francisco Bay Area, he was raised in Canada after his father abandoned the family when Macdonald was just three years old. By his own estimation, he and his mother moved 50 times before his 16th birthday, cycling between relatives' homes and rooming houses. But an insurance policy that paid out when his long-lost father died provided a lifeline out of poverty: Macdonald used that money to attend college, where he studied under poet W. H. Auden during a summer course. He later called Auden the "most important single influence" on his life.
After serving in WWII, Macdonald earned his PhD in English literature and made his long-awaited return to California, settling in Santa Barbara with his wife and young daughter.
It was the need to provide for his family—and a friendly rivalry with his wife—that led Macdonald to try his hand at writing a spy thriller, The Dark Tunnel (1944). Long Beach detective turned private investigator Lew Archer (the character was partly named for Sam Spade's murdered partner, Miles Archer) first appeared in 1949's The Moving Target, later made into the Paul Newman film Harper. But no sooner had the husband-and-wife mystery team achieved success, than tragedy struck.
Related: Daughter of Time: A Mystery Lover's Guide to Josephine Tey
In 1956, Macdonald's teenage daughter Linda killed a 13-year-old boy and seriously injured two other people in a drunken hit-and-run accident. She survived a suicide attempt and was committed to a mental hospital before she was found guilty of manslaughter and sentenced to probation. But her troubles continued. Three years later, she disappeared from her college dorm room and went missing for eight days. Macdonald hired private detectives and appealed through the media for Linda to come home. She was eventually located in Reno, Nevada with an older, married man and brought back safely to Southern California, but the rest of her short life was marred by poor health—she died in her sleep at the age of 31.
Linda's difficulties devastated her father. In search of relief, he entered psychotherapy—a decision that would have a profound impact on his life as well as the modern detective novel. Beginning with The Doomsters in 1958 and The Galton Case in 1959, Lew Archer evolved to become equal parts therapist and investigator, a personification of his creator's attempts to understand how family traumas, unless dealt with honestly and compassionately, are passed down from generation to generation in a never-ending cycle of pain and recrimination. Frequently, Archer is called in to investigate the illicit behavior of rebellious young people only to find that far more serious misdeeds lie buried in their parents' and grandparents' past. His willingness to look beyond appearances in search of the truth was well-suited to the times—the decade from the late 1950s to late 60s when the Beatnik generation evolved into the counterculture movement—and set him apart from the jaded tough guys who populated most noir mysteries.
Macdonald's willingness to take the genre into more emotionally complex territory earned him many famous admirers, including Eudora Welty, William Goldman, Warren Zevon, and Michael Connelly, and a place alongside his heroes Chandler and Hammett as one of the handful of noir novelists whose work has been collected by the prestigious Library of America. Whether you're looking for your first taste of Macdonald's genius or ready to take a deeper dive into his oeuvre, these 9 essential books are a great place to start.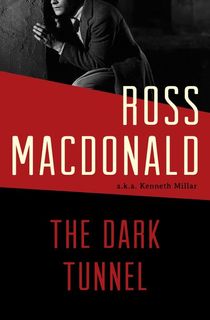 The Dark Tunnel
This twisty spy thriller was first published under Macdonald's real name, Kenneth Millar. Robert Branch, who would return in Trouble Follows Me, is an American academic who begins a torrid love affair with a German actress in 1937 Munich. Separated by fate, they're reunited years later in Detroit, but Branch suspects that his lover secretly may be working for the Nazis.
The Moving Target
Published under the name John Macdonald (later changed to Ross Macdonald to avoid confusion with the mystery writer John D. MacDonald), this is the first Lew Archer mystery and the first appearance of Santa Teresa, a fictional stand-in for Santa Barbara. Hired to investigate the disappearance of an alcoholic Southern California millionaire, Archer uncovers a cast of colorful characters, including a bogus holy man and an actress turned astrologist, in a bizarre kidnapping plot that stretches from LA to Las Vegas.
Related: L.A. Noir: 11 Must-Read Mysteries Set in Los Angeles
The Way Some People Die
A mother hires Archer for one day to look for her missing daughter, Galatea, who was last seen in the company of a small-time gangster with a reputation for violence. Archer tracks the unhappy couple from San Francisco to Palm Springs by following the trail of wreckage left in their wake. With perhaps the highest body count of the series, the third Archer mystery is hardboiled all the way through.
The Doomsters
The rot and corruption beneath the wealthy Hallman family's orange groves will stay buried no longer in the pivotal seventh book in the series. Archer is hired by Carl Hallman, the junkie son of Senator Hallman and his wife Alicia, to investigate their deaths, which occurred years apart. As he looks into the double-dealing, intimidation, and political chicanery the Hallmans employed to gain and keep their fortune, Carl's life hangs in the balance.
The Galton Case
Macdonald fully establishes his new, more psychologically complex approach in this riveting tale of the search for the heir to the Galton fortune, begun some 20 years after he disappeared without a trace. Hired by the missing man's elderly mother, Archer begins the investigation without much hope of finding anything, but soon digs up a headless skeleton and a con game decades in the making. He pursues the truth as far as Canada, where he stumbles into a scene that might have come from Macdonald's own hardscrabble youth.
Related: What Is Hard-Boiled Crime Fiction?
The Zebra-Striped Hearse
This fantastically-titled entry is haunted by a band of shaggy-haired young surfers who prowl the California coast in search of good waves and an escape from their wrecked home lives. Archer's path crisscrosses with the wanderings of these lost boys and girls as he investigates a rich young woman's mysterious new boyfriend. Is the handsome artist really who he says he is, or a grifter in search of his next victim? The woman's father suspects the latter, but Archer knows that appearances can be deceiving.
The Chill
Macdonald raises his intricate plotting to a new level in this story of a young woman who disappears—seemingly of her own volition—during her honeymoon. Hired by Dolly Kincaid's distraught husband, Archer finds the runaway bride—and a mystery linking two unsolved murders that occurred decades apart. To find the hidden connections behind the deaths, Archer will have to dig through repressed memories, fractured family dynamics, and mistaken identity. The novel's final twist is one of the most ingenious in modern detective fiction.
Black Money
Macdonald mulled the plot of the 13th Archer mystery for two decades before he began writing, and considered it time well spent—on numerous interviews, he named Black Money as his finest achievement. Inspired by The Great Gatsby, the story finds Archer investigating a suave Frenchman who has run off with another man's girlfriend. But this is no ordinary case of broken hearts, as Archer soon discovers that the foreigner's origins are as dark and mysterious as a moonless midnight.
The Underground Man
Expanding his palette to include the traumas that people inflict on the environment as well as each other, Macdonald interweaves startlingly poetic descriptions of a California wildfire into Archer's mad-dash pursuit of a boy kidnapped by his father. In the hills above Santa Teresa, the fire and the mystery surrounding a family's sudden dissolution 20 years prior converge—with devastating consequences.