Books and movies taking place in the American South have always had a unique—and often haunting—character. From the Southern Gothics of William Faulkner and Flannery O'Connor to their modern-day successors like Joe R. Lansdale and Cormac McCarthy, to name just a few. Whether they're taking place in the steamy alleys of New Orleans, the oilfields of Texas and Oklahoma, or the Ozark mountains, stories of crime and horror in the South are almost always distinct from their counterparts set in the rest of the world.
The Southern Gothic has been an active literary mode since at least the end of the American Civil War, and novels of southern crime have been around as long. With the success of shows like Ozark on Netflix or the FX series Justified, the Southern Noir has seen a popular resurgence in recent years, but authors from the South have been telling tales of crime and punishment, loss and redemption for decades, and film adaptations of some of the books that you'll find on this list have already gotten award-winning critical attention.
Related: 11 Thrilling Southern Noir Books to Read Now That You've Binged Ozark
Whether you're coming to Southern Noir from one of those shows or movies, or you're just a connoisseur of crime fiction looking for a different flavor to try, these 10 books will introduce you to the Southern Noir sub-genre and some of its most celebrated modern practitioners, from award-winning masters to exciting new voices that are just bursting onto the scene.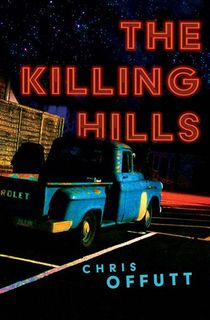 The Killing Hills
Life can be hard in the hills and hollers of small-town Kentucky in this acclaimed novel from the author of Country Dark. Tensions are brewing between the clans that make the Appalachian hills their home, and those tensions threaten to explode into violence at any moment. Drawn into all this is Mick Hardin, an army CID agent on leave to visit his pregnant wife. His sister has recently made sheriff in their small hometown, but she may need his help to crack a murder case that has local politicians on high alert.
The Devil All the Time
Fans of the 2020 Netflix adaptation of Donald Ray Pollock's debut novel, starring Tom Holland and Sebastian Stan, among others, can attest that Southern Noir doesn't come much more harrowing or expansive than this generational tale of several converging characters who haunt (or are haunted by) small towns in rural West Virginia and Ohio, spanning the years between the end of World War II and the 1960s. As serial killers clash with suffering children, local law enforcement, and spider-handling preachers, the darkness of the world that Pollock conjures often threatens to swallow the characters—and the reader—whole.
Crimes in Southern Indiana
"Welcome to heartland America circa right about now," the back-cover copy of Frank Bill's collection of Southern Noir short stories begins, "when the union jobs and family farms that kept the white on the picket fences have given way to meth labs, backwoods gunrunners, and bare-knuckle brawling." Across 17 stories, this debut collection from exciting new author Frank Bill paints a portrait of a "dilapidated, seedy, nightmare version of southern Indiana" that "begins rather like pulp genre fiction then deepens into something much more significant and powerful." (Library Journal)
Related: A Case for Detective Short Stories
Winter's Bone
Adapted into the Oscar-nominated 2010 film of the same name—which made waves in part for introducing mainstream audiences to Jennifer Lawrence, at the time one of the youngest people ever to be nominated for Best Actress—Daniel Woodrell's 2006 novel is a modern classic of Southern Noir, creating what Publishers Weekly called "a luminescent portrait of the poor and desperate South." For those who are only familiar with the film adaptation—or those who have yet to experience either—this harrowing and lyrical novel adds depth and compassion to what could otherwise be a familiar tale of crime and those who are disproportionately affected by its fallout.
The Bottoms
Winner of the Edgar Award, this Depression-era novel of suspense from "mojo storyteller" Joe R. Lansdale features some of the distinctive writer's best works. While Lansdale veers from horror to noir and back again, some of his best books—such as his series starring Hap Collins and Leonard Pine, which was adapted for television from 2016 to 2018—capture the unmistakable voice and verve of Southern Noir as well as any writer alive.
Related: 4 Thrilling Western Mysteries to Add to Your Streaming Round-Up
That's certainly true of this unforgettable book, which follows the story of a young boy in East Texas who discovers the mutilated body of a black woman and begins to suspect that a string of murders may have been committed by a local boogeyman known as the Goat Man. For fans of coming-of-age tales and True Detective who want a distinctive Texas voice, look no further than this New York Times Notable Book of the Year.
No Country for Old Men
Because it was originally written as a screenplay, this novel by modern Western writer Cormac McCarthy may be more stripped-down than some of the legendary author's more poetic prose, but anyone who has seen the Academy Award-winning Coen Brothers film of the same name knows that "stripped-down," in this case, doesn't mean "lacking." Spare, perhaps. Lean. Mean, with sharp teeth that sink into the jugular and don't let go. That's Cormac McCarthy in a nutshell, and his tales of a West that's less wild and a little more cruel don't come much more noir than this…
Where All Light Tends to Go
A finalist for the Edgar Award, David Joy's debut can be as heavy and dark as you might imagine from that title and the original cover, which featured a dilapidated and ominous cabin in the fog-shrouded woods. Set in a dying North Carolina town, this novel of crime and redemption trades—as many of these books do—in the harsh and desperate world of the meth industry. Jacob McNeely must decide whether he wants to work for his meth-cooking father's drug ring or try to make a new life for himself beyond the city limits.
Bluebird, Bluebird
Another Edgar Award winner, this novel of "racism, hatred, and, surprisingly, love" has been called an "absorbing series launch" by Publishers Weekly. Author Attica Locke has won the Harper Lee Prize for Legal Fiction, an Ian Fleming Steel Dagger Award, and was nominated for the Los Angeles Times Book Award and an NAACP Image Award, to name a few.
Related: 8 Legal Thrillers That Will Have You on the Edge of Your Seat
In Bluebird, Bluebird, she launches a new series that follows Darren Mathews, a black Texas Ranger, as he ventures up Highway 59 to a small East Texas town where two murders threaten to open floodgates of racial resentment. And he may just find himself caught in the middle.
Young God
Named an Amazon Best Book of the Month when it was released, the voice in Katherine Faw's debut was hailed as "terse and vicious […] she shows that she can strong arm the reader with few words." While "vicious" may not be to everyone's liking, Faw's scathing debut about a dangerous 13-year-old conjures a vivid portrait of a North Carolina hellscape of "drugs, prostitution, and murder," where each short chapter "captures a single breathless moment." After the sudden death of her mother, young Nikki finds herself being groomed for a future she doesn't want, and she is determined to break free by any means necessary in this novel that "fans of finely made fiction will fly through before they've even blinked." (Booklist)
Midnight in the Garden of Good and Evil
Many of the books on this list have been harsh reads, but Midnight in the Garden of Good and Evil may be many things —among them being as Southern as they come—but it is anything but harsh. In fact, this book—which was adapted into the 1997 film of the same name by Clint Eastwood—is so beloved that it spent more time on the New York Times bestseller list than any other title. 216 weeks, in case you're curious. It's also something of an oddity, combining Southern Gothic, Southern Noir, and true crime to tell at least one version of the true-life story of the 1981 killing of Danny Hansford by his employer Jim Williams. The real star of the story is the city of Savannah, however, and the many eccentric characters who populate it in John Berendt's retelling.