Many mysteries and thrillers cast men as the killers. It's not surprising since in real life, most known serial killers are men—think Jack the Ripper, Ted Bundy, John Wayne Gacy, and Jeffrey Dahmer.
But these six books flip the gender script and show that women are equally as dangerous. Whether they're killing for fun, money, revenge or sheer pettiness, just hope you never cross paths with any of them.
A Certain Hunger
Dorothy Daniels is an insatiable food critic of a certain age who delights in duck confit, fine wine, full throttle sex—and the organ meats she slices from her juicy young lovers. Chelsea G. Summers' provocative debut opens with our femme fatale locked away at Bedford Hills Correctional Facility, hungry to take us through the unapologetically ruthless and delicious journeys that fuel her unusual and carnal appetites. This book is perfect if you want to know how Hannibal Lecter would write Eat, Pray, Love,—although Dorothy's memoir would be called Eat, Prey, Lust. It's definitely worth the read—if you can stomach it.
Related: The Return of Moriarty
My Sister, the Serial Killer
"Ayoola summons me with these words—Korede, I killed him. I had hoped I would never hear those words again."
And with that, Oyinkan Braithwaite's explosive debut hurls readers on a twisted ride through the treacherous secrets of a Nigerian family, where claustrophobic tradition and unyielding loyalty rule above all else. No matter what Ayoola does, Korede is constantly cleaning up her beautiful baby sister's messes.
Ayoola has no qualms about killing tiresome lovers, especially since she knows Korede will always cover up her crimes. But when fickle Ayoola's attention spins toward the handsome Dr. Tade—Korede's boss and the clueless object of her own unrequited passions—we learn just how far Korede is willing to go to protect her sister.
Related: 11 Mystery and Thriller Novels by African Writers You Should Add to Your Reading List
They'll Never Learn
Dr. Scarlet Clark is the vigilante you've been waiting for. She might be a top-tier English professor at Gorman University, but she's also brilliant at getting away with murder. Some men are never held accountable for their behavior, and that's when Dr. Clark gets to work. She only hunts the worst of the worst of mankind—students, professors, or others whose despicable behavior catches her eye.
For over 15 years, she's killed undetected thanks to her careful and meticulous research and planning. But after Dr. Clark's latest kill on campus—a young, frat boy who participated in a gang rape of a female student—her colleague begins to investigate the string of suspicious deaths on campus, threatening everything Dr. Clark has worked so hard for.
Meanwhile, Gorman freshman, Carly Schiller, is finally free of her oppressive upbringing. But when her best friend and roommate is sexually assaulted at a party, Carly wants revenge, and with the support of her English professor, maybe she won't have to face everything alone.
Related: Sleuths of Every Age Will Love These School Mysteries
An Elderly Lady is Up to No Good
Maud suffers no fools. In this slim volume of short stories, we meet the 88-year-old retired teacher living alone in her grand Swedish apartment. Maud most wants to be left alone, and when the people around her begin to insert themselves into her life, they must be dealt with swiftly. Maud's not afraid to get her hands dirty, especially when it comes to dealing with the neighbor/artist/influencer gunning for Maud's beloved apartment, the abusive lawyer upstairs disrupting her Christmas celebrations, and the antique dealer who notices just how many precious treasures are hidden away in Maud's apartment. Her recourse is inventive and always plays to her strength—who, after all, would ever suspect an elderly lady? Let's just say, you'd never want to be on Maud's bad side.
Related: The 30 Best Female Detectives and Amateur Sleuths in Mystery Fiction
Codename Villanelle
Jennings' book inspired the award-winning tv show Killing Eve. After Oxana seeks revenge on the gangsters who killed her father, she's saved from the death penalty and given a new life as Villanelle—an assassin-for-hire for a group known only as "the Twelve." She travels the world, killing as ordered—and living a life of luxury.
But Eve Polastri is onto her. Working for M15, Eve notices a pattern of deaths that she suspects are the work of a female serial killer she calls Chernaya Roza, or Black Rose. In the first novella in the series, Codename Villanelle puts the ruthless killer and the woman who hunts her on a crash collision course.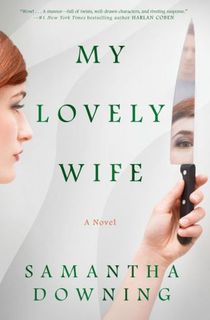 My Lovely Wife
Millicent and her husband have found an innovative way of keeping the spark of their 14-year-marriage alive: serial murder. They're very good at covering up their tracks, but when their last victim is discovered, her husband becomes concerned. Not only did he think the body was disposed of where no one would ever find it, but the victim was killed months ago—so he's even more confused when reports say that the victim only died recently. Millicent's husband is willing to do anything—and he means anything—to keep his wife happy, but he quickly realizes that her appetite is becoming impossible to satisfy.
Related: The Best Gillian Flynn Books, Ranked