A book is an introduction to a new place. Whether you're reading about a murder mystery in a far-off country you may never visit or a detective story in the heart of the city next to yours, you are inevitably exposed to new names, faces, people, and languages. The possibilities are endless.
Related: 15 Must-Read Mysteries and Thrillers by Diverse Authors
To that end, I'm recommending the best mystery and thriller novels from African writers, with twists and turns that will leave you gasping for air. You will witness murder, corruption, and suspense aplenty. And I can assure you that you won't regret picking up any of the books on this list.
My Sister, the Serial Killer
In this Lagos-set debut, we witness an event that explores the extent to which love and family loyalty can make us revolt against our fundamental morality. Korede, an anti-social nurse, receives a now-familiar request from her gorgeous sister, Ayoola: Can she help cover up the murder of Ayoola's boyfriend, the third victim of her violent rage? When Ayoola shows up at Korede's workplace one day and a doctor falls in love with her, the phrase "family always comes first" is tested.
This novel isn't exactly a murder mystery, since we all ready know who, what, when, and where, if not why. But it occupies the same dark places as murder mysteries do: family; the burden of loyalty; a psychotic killer. This novel won the Los Angeles Times Book Prize in 2019 and was shortlisted for the Women's Prize for Fiction.
Red Ink
South African PR consultant Lucky Khambule used to be a crime reporter. Out of the blue, she's contacted by a convicted serial killer. Napoleon Dingiswayo is responsible for the deaths of over 40 women, and he wants Lucy to tell his story. Excited by the opportunity, Lucy agrees, and sets out to fulfilling her lifelong dream of writing a book. However, there's more to the offer than meets the eye.
Easy Motion Tourist
Set in Lagos, Nigeria, the first novel in the Amaka series features British expatriate Guy Collins, who is arrested as a suspect in a crime and subsequently stumbles upon a chance to navigate the city's criminal underworld. Amaka rescues Collins from his jail cell and together, they navigate the highs and lows of the city. This fast-paced novel is true Nigerian noir. It doesn't waste time romanticizing Lagos, and instead dives right into the gritty story.
True Murder
11-year-old Ajuba is brought to a Devon boarding school by her Ghanaian father, where she befriends a new American student named Polly Venus. Polly introduces Ajuba to a new game called True Murder, and it becomes a favorite pastime for them. However, when the girls play the game one fateful afternoon, they make a daunting discovery.
I Do Not Come to You by Chance
If you're fascinated by tales of the so-called Nigerian Prince, this book is for you. This brilliant satirical novel tells the story of Kingsley, an unemployed chemical engineering graduate. As pressure begins to mount from his family and his girlfriend, Kingsley turns to his estranged uncle, "Cash Daddy," who has made a considerable fortune from scamming foreigners online. The novel follows his subsequent journey as a scam artist.
Nairobi Heat
In this fast-paced police procedural, the author takes us from Madison, Wisconsin to Nairobi. When a beautiful young white woman in an American college town is found dead on the doorstep of a visiting Rwandan professor, an African American detective is forced to go to the Kenyan capital in order to find answers.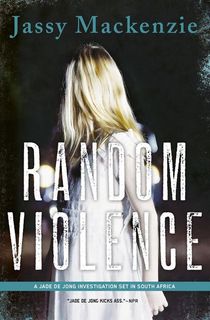 Random Violence
In the first book in the Jade de Jong series, a white Johannesburg neighborhood witnesses the murder of Annette Botha. P.I Jade de Jong fled South Africa after her father's murder, but she has returned after 10 long years to unravel this baffling case. Coincidentally, Jade de Jong's investigation into Annette Botha's murder will reveal connections to her father's death.
Related: 9 South African Thrillers That Will Leave You Reeling
The Carnivorous City
From the author popularly known as the "Mayor of Lagos," this is a fast-paced literary crime novel that reveals the Nigerian city in all of its ruthlessness. School teacher Abel Dike arrives in Lagos in search of his missing brother, Soni. Soni is a successful crime lord, with a beautiful wife and a lavish house on the seaside. As Abel navigates the tumultuous city, he encounters a cast of criminals and dirty policemen. Lagos takes on a life of its own in this atmospheric love letter to the city.
Wife of the Gods
Detective Darko Dawson is both a family man and a ruthless police officer with lingering anger issues. When an AIDS relief worker is murdered in Accra, Ghana, Detective Darko is called upon to solve the murder. His investigation reveals high-level police corruption, multiple suspects, and a string of events that unearth a connection to his mother, who disappeared when he was just a boy.
Related: Global Thrills and Chills Await You in Europa's World Noir Mysteries
Kwei Quartey vividly describes the customs and traditions of the people of Ghana in this fast-paced novel. If you're looking for a whodunit with a strong cultural background, this is the perfect read.
Satans and Shaitans
Chief Donald Amechi and famous televangelist Chris Chuba are both members of the Sacred Order of the Universal Forces, a powerful secret society. When Chuba's young daughter is murdered, a string of events ensues that would put the Illuminati to shame. If you love to read about conspiracy theories, fraudulent schemes, and the corrupting power of money, you're in for a treat.
The Cutting Room
In this gripping psychological thriller, a film editor is abandoned by her husband. Disillusioned and confused, Lucinda distracts herself from her worries by partnering with a filmmaker friend, Thomas, on his new documentary. However, tension begins to rise when Thomas's obsession with the story behind his film reveals a disturbing truth.