Anna Lee Huber stands out from the crowd as an author whose attention to historical detail manifests into award-winning and unique mysteries. Born and raised in Ohio, she discovered her skill for writing at a young age. After writing her first story in the fourth grade, Huber continued to sharpen her pencils and hone her craft.
Though she discovered her skillful storytelling at a young age, Huber decided to attend college in Nashville, Tennessee, where she majored in music in the hopes of becoming a singer. This career path was not in the cards for Huber, but she slowly began to realize that her true calling arrived years ago. She decided to return to writing and published her first novel in 2012, eventually becoming known as the acclaimed historical mystery author she is now.
Today, Huber is a Daphne Award winner and a national bestselling author. Each of Huber's series takes place in a specific time period and location, from the Lady Darby series set in 1830s Scotland to the Verity Kent Mysteries set in 1919 England. These novels showcase Huber's ability to conduct thorough historical research and imagine stories based in the past that contemporary readers will enjoy.
Related: 13 New Mysteries and Thrillers We Can't Wait to Read This Fall
In October of 2020, Huber will release the fourth installment in the Verity Kent Mysteries, A Pretty Deceit. This riveting story of suspicious persons, forgeries, and rumors is a compelling new addition to the well-established series.
With such an expansive and enthralling bibliography, it may be difficult to choose your first Anna Lee Huber historical mystery. Out of all of her novels, here are the ones you won't even consider putting down until you've read every word.
A Pretty Deceit
The fourth novel in the Verity Kent series, A Pretty Deceit takes place in 1919 England. Former Secret Service agent Verity has just discovered that her adversary, Lord Ardmore, has returned. In the midst of strange goings-on, she finds a family heirloom that may reveal the truth behind her old foe. At every turn, new information surfaces, and Verity must face the fact that her investigation could be painting a target on her back. Huber artfully captures the intensity of the Great War's aftermath, as well as the discovery of new evidence that could change everything Verity Kent knows to be true.
A Pretty Deceit will be available on October 6, 2020.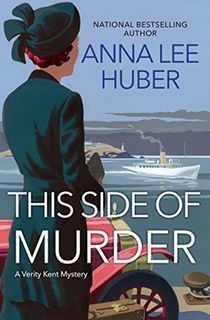 This Side of Murder
In the first installment of the Verity Kent Mysteries, Huber introduces the titular character, who is dealing with the aftermath of her husband Sidney's death. While the historical mystery focuses on Verity's investigation into her husband's alleged treason and murder, it is revealed that her own past is just as mysterious as the evidence she is trying to piece together. As an ex-secret agent, she will lose everything if her former profession is exposed.
Related: 13 Historical Mysteries for Fans of Lydia Kang's Opium & Absinthe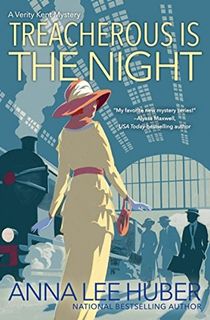 Treacherous Is the Night
The second novel in the Verity Kent series introduces a new element to the investigator's story: the supernatural. When a medium channels the spirit of a former colleague that Verity refuses to believe is dead, she sets out to explore her next case. Tensions rise as she nears the truth, making this novel one of the series' most riveting reads.
Penny for Your Secrets
The third Verity Kent novel, Penny for Your Secrets explores the secrets of the aristocracy and the bourgeoisie. When her friend Ada's gun is believed to be a murder weapon, Verity strives to prove her innocence. A twist connects this seemingly isolated crime to an even larger conspiracy that threatens the entirety of Britain. Verity may be the only one who can stop a dangerous plot before it all goes too far.
Related: 13 Riveting Reads for Mystery Fans and History Buffs Alike
A Study in Death
The Lady Darby Mysteries picks up with its fourth novel, A Study in Death, set in 1831 Scotland. After painting a portrait for Lady Drummond, Kiera begins to notice that something is off about the woman. Once things take a turn for the worse, Lady Drummond suddenly dies of supposedly natural causes. However, Kiera suspects that she may have been poisoned by an unknown individual whom she fully intends on catching.
As Death Draws Near
Lady Kiera Darby is enjoying her honeymoon with her new husband Sebastian, but their vacation is cut short when they are informed that nuns are being murdered back in Dublin. The fifth installment of the series follows the newlyweds as they uncover the truth behind the students of the Rathfarnham Abbey school. While children are generally known for their innocence, this twisty novel disrupts that notion entirely.
A Brush with Shadows
The sixth installment in the Lady Darby Mysteries sees Lady Kiera Darby return to Dublin in July of 1831. When her husband's family members begin to go missing, the couple investigates local superstitions in hopes of getting some answers. In the midst of everything, Kiera must tackle the unsettling truth behind her husband's family and their historical connection to the moors.
Related: Where to Begin with Russian Mystery Author Boris Akunin
An Artless Demise
The seventh novel in the Lady Darby Mysteries sees Lady Kiera Darby receive a letter intended to blackmail her. With body snatchers on the loose and a child on the way, she takes on the task of solving the case in order to save herself and her ex-husband from wrongful allegations. Kiera has little information on the motives behind the blackmail, creating an air of distrust and danger at every turn. With the anxiety of oncoming parenthood and connections to a crime she did not commit looming over her, time is of the essence for Kiera in An Artless Demise.
A Stroke of Malice
As the Lady Darby Mysteries progress, they continue to exemplify everything that makes historical mysteries so enthralling, especially in Huber's hands. In the eighth installment in the series, Lady Kiera Darby attends a party at the Duchess of Bowmont's home in 1832 Scotland. Upon arriving, she and her husband Sebastian notice that the atmosphere of the event is inexplicably bizarre. Once they discover the decomposing body of the Earl of Helmsdale, the two begin to question the hostess's true nature and if she may have killed her son-in-law.
Secrets in the Mist
In the first installment of the Gothic Myths series, Huber blends historical mystery with romantic suspense. Ella Winterton lives in England during 1812. While she copes with caring for her father, Ella sets out on uncovering the truth behind the mysterious marshes that are home to monsters of local legend. When she meets a strange man, the two investigate the marshes together, all while romantic feelings begin to grow between them. Secrets in the Mist showcases Huber's impeccable talent for genre-blending and creating unique stories that are difficult to set down, even for a second.