You loved Tony Hillerman's Jim Chee and Joe Leaphorn mysteries centered around the Navajo Nation Police—but all good things come to an end. Now you don't know where to scratch your itch for books set in Indian Country, defined by the National Congress of American Indians as "wherever American Indian spirit, pride, and community are found."
Well, that's a mystery that can be solved—with this handy list of great authors whose whodunits are set in Native communities all over America. Although most of these authors have written multiple books, this list focuses on each writer's first Indian Country mystery—so that you know just where to start with your next favorite series.
Blackening Song
This husband and wife writing team is responsible for several series set in Indian Country. Blackening Song is the first novel in their Ella Clah series. Navajo FBI agent Ella Clah must clear her own brother of suspicion when their father is murdered back home on the reservation. This complex mystery will delight fans who are looking for more mysteries set in the same cultural context as Hillerman's novels.
Related: How Old Was Your Favorite Mystery Author When They Published Their First Book?
A Cold Day for Murder
Dana Stabenow is the author of several series—but Hillerman fans will definitely want to check out her Kate Shugak series, set in Alaska's far north among the Aleut people. In A Cold Day for Murder, Kate has recently quit her job in the Anchorage D.A.'s office and returns to her hometown, looking for a refuge from big-city crime and stress. But she's soon embroiled in the disappearance of a park ranger, the complex world of tribal politics, and a budding romance she isn't sure she's ready for.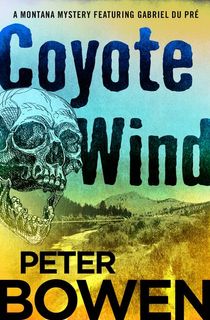 Coyote Wind
Coyote Wind is the first book in Peter Bowen's Montana Mysteries starring cattle brand inspector Gabriel Du Pré. A Métis Indian of Cree-French ancestry, Du Pré makes his home in Montana. The sheriff often needs his help policing the vast rural area—which is just what happens when Du Pré is called in to investigate a plane crash that reveals a decades-old mystery. WhileDu Pré hunts for answers, he learns that it isn't only the killer who has secrets—his own family does, too.
Related: A Moving Celebration of Peter Bowen and His Final Public Reading at Elk River Books
Cry Dance
In Kirk Mitchell's Cry Dance, Burea of Indian Affairs Investigator Emmet Quanah Parker and FBI Special Agent Anna Turnipseed form an uneasy partnership to track a killer on Havasupai Nation land. The two investigators quickly find that the killer they are hunting just might be hunting them, as well. Edgar Award finalist Mitchell knows how to write a taut and suspenseful thriller with the kinds of twists and turns that keep a reader guessing until the end.
DreadfulWater
A funny and prolific author, Thomas King has published in many genres—but the DeadfulWater series is his first foray into mysteries. Originally published under the pseudonym "Hartley GoodWeather," DeadfulWater takes place in the American Northwest. Thumps DreadfulWater is a Cherokee man who's trying to make it as a photographer in a small town and leave behind his past as a California cop. But when his sometime-girlfriend's son gets caught up in a murder at a local tribe's new condo development, Thumps gets dragged right back into the detective game.
Related: 13 Detective Series Books to Jumpstart Your Next Obsession
The Eagle Catcher
Margaret Coel's Wind River series features Arapaho lawyer Vicky Holden and Father John O'Malley solving mysteries on Wyoming's Wind River Reservation. In The Eagle Catcher, a tribal chairman is found murdered at a powwow—and despite the evidence pointing to his nephew, Vicky and Father John know the solution to the mystery lies elsewhere. In fact, despite plenty of corruption and fraud in the present, Vicky and Father John will find that the answers they seek lie one hundred years in the past.
Iron Lake
The celebrated Cork O'Connor mysteries feature the titular Irish-Anishinaabe investigator and his small Minnesota town. In the first novel in the series, Iron Lake, the embattled and embittered Cork has recently lost both his wife and his position as sheriff—but when he is asked to look into the disappearance of a local child and the murder of a judge, Cork is willing to do what it takes to tackle secrets, conspiracies, and corruption. Iron Lake is an atmospheric thriller, packed with Ojibwe cultural lore, northern Minnesota chills...and cold-blooded murder.
Related: HIDDEN GEMS: Moon Over the Mountain by Carol Dean Jones
Navajo Autumn
In the first book in his Navajo Nation series of mysteries, R. Allen Chappell introduces the world to Charlie Yazzie, a recent law school graduate who risks everything to help out when his friend is accused of murder. Navajo Autumn offers readers more than just a great mystery and adventure: it also depicts the struggles of the Navajo people to hold onto their cultural heritage in today's rapidly changing world. Readers who become attached to Yazzie and his friend Thomas Begay in this fast-paced, humorous mystery will be delighted to learn that there are 10 more books in the series.
The Quality of Mercy
Another series set in Navajo territory, Katayoun Medhat's Milagro Mysteries feature a Navajo police tracker by the name of Robbie Begay and a white detective humorously named Franz Kafka. In The Quality of Mercy, Kafka and Begay are on the trail of the killer of 28-year-old Noah George. Medhat offers insight into Navajo culture as well as touches of humor as she explores the interdependence and mutual distrust among the cultures of the American Southwest.
Related: Gripping Historical Mystery Books Set During the Civil War
The Shaman Sings
The Shaman Sings is the first book in James D. Doss's beloved series of mysteries starring Southern Colorado Ute policeman Charlie Moon. Along with his friend and fellow lawman Scott Parrish, Charlie investigates the murder of a physics student in Granite, Colorado. Charlie's Aunt Daisy, the occasionally helpful tribal elder and eccentric medicine woman, offers intriguing insights into the spiritual world of the Utes and a light comic touch to this gripping mystery.
Tracker
The Fox Walker series opens with Tracker, a gripping adventure set in the Colorado wilderness. Native American survival expert and tracker Fox Walker discovers a mysterious scarred woman living alone in a mountain cabin. She wants nothing to do with the outside world, but this "Woman of the Wilderness" will need to rely on Fox if she is to survive the serial killer who is determined to finish what he started. In 2017, Tracker was a finalist for both the National Indie Excellence Award and the San Diego Book Award.
Winter Counts
David Weiden's debut thriller, Winter Counts, is set on the modern-day Rosebud Lakota reservation in South Dakota. When heroin infiltrates the reservation, hired vigilante Virgil Wounded Horse begins a search for justice—one made personal to him by his own nephew's involvement with the drug. Virgil finds more than a trail of corruption, however; he also discovers hard truths about his own identity as an indigenous man. Winter Counts has been nominated for the 2021 Edgar Award for Best First Novel and was included in a host of "best book" lists for 2020.