Britain's Belinda Bauer is one of the most exciting crime novelists writing today. From the moment she burst onto the scene in 2009 with her award-winning debut thriller Blacklands, Bauer has delivered gripping reads at a fantastic clip, publishing a new novel roughly every year and earning comparisons to Ruth Rendell. With a background as a court reporter, Bauer knows a thing or two about crime and punishment. She's also well-acquainted with her adopted home principality of Wales, which she regularly uses as a backdrop for her cleverly constructed crime novels.
Related: 8 Psychological Thriller Books That Will Torment You For Days
Put it all together, and you have one of crime fiction's most essential writers. Bauer is the winner of multiple awards, including the British Crime Writers' Association's Golden Dagger Award (Blacklands, for best crime novel of the year), the Theakston's Old Peculier Crime Novel of the Year Award (Rubbernecker), and more. And she shows no signs of slowing down. Bauer's most recent release, Snap, came out in 2018. Her upcoming novel Exit is slated for release in the summer of 2020.
You can't read Exit just yet, but the rest of Bauer's impressive catalog is available for your reading pleasure. Below, we'll lay out eight compelling reads by the author that crime fiction fans can't afford to miss. Whether you're a longtime follower or a first-time reader, these Belinda Bauer books will keep you reading long into the night.
Blacklands
Many of the biggest names in crime fiction have one thing in common: a superb debut novel. Belinda Bauer is certainly no exception. Published in 2009, Blacklands is the award-winning, smash-hit novel that launched Bauer's career. Years later, it still packs an emotional punch. the novel centers on the mysterious disappearance of Billy Peters. Eighteen years ago, Billy vanished from his small English village. Locals presumed the boy fell victim to Arnold Avery, a serial killer who later admitted to murdering multiple children and burying them in the nearby moor. Billy's mother, however, holds out hope that her son is still alive. Now, twelve-year-old Steven, the grandson in the Peters family, decides he's going to solve the mystery. His plan? Write to Arnold Avery, the presumed killer who's currently behind bars, in hopes of untangling the mystery of Billy's disappearance. But serial murderers make pretty dangerous pen pals.
Darkside
In Darkside, Belinda Bauer takes her readers to the rural village of Shipcott where keeping secrets seems all but impossible. A powerful snowstorm and the shocking murder of a senior citizen set the scene for a mystery thriller that feels like the best of the great British crime classics. Our protagonist is local policeman Jonas Holly, a dedicated crime-fighter with a lot on his mind: His wife has MS and may be in danger, the investigation is being torn from his hands by a bossy senior detective, and the clues just don't seem to add up.
Related: Splinter the Silence: 11 Gripping Val McDermid Books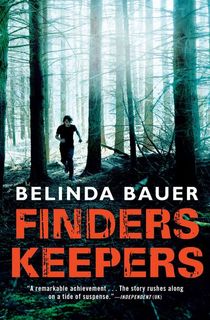 Finders Keepers
Detective Jonas Holly returns for a spine-tingling new case in Finders Keepers, Belinda Bauer's excellent third novel. This time around, we get a locked-door mystery for the ages: An eight-year-old boy disappears like magic from a car. In his place is an accusatory note: "You don't love him." Police are baffled by the apparent absence of motive, ransom, or clues. Then more children begin to disappear. As police scramble for leads and the community demands answers, it's up to Holly to track down and catch the twisted kidnapper before he strikes again.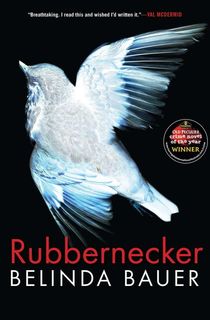 Rubbernecker
Winner of the 2014 Theakstons Old Peculier Crime Novel of the Year Award, Bauer's Rubbernecker boasts a gripping premise and a unique protagonist in the form of Patrick Fort. Patrick is a medical student who also happens to have Asperger's Syndrome. One day, while working with medical cadavers in anatomy class, Patrick realizes that the dead have something to say to him. Others don't seem to see it, but he believes that a murder has been committed. Soon, the med student finds himself in the role of a criminal investigator, chasing down the perpetrator of a crime that no one else believes took place.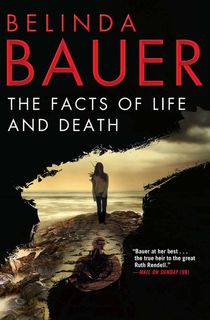 The Facts of Life and Death
In The Facts of Life and Death, a serial killer enacts a gruesome and disturbing crime spree. In North Devon, England, the madman is forcing women to strip down and call their families to say goodbye. It's a horrifying pattern that's enough to give even a hardened investigator nightmares. Yet it's not the cops that Belinda Bauer is most focused on: Here, the protagonist is Ruby, the young daughter of one of the men searching for the killer. At ten years old, Ruby knows little of the darkness of the real world. When she sees her father join the search for the killer, she just wants to stay by her dad. But she's about to learn that nightmares are real and they walk among us.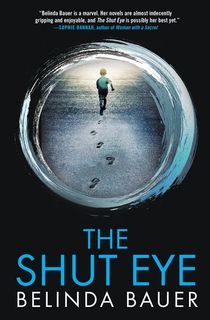 The Shut Eye
As in Finders Keepers, The Shut Eye centers on a heart-wrenching premise: a child is missing. The protagonist of this novel is the missing boy's mother, Anna Buck. Frustrated by the lack of help coming from the authorities—not to mention her own husband—Buck turns in desperation to a psychic, also known as a "shut eye." Anna hopes this seer will offer her guidance in the search for her missing child. But her meeting is not at all what she expects in this "standout" crime thriller packed with chilling twists and turns (Publishers Weekly).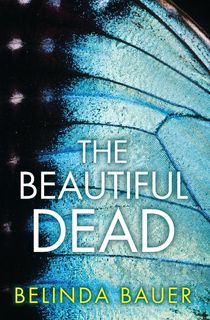 The Beautiful Dead
As anyone who works in print news will tell you, a shocking headline sells papers. It works for TV news, too, as the protagonist of The Beautiful Dead discovers. Eve Singer is a TV crime reporter whose career is fading fast. Then a grisly news item breaks. A murderer is on the loose, killing people in public and advertising each crime ahead of time as if it's some kind of twisted art exhibition. Singer covers the killing spree; such a case could save her career. Yet it also puts her in a morally ambiguous position—not to mention a dangerous one when the spotlight-hungry killer reaches out to Eve and opens up a door to his dark world. The Beautiful Dead is a heart-stopping story of murder, madness, and media.
Related: 14 Supernatural Thrillers That Will Give You the Chills
Snap
Discovering a new favorite author is always a wonderful thing, but it's especially great when the writer in question is still working. And Belinda Bauer fans are lucky indeed, because the British crime novelist is still very hard at work putting out new novels. In fact, Bauer is arguably at the height of her powers right now. Her latest novel, Snap, is superb; it was longlisted for the Man Booker Prize. Her upcoming book Exit (due out in the summer of 2020) is highly anticipated. In Snap, Bauer returns to some of the themes that made her past work so riveting. Once again, we're following a young protagonist; once again, family is at the heart of the tragedy and the mystery. Snap is the story of fifteen-year-old Jack, who begins to see connections between a new investigation and the murder of his mother several years before.
This post is sponsored by Open Road Media. Thank you for supporting our partners, who make it possible for Murder & Mayhem to continue publishing the mystery stories you love.