This year, we saw a mix of old favorites and new voices achieving the highest heights in the mystery genre. As 2017 comes to a close we're rounding-up the year's best mystery books. Here's a list of some of our favorites from a year that will go down in thriller history.
Bluebird, Bluebird
This explosive thriller is timely, propulsive, and terrifying. East Texas plays by its own rules when it comes to the law. Darren Matthews, a black Texas Ranger knows this all too well, which is why is was the first in his family to get as far away from 'home' as possible. That is, until duty calls him back. He travels up Highway 59 to Lark, a small town where the murders of a black lawyer from Chicago and a local white woman has begun to cause the roiling of resentment. Darren must solve the crime and save himself before the racial lines of Lark unravel.
Into the Water
Paula Hawkins's second novel came with a scourge of expectations. Luckily, Into the Water was able to surpass even the highest ones. They say she jumped. But Jules knows her sister Nel well enough to know this isn't true. She would never return to the old Mill House, the site of their long-buried memories, to end her life. Now Jules is returning to the one place she'd hoped to never see again to care for the teenage daughter her sister left behind and to uncover the truth of Nel's death. But she can't shake the fears of her past beginning to rise.
Related: 8 Books Like The Girl on the Train
Right Behind You
What's the difference between a hero and a murderer when the man in question is your brother? Eight years ago, Sharlah May Nash's older brother beat their drunken father to death with a baseball bat in order to save their lives. Now 13 years old, Sharlah has finally moved on and is about to be adopted by retired FBI detectives Pierce Quincy and Rainie Connor. But when a call comes in about a double murder in Oregon, Quincy and Connor are sent to investigate. They have reason to believe the killer is Sharlah's older brother—and it seems his killing spree has only just begun. The seventh installment in Gardner's Quincy & Rainie series is thrilling enough to be read alone or as an outstanding addition to the full series.
Glass Houses
Louise Penny's Chief Inspector Gamache series has been a long-running favorite of mystery readers. The latest installment changes things up enough to avoid boredom while pleasing series-long fans. On a dreary November day, a mysterious figure appears on the village green in Three Pines. Gamache knows something is seriously wrong but is unable to act. He can only watch and wait. Then, just as it appeared, the creature is suddenly gone and a body is discovered. As Gamache proceeds through the investigation and trial, he begins to struggle with the actions he set in motion. He's unsure of what he saw, what he knows, or even whom he is convicting. Gamache must battle with the court and his own conscience.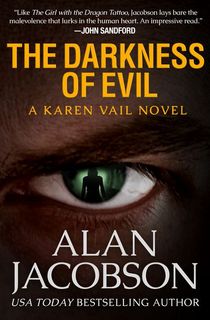 The Darkness of Evil
When Jasmine Marcks was a teenager, she discovered that her father was a killer. Roscoe Lee Marcks killed 14 people before he was finally caught and put behind bars. Now, renowned FBI agent Karen Vail discovers Marcks's attacks may not be over. After writing a book about her experience as the child of a serial killer, Jasmine receives a letter from her imprisoned father, threatening his revenge against the daughter who turned him in. Then Marcks breaks out of prison; Agent Vail must find the escaped convict and prevent him from making Jasmine his 15th victim. The high stakes of this FBI thriller and the deep development of Agent Vail made this a favorite.
Related: Thriller Author Alan Jacobson Talks Life on a SWAT Team with a Veteran Lieutenant
The Dry
The first entry in a promising new series, Federal Agent Aaron Falk returns to his hometown after decades away to attend the funeral of his best friend, Luke. Twenty years ago, when Falk was accused of murder, Luke provided him with an alibi. Falk and his father fled, but Luke's claim saved the boy from prosecution. Now, it's clear that someone found out that the boys didn't tell the truth, and Luke is dead because of it. Falk reluctantly steps in to help solve Luke's murder but soon finds the past resurfacing in threatening ways.
Never Let You Go
Eleven years ago, Lindsey Nash escaped her abusive husband with her young daughter at her side. Lindsey's ex-husband, Andrew, was sent to jail. Lindsay and Sophie started over with a new life, finding peace and success. When Andrew is released, Lindsey thinks the past is far enough behind them that she and her daughter are safe. Then she begins to feel that someone is watching her. Her new boyfriend is threatened, her home invaded, and her daughter closely shadowed. Lindsey is convinced it's her ex-husband despite his claims of growth and change. But has he really become a new person? Or is the one who wants her dead closer to home than she thought? Stevens's latest will terrify any reader.
The Girl Before
Emma is still shaken from a traumatic break-in. She wants a new place to live, but everything she finds is either unaffordable or doesn't feel safe. Then she finds One Folgate Street and falls in love. She is ready to move in immediately, but the strange architect who designed the place has a few conditions, including that there may be no personal effect in the home: no books, no throw pillows, no photos.
Then there's Jane who, after a tragedy, needs a fresh start. She finds One Folgate Street and is instantly drawn in, but quickly learns of the untimely death of the previous tenant. She sets out to unravel the mystery surrounding the house and quickly finds herself caught in a pattern she never saw coming.
Proof of Life
Be careful what you wish for. J.P. Beaumont had been looking forward to having days to himself following retirement. Unfortunately, having too much free time doesn't meld with the lifestyle of a man used to flitting so close to danger. When his longtime nemesis, retired Seattle crime reporter Maxwell Cole, is killed in what is deemed an accidental fire, Beau is asked to help solve the case by none other than the deceased victim himself. Despite his shock, Beau takes on the case, finding that old grudges have lasting consequences.
Magpie Murders
Editor Susan Ryeland isn't expecting anything unusual when she receives the manuscript of Alan Conway's latest novel. After working with this bestselling crime writer for years, she knows his fictional detective all too well. Alan's traditional mystery formula has been hugely successful for the both of them. Their success has been so great, in fact, that Susan has put up with his strange and troubling behavior for years. However, the more Susan reads, the more she becomes convinced there is another story hidden in the pages of the manuscript—and this one is anything but fictional.
The Night Ocean
Marina Willett doesn't know what to do when her husband, Charlie, becomes obsessed with the life of infamous horror writer H.P. Lovecraft. Specifically, Charlie can't stop thinking about the two months that Lovecraft lived with a gay teenage fan. During their time together, the pair produced the beautifully written short story "The Night Ocean." What the nature of their relationship was, no one is quite sure, and just when Charlie thinks he's figured it out, he disappears. The police say it's suicide, but Marina doesn't believe them. Heartbroken but determined, Marina sets out to follow her missing husband's trail and learn the truth.
The Good Daughter
Twenty-eight years ago in a terrifying attack, Charlotte and Samantha Quinn's lives were turned upside down. The attack ended with their mother dead and their father devastated—a family fractured beyond repair. Now, Charlie, a lawyer, is put on the case when violence once again comes to Pikeville. Not only is she the first to witness the scene, but it releases terrible memories that she spent years trying to suppress. The latest release from Slaughter is an engrossing treat of a thriller.
Stillhouse Lake
When a car accident reveals her husband to be a serial killer, Gina Royal must become Gwen Proctor and completely transform her life, and that of her children. With her ex now in prison, Gwen has found safety in a new home on remote Stillhouse Lake. Despite the internet trolls still howling at her metaphorical door, Gwen believes her kids can finally grow up in peace. Her relief is short-lived. A body turns up in the lakeside near her home and threatening letters start arriving from an all-too-familiar address. Now Gwen must uncover who is tormenting her family in order to protect her family.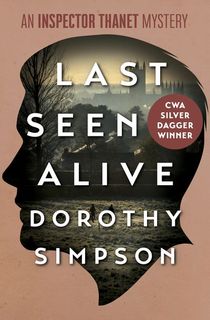 Last Seen Alive
Re-released in 2017 after spending years out of print, Dorothy Simpson is back at it with the fifth installment of the Inspector Thanet mysteries. Within hours after her return to her hometown, Alicia is found dead. No one knows why she returned. Her parents have long-since moved away and while she was living there, her boyfriend killed himself. No matter, Inspector Thanet is on the case again to uncover what happened to Alicia.