At the height of my Da Vinci Code fever, I wanted to become a Langdon-esque symbolist running around the museums of France. For the first time, my interest in the Holy Grail went beyond Monty Python, and the Paris Meridian (aka the "Rose Line") became a "must-see" for any future French vacations. With crazy twists and subversive theories, it was a book that left quite an impression on this 11-year-old Catholic girl.
The Da Vinci Code was more than a bestseller. It was a thriller sensation that took the book world by storm. The fast-paced plot filled with intriguing puzzles, historical legend, and religious lore was made approachable through humble professor Robert Langdon. It was easy to follow the clues, solving the mysteries alongside Langdon, all leading to a satisfying end.
Over ten years, 200 million copies, and a film adaptation later, Dan Brown's novel remains one of the most popular books of the 21st century. From secret societies and religious zealots to art history and familiar landmarks, it's the perfect balance between an accessible, smart thriller and an outrageous, conspiracy-laden romp. Throw in a side of controversy—a non-celibate Jesus and Mary Magdalene, for example—and it's no wonder everyone and their mother has read it.
And Dan Brown didn't stop there. With five books in the Robert Langdon series, Brown has unlocked a formula readers love.
If you can't get enough of Dan Brown's books, we found fifteen books like The Da Vinci Code, filled with ancient science, religion, and history to keep you turning the pages and solving historical mysteries all night long.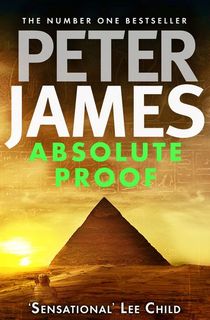 Absolute Proof
When investigative reporter Ross Hunter gets a call from Dr. Harry Cook, it changes his life forever. Cook claims that he can prove the existence of God and needs a skilled and respected journalist to help him spread the word. But showing the world that God exists isn't as easy as it seems. Empires of false faith evangelists, millions of atheists, and the history of every major religious institution in the world all hang in the balance. What does it take to prove God exists? And are the consequences worth revealing it?
Absolute Proof is an explosive standalone with a fast-paced plot steeped in the religious tension that Dan Brown fans will devour.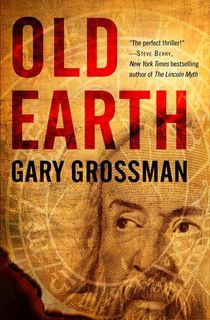 Old Earth
Galileo uncovered a secret in the summer of 1601 that threatened governments, religions, and potentially the entire world. It's been kept hidden ever since, guarded by a group of incredibly powerful people. Paleontologists Quinn McCauley and Katrina Alpert have no idea that their university digs in Montana threaten to expose the secret long thought buried. Suddenly, they're being hunted for what they might find, chasing clues in a global conspiracy that found Galileo guilty of heresy and threatens the balance between science and religion.
Old Earth is perfect for readers who loved how Robert Langdon used his knowledge to piece together historical myth.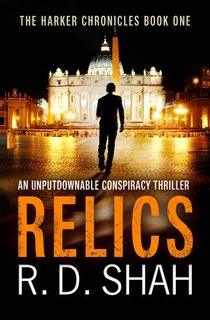 Relics
The last thing Professor Alex Harker expects is to be thrown into a secret war at the heart of the Catholic Church. But when a priest hangs himself in St. Peter's Square in the middle of the Pope's inauguration, that's exactly what happens. Following clues left by the dead priest and being chased by a relentless assassin, time is running out. As Harker deciphers the puzzle, piece by piece, he threatens to reveal a secret so dangerous, it could alter the fate of humanity forever.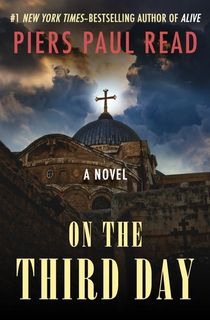 On the Third Day
After an archeological dig in Israel, Catholic priest and biblical archeologist John Lambert hangs himself in his London room. He's found by his assistant, Andrew Nash. But the shocking discoveries aren't over for the young friar. His mentor died when his beliefs were shattered after he discovered undeniable proof that a set of remains under the Temple Mount in Jerusalem's Old City belong to Jesus Christ. A damning piece of evidence that could shatter the foundation of Christianity and Catholicism. Running from the KGB, Israeli Secret Service, and powerful Catholic players, Nash desperately scrambles to piece together the clues of an ancient coverup before it's too late.
An engrossing biblical conspiracy thriller perfect for fans of Dan Brown.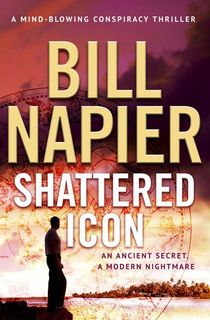 Shattered Icon
Harry Blake lives a quiet life as an antique map dealer. When a local landowner in his small English town asks him to evaluate a 400-year-old journal, he's found dead a mere twelve hours later. It's difficult to understand why an old journal was worth killing for. But when a stranger offers to pay Harry a fortune to steal it, he knows there's more to the book than first appeared. Partnering with a marine historian, he follows the journal into a world of Elizabethan conspiracies that date back to the Crusades. But it's more than history at stake. What he finds could be the difference between peace and war.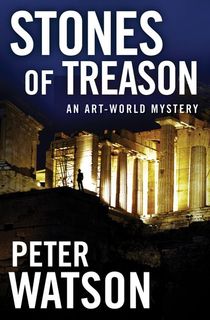 Stones of Treason
When a Greek extremist group known only as the Apollo Brigade sends a painting by Raphael to Edward Andover, the Surveyor of the Queen's Pictures, he isn't sure why. Then he gets two more. All three were stolen by the Nazis during World War II and have ties to some of the Crown's darkest secrets. The group wants the Elgin Marbles, taken from the Parthenon and displayed at the British Museum. Andover struggles to figure out who is behind the blackmail, hoping to stop them before they unleash a wave of violence to get what they want.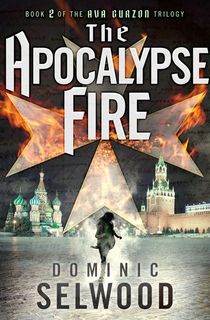 The Apocalypse Fire
When the Turin Shroud is stolen, archeologist and former spy Ava Curzon is recruited by the UK's clandestine MI13. Working with the Vatican's security force and her former partner, Ava is plunged into the middle of an ancient apocalyptic Russian cult. With time running out, Ava has to unravel the secrets behind the mysterious ancient icon before war breaks out in the Middle East.
A daring thriller filled with biblical conspiracies and international intrigue; The Apocalypse Fire is a must-read for anyone who loved The Davinci Code.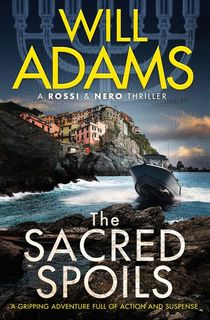 The Sacred Spoils
Historian Carmen Nero just wanted to help a friend search for antiquated treasure. She never meant to catch the attention of the murderous Calabrian Mafia. Or stumble close to an ancient tomb with secrets worth killing for. When she meets conman Cesco Rossi, he's on the run. But his quick thinking might be exactly what Carmen needs. With the Mafia closing in and Mossad agents hunting them down, the unlikely partners have to uncover the truth of what lies in the Visigoth's tomb or die trying.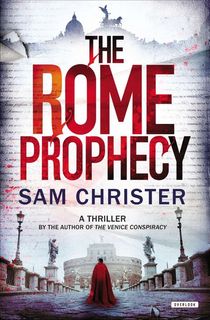 The Rome Prophecy
When a young woman is arrested in Rome covered in blood, ex-priest Tom Shaman is called in to help. The woman claims to be an ancient prophet searching for a hidden amulet. The case seems straightforward enough until powerful and stealthy allies of the Catholic Church start working against them. To make everything worse, the woman's visions start coming true.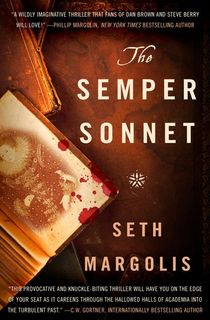 The Semper Sonnet
When Lee Nicholson unearths a never-before-published Shakespeare sonnet and reads it on air, the only people who care are the academics and the literature obsessed. Or so she thought. There's a group who will do anything to stop it from being read again—even kill. Fighting for her life, Lee has to untangle the secrets woven inside the text. Secrets that go back to Queen Elizabeth and her doctor. Secrets that could not only destroy the monarchy, but release a pandemic unlink anything the world has ever seen.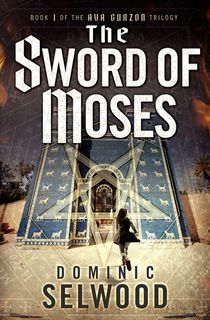 The Sword of Moses
After an African militia claims to have the Ark of the Covenant, historian and former MI6 agent Dr. Ava Curzon is recruited by the CIA to help them track it down. But she's quickly thrown into a world where nothing is as it seems. Sorting through the dark biblical history of the Knights Templar, freemasons, occultists, and even neo-Nazis, she follows a trail of clues across continents and centuries. And they're all leading to a terrifying ritual pitting Ava dead center in an ancient battle between good and evil.
Readers who loved the combination of historical and religious elements of The Davinci Code will enjoy the final book in this gripping trilogy.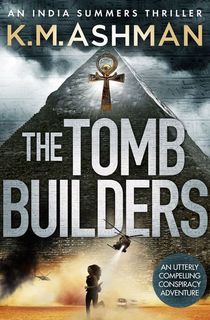 The Tomb Builders
The Pyramid of Cheops is the largest and most mysterious of the pyramids. It's believed to be the greatest monument of all time. And even though they found a sarcophagus in the King's chamber, experts don't believe the body found inside was actually Pharaoh Khufu. When they discover clues left by an ancient priest, India Summers and Brandon Walker are called in. Following the trail, they realize they may discover the true meaning of the pyramids and find the actual tomb of one of the greatest Pharaoh's in history.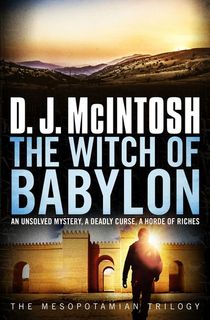 The Witch of Babylon
Turkish-American art dealer John Madison was raised by his older brother, Samuel. But when Samuel becomes obsessed with saving a priceless relic that was looted from Iraq's National Museum, John ends up caught in a deadly game of revenge. With help from an archeologist and an Iraqi photographer, John works to decode a biblical prophecy that could unlock the secret to alchemy. Chased, kidnapped, and threatened, John is on the brink of discovering a vast treasure—if he can stay alive long enough to find it.
The Sacred Weapon
The Notre Dame fire. The theft of the Shroud of Turin. A terrorist attack on the Meteora monasteries. Coincidence? Or international conspiracy? As terror grips Europe, Tom Wagner, an officer in the anti-terror squad Cobra, finds himself in a race against time. There's a mysterious power building towards an evil plan and Tom is surrounded by allies he isn't sure he can trust. If he can't unravel the truth, Europe will face a disaster that could destroy it entirely.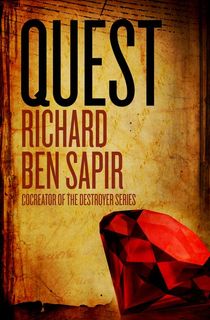 Quest
After Claire Andrews' father was murdered for putting his gold saltcellar up for auction, she will stop at nothing to hunt down whoever is responsible. The saltcellar was something of a sensation. Ancient and encrusted in jewels, it was undeniably valuable. But when speculation starts that the vessel hides the priceless Holy Grail, the auction turned deadly. Claire doesn't care about riches or mythical relics. She hires NYPD detective Artie Modelstein to hunt down the men who killed her father. But the truth is more dangerous than she ever imagined and puts them in the middle of a mystery thousands of years old. One that could unlock a power people will kill for.
A sharp thriller with clever twists, the fast-paced suspense will keep readers who love Dan Brown turning the pages long into the night.