On July 7, 2020, Swedish crime writer Camilla Läckberg celebrated the U.S. release of her novel The Golden Cage. In an announcement made on her Facebook page on April 7, 2020 she said "I wrote this book partly inspired by Fay Weldon's The Life and Loves of a She-Devil. My main character Faye is kind of like my alter-ego. She is strong, yet vulnerable, a woman who stands up for what she believes in and helps her fellow women do the same. I hope her inner strength and determination can inspire in these dark times and am looking forward to introducing her to all U.S. readers."
RELATED: 13 Thrilling Nordic Noir Novels
Since the release of her first book, Ice Princess, in 2003, she's quickly become one of Sweden's most popular authors within the crime genre. Her debut went on to sell 2.6 million copies, and her 2004 follow-up, The Preacher, held her at the top of the best-sellers list. In addition to writing ten crime novels, she's also penned four detective novels, and has even branched out to cookbooks and children's books. Seems as though once Läckberg got the publishing bug, she just couldn't stop.
Fleshing out her characters in a noticeably organic way, taking great care to make them jump off of the page, Läckberg has developed a writing style all her own. In a 2014 interview with Book Reporter she revealed that she actually writes the endings of her books first, and then works backward.
"…The first sentences that I actually write are those on the last pages," Läckberg says. "In that way, I formulate the plot and the murderer from the start and let it be the base for the rest of the story and what builds to that particular scene. The actual first sentence of the book is added later on as the story comes together."
Now that the sweltering dog days of summer are upon us, keeping cool indoors with a good page-turner seems oh so appealing. Why not start with one of these?
The Golden Cage
One of Publishers Weekly's most anticipated releases of the summer, The Golden Cage was given a glowing early review by them in which they say "Läckberg outdoes herself with this delectable tale of revenge... Sexy... exquisite... scorching."
This psychological thriller tells the story of Faye, the wife of a billionaire who should have treated her better. Unfortunately for him, it's too late for all that now.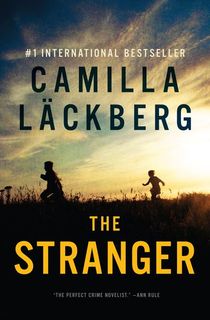 The Stranger
When people start dropping like flies in a normally tranquil Swedish village, Detective Patrik Hedstrom is tasked with tracking down an elusive murderer and restoring the peace that was lost, in whatever way he can.
Related: Harry Hole and Beyond: 9 Best Jo Nesbø Books
While chaos and fear are taking over the village, the local media seem to be eating it up, and news ratings have never been higher. Detective Hedstrom has to do his best to sniff out the truth for himself, without letting the influence of the press sway him with their own agenda.
The Ice Princess
Called "a top-notch thriller, one of the best of the genre" by Minneapolis Star Tribune, The Ice Princess is set in a small Swedish fishing village that prefers to keep the secrets of its villagers buried under as much ice and snow as possible.
Related: 12 Heart-Pounding Foreign Thrillers in Translation
Erica Falck used to live in this very village, but moved away to make a life for herself many years ago. When both of her parents die, and her childhood best friend commits suicide, she returns and assists Detective Patrik Hedström in thawing out some of the village's secrets, unearthing motives as they go along.
The Lost Boy
Detective Patrik Hedstrom has a whole new tangle of clues to unravel in The Lost Boy. When financial director Mats Sverin turns up dead, the detective attempts to make sense of how a man that everyone seemed to love would end up a target for murder.
On the top of his list of friends and relatives to question is Sverin's old flame, a beautiful woman named Nathalie. Having just returned to the area with her young son in tow, it doesn't take long for the detective to conclude that she's hiding something. But what?
The Drowning
Detective Patrik Hedström isn't the only one in his family who can get two steps in front of a good mystery. His wife, Erica Falck, is in the crime business herself, but she doesn't so much solve them as write them.
Related: 16 Award-Winning Mystery Books You Need to Read
When Erica's protege, Christian Thydell, publishes his debut novel, after a good deal of guidance from her, she's surprised to see how his new success brings suffering, instead of joy, to his life. Husband and wife team up and use their unique combination of skills to solve their most puzzling case yet.
The Preacher
The Washington Post gave a favorable review of this crime thriller saying "a clever plot and in-depth characterization aren't the only qualities that elevate The Preacher above most other thrillers. There's also an admirable feel for detail."
Related: Scotland's Finest: Explore the Thrilling World of Tartan Noir
Detective Patrik Hedstrom and his wife, crime writer Erica Falck, team up once again to track down whoever's responsible for the brutal murder of a young woman and two campers who had been missing for decades. When the skeletons of the campers are found buried beneath the corpse of the woman, the detective and his brilliant wife know they've got a true sicko on their hands, and it's up to them to bring the killer to justice.
The Hidden Child
Of all the things Erica Falck expected to find among her dead mother's belongings, a Nazi medallion was not one of them. She didn't have the best childhood as is, not by a mile, but her hopes of re-writing her own history after her mother's death are squashed for good when she discovers this revolting piece of memorabilia.
With the help of her husband, Detective Patrik Hedstrom, they delve into her family's past, and are further shocked by what they find.
The Girl in the Woods
When a four-year-old girl goes missing near the village of Fjällbacka, everyone's hearts are collectively broken, and the locals close in on themselves, afraid of what's lurking in their vicinity. This isn't the first time they've gone through such a tragedy. Another young girl, about the same age, about the same description, went missing from the area thirty years ago. That girl didn't make it. Will this one?
Related: 11 Thrilling Southern Noir Books to Read Now That You've Binged Ozark
Buried Angels
When nearly a whole family vanishes from a small island outside of Fjällbacka on Easter in 1974, it's enough to drive the town mad. One member of the family remains, their one-year-old daughter Elba, and she waits until adulthood to return to her community and tell what she knows.
Related: These Long-Lost Crime Classics Are Back—and Ready to Thrill You This Summer
Crime writer Erica Falck, intrigued by the girl's family history for years, is first on-hand to receive all the details, and when the truth comes out, it's far from what she expected.