The worlds of magic and circus are rich with intrigue. How did the magician make their assistant disappear? How did the tightwire walker dance across the wire with stilettos on? Naturally, the wonder and thrill of these worlds lend themselves to the world of mysteries. Here's a list of eight mystery novels that take place in the world of magic and circus.
Related: We'll Help You Choose Witch Cozy Mystery to Read Next
Death and the Conjurer
The first in a new series, the Joseph Spector Locked Room Mystery, features Joseph Spector, a semi-retired magician who helps the Scotland Yard police with their investigations. When a famous psychiatrist is found murdered in his office with the doors and windows locked, Spector is brought on the case to figure out he died. But two more mysterious events follow this one including the theft of a painting and another murder, all impossible crimes. Can Spector figure out how these crimes were committed and who is the mastermind behind them?
Murder Under Her Skin
This recent series features famous female PI, Lillian Pentecost, and her assistant Willowjean 'Will' Parker.
Before working for Pentecost, Parker worked in a traveling circus, doing everything from setting up the tent, feeding the animals to being the knife thrower's assistant. In the second book of the series, Parker and Pentecost travel to a small town where Parker's former circus is performing because Parker's friend Ruby Donner, the Amazing Tattooed Lady, has been found murdered. Parker's former mentor, Valentin Kalishenko, the Knife Thrower, is sitting in jail, accused of the crime. The detective duo has to dive into Donner's life and the people who may have wanted to kill her. Book Three, Secrets Typed in Blood comes out later this year.
Under Lock & Skeleton Key: A Secret Staircase Mystery
After a near-fatal error in one of her magic tricks, Tempest Raj has found her way back to the family home. She's got to figure out her next move since she's not sure how she'll salvage her career. Plus she's starting to believe in the family curse where the firstborn dies in magic. After all, it took her mother. Or at least, her mother disappeared during an act. Raj goes out to help her father in the family business, Secret Staircase Construction, which makes secret entrances, rooms, and more, for people who can afford it. But when the corpse of a woman rolls out of a wall that they had just opened for the first time in over a century, it's shocking to discover that this is not an old crime; the woman was to be Tempest's rival. Can she figure out how this woman ended up in this wall and who killed her? The second novel in the Secret Staircase Mysteries, The Raven Thief, is expected in 2023. Here's an interview with Gigi Pandian about her new series.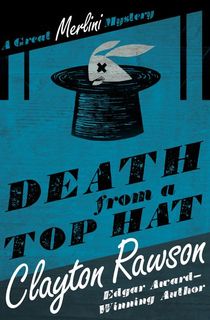 Death from a Top Hat
No list of mysteries and magic would be complete without the Great Merlini from the 1930s and 1940s. When a fellow magician is killed in his locked apartment, the police bring in Great Merlini to figure out how it was done. The victim was found amongst items that suggest dark magic. Another victim is found elsewhere that seems connected, including the fact that the person is said to have been to two places at once. Is there dark magic at play or a truly evil murderer? There are four novels in the Great Merlini series as well as a book of short stories.
Death of Anton
Anton was considered one of the best tiger trainers out there. But when his body is found in one of his tiger's cages, everyone thinks it was an accident. But Detective-Inspector Minto of the Scotland Yard thinks that's too easy a solution and thinks that someone staged it that way to cover up the fact that Anton was murdered. Minto dives into the world of circus to figure out who amongst the cast might have reason to murder Anton. It's part of the British Library's Crime Classic series.
Acts of Violet
In this recently published novel, told in a series of interviews and narration, Sasha Volk lives in the shadow of her brilliant sister, Violet, a magician who disappeared during one of her acts. The world abounds with rumors about what happens. On the 10th anniversary of her disappearance, podcaster Cameron Frank is keen on getting to the bottom of it all. But while he wants to know what happened to Violet for his career, Sasha is finding the memories overwhelming as she starts facing disturbing incidents. What really happened to Violet? What role did Sasha play?
Murder at the Circus
The 17th book in the Ginger Gold Mysteries takes place in the 1920s and 1930s. Ginger Reed's son, Scout, has run away from boarding school to join the circus where his uncle works. When the Reeds go to pick him up, the ringmaster is found dead and Scout is accused of being responsible. Ginger has to take her unique set of skills to figure out what really happened and clear her son's name.
The Magician's Lie
The Amazing Arden stands accused of a heinous crime. Known for sawing her assistant in half, she changes it up one night, using a hatchet instead of a saw. But when her husband is found dead, she's rounded up by policeman Virgil Holt. But like The Amazing Arden's tricks, not everything is as it seems. She tells him a story about what happened. But is it enough to secure her freedom?