Let's face it: cozy mysteries are the ultimate summer read. With tantalizing cases, quirky characters, and charming settings, cozies engage your sleuthing brain without raining on your parade. These cozy mysteries are so popular that they've inspired an entire series of books, ensuring that you never run out of whodunits. From exciting newcomers to beloved cozy mystery masters, here are 12 delightful cases that you can crack open poolside.
Live and Let Chai
The first installment in a delightful new series, Live and Let Chai introduces Everly Swan, a lovable heroine who's returned to her seaside hometown to start anew. Everly opens Sun, Sand, and Tea, a cute cafe serving sandwiches and the specialty sweet teas that have been passed down in her family for generations. But trouble brews when one of her customers is found poisoned to death, with one of Everly's signature tea jars nearby. As the town of Charm, North Carolina transforms from a welcoming haven to a den of gossip, Everly sets out to clear her name—all while ignoring the warnings of the dreamy new detective in town.
Tart of Darkness
When Dani inherits a house smack-dab in the middle of a college town, she interprets the stroke of luck as an opportunity to change careers and reinvent herself. So she springs on her dream of pursuing a culinary career by opening Chef-to-Go, a catering service that appeals to students and members of the community alike. At the same time, she begins renting out rooms in her spacious new home to local students, becoming a big sister figure in their lives. But Dani's newfound success isn't so sweet after all. When the friend of one of her boarders is murdered, the police home in on Dani as a prime suspect. Cozy mystery enthusiasts will be hooked on this tantalizing concoction of murder and romance, and fans of Denise Swanson's long-running Scumble River series will be pleased by the reappearance of beloved characters.
Penne Dreadful
Penne Dreadful is a first-rate mystery with an ending as satisfying as the protagonist's killer red sauce. Mere weeks have passed since Tessa Esposito's husband was killed in a car accident. She thought her world had already turned upside down, but her policeman cousin is about to share some shocking news: Dylan's death was no accident. When the investigation stalls, Tessa decides to get to the bottom of the matter herself by taking a job at Dylan's favorite pizza parlor. The restaurant was the last place Dylan was seen before he died, and Tessa hopes to have some answers by poking around and questioning people. However, she soon learns that Dylan was keeping dangerous secrets that might be better off buried with him.
The All-Day Breakfast Café Mystery Series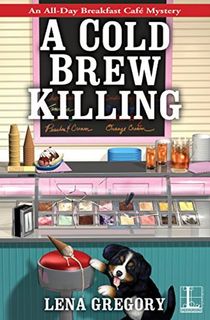 A Cold Brew Killing
Trevor is the owner of an ice cream shop in Florida who becomes close with a local bakery owner named Gia. One day when Trevor goes to work, the surrounding frozen treats aren't the reason for his chills. He discovers a dead body in the freezer, and immediately shows Gia what he has found. When Trevor is suspected of this murder, Gia decides to stop at nothing to clear his name. She has got to get to the bottom of this mystery, leaving no time for a brain freeze.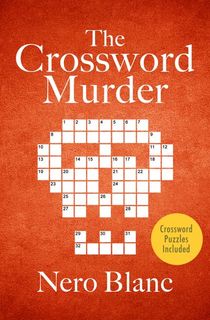 The Crossword Murder
The first book cowritten by husband-and-wife writing duo Steve Zettler and Cordelia Frances Biddle, The Crossword Murder introduces us to high-stakes wordplay. When notorious playboy and newspaper crossword editor Thompson C. Briephs is found strangled in his bed, the police chalk it up to a sex game gone wrong. But PI Rosco Polycrates isn't convinced. Annabelle Graham, a crossword editor for a rival paper, joins the investigation to provide insight into Briephs' career and a list of possible suspects who had it out for him. It appears that Briephs was being blackmailed before he died, and left clues in his puzzles. Readers can race to find out whodunit before Annabelle and Rosco in this mystery jampacked with interactive crossword puzzles.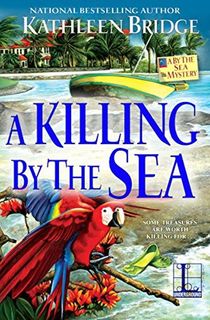 A Killing by the Sea
Liz Holt, a struggling author, is starting to feel uninspired at her busy life in Manhattan. She plans a getaway to Florida with her boyfriend to find some inspiration. However, she ends up finding more than she bargained for when a dead body is swept up onto the land. It is unknown how this victim died, but a trail of destruction is revealed from the killer when a hurricane hits. Knowing they might be in danger themselves, Liz and her boyfriend try to solve this case.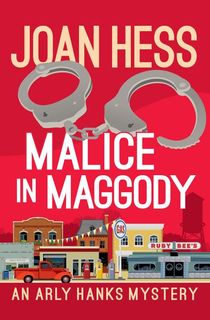 Malice in Maggody
Joan Hess's popular Arly Hanks series kicks off with Malice in Maggody, in which the eponymous sleuth leaves Manhattan behind, along with her failed marriage and career, and returns to her hometown of Maggody, Arkansas. Arly takes a job as the town's first female chief of police, but if she thought nothing ever happened out in the Ozarks, this little town is out to prove her wrong. Two manhunts complicate Arly's life—one for an escaped convict and one for a vanished EPA official with ties to polluting the local fishing hole—but it's the body found at the Flamingo Hotel that really heats up the action...If you can't get enough of Arly Hanks, there are 15 more books in the series, each more satisfying than the last.
Related: 9 Fun and Quirky Whodunits by Female Mystery Authors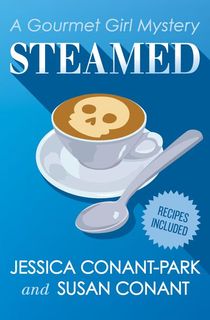 Steamed
The first in a delectable five-book series, Steamed introduces Chloe Carter, a twenty-something grad student and certifiable foodie. When Chloe starts online dating, she thinks she's met her match in Eric Rafferty, a fellow dining enthusiast. But when they meet up in person at a fancy restaurant, Eric turns out to be a dud. Even worse, he's stabbed to death in the bathroom before the first course. As Chloe finds herself embroiled in a homicide investigation for someone she barely knew, she starts to fall for handsome chef Josh Driscoll. But can Chloe really trust someone new—especially when he's a prime suspect in Eric's murder?
An Ellie Avery Mystery Series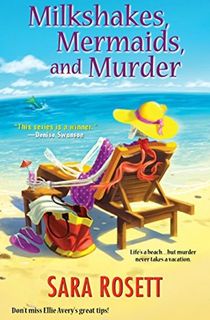 Milkshakes, Mermaids, and Murder
Ellie Avery plans the perfect trip to Florida with her family, only for it to be nothing but chaos. When she innocently tries to return a handbag to its rightful owner, Ellie instead discovers her dead body in the pool. Learning about Angela's dangerous life before this, Ellie wonders if this relates to the murder. Between a kidnapping in her family and a mystery now on her hands, Ellie has to come up with a plan fast.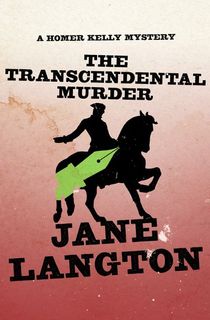 The Transcendental Murder
Scholar and New England cop Homer Kelly sets out to solve a crime laced with academic clues in this novel, the first in the long-running series by Jane Langton. The citizens of Concord, Massachusetts pride themselves on their knowledge of the town's historic residents, including Emerson, Hawthorne, Thoreau, and more. When Ernest Goss claims to have found a cache of love letters written by these men and their contemporaries, Homer Kelly laughs at the idea that Louisa May Alcott and Ralph Waldo Emerson might have had the hots for each other. However, he never gets a chance to examine the letters' authenticity. The next day, Goss is killed by a musket ball in the annual reenactment of Paul Revere's midnight ride. Somebody else knows about the letters, and they'll do anything to keep them hidden.
The Quiche of Death
Hot-tempered sleuth Agatha Raisin finds her calling in this scrumptious mystery. It all begins when Agatha decides to sell her successful PR firm and leave London for the country, where she'll enjoy an early retirement. Hoping to impress her new neighbors, she enters a baking contest with her heart set on the prized blue ribbon. Instead, she walks away empty-handed. But an even greater loss is in store: the judge drops dead after sampling Agatha's quiche. When the quiche tests positive for poison, Agatha is forced to reveal the truth: she didn't bake her own entry, she bought it from an upper-crust London bakery. As her neighbors shun her, Agatha sets out to prove her innocence in this first installment of the beloved M.C. Beaton series, which has been adapted into a hit British television series.
Related: 10 Quirky Animal Cozies for the Pet-Loving Mystery Reader
A High-End Finish
While Lighthouse Cove resident Shannon Hammer has a thriving career as a building contractor specializing in home restoration, her love life is a little lacking. So she allows herself to be set up on a blind date with real estate agent Jerry Saxton. But the date goes predictably south when Jerry gets a little too handsy, and Shannon has no choice but to ward him off with a pair of pliers. A few days later, Shannon thinks this awful date is well behind her when she gets a call from the new police chief. Jerry's body has been found in a run-down Victorian home that Shannon's been hired to restore. Now the prime suspect in a murder investigation, tough-as-nails Shannon enlists the help of her nosy neighbors and a handsome crime writer to help clear her name. For readers who can't get enough of the Fixer-Upper Mysteries, the book series has been adapted into three Hallmark movies starring Jewel as Shannon Hammer.
This post is sponsored by Sourcebooks. Thank you for supporting our partners, who make it possible for Murder & Mayhem to continue publishing the mystery stories you love.
Featured photo: Sai Kiran Anagani / Unsplash