Las Vegas is a city of illusions. It's a neon-flashing oasis in the desert offering ice-cold air conditioning and bottomless drinks, and casinos are the sirens luring tourists with their promises of riches and grandeur. But beneath the shiny veneer, Las Vegas is a place that reveres greed and has more than its fair share of secrets buried in the desert sand.
The last vestige of a lawless West, it's difficult to pull apart the city's sparkling allure from the seedy underbelly. Gambling was the perfect way to cover crimes of all shapes and sizes, and when that wasn't enough, the isolated desert did the rest. It's a city of mystery—one with plenty of lore and legend woven into the history. And yet, it's still one of the world's most popular vacation destinations.
All of this works to make Las Vegas a spectacular setting for all kinds of crime fiction. We've rounded up eleven of the best crime books set in Sin City.
Gangsterland
Sal Cupertino made a rare mistake and killed three undercover FBI agents in Chicago. After several face-altering surgeries, he's reborn as Rabbi David Cohen and leads a growing Las Vegas congregation. The new cemetery provides the perfect opportunity to launder both bodies and money, but his Chicago troubles aren't done with Sal. An FBI agent has decided vengeance is more important than justice and is hunting down the man who killed his fellow agents.
Related: 13 Detective Series Books to Jumpstart Your Next Obsession
Las Vegas Crime
Las Vegas Metro PD has a new elite squad and detectives Laura Baxter and Jack Holt are searching for a killer. Under myriad surveillance cameras in a glamorous hotel, a young girl is murdered but somehow the killer is nowhere in the footage. Baxter and Holt unravel nothing but questions as their investigation takes them dangerously close to secrets powerful players in Vegas want to stay buried. But as they get closer to the killer, they have to rely on each other to stay alive—even if that means revealing their own dark secrets in return.
Related: The Best Mystery Books to Read for Mystery Month—and Beyond!
Cold Desert Sky
When reporter Charlie Yates comes across the disappearance of two young Hollywood starlets, he becomes obsessed with finding out the truth. But his search takes him directly to an old nemesis: Bugsy Siegel. Yates betrayed Siegel once and doesn't want to cross paths again. But as the FBI pressures him, he finds himself in Las Vegas as Siegel prepares to open The Flamingo, a dazzling new hotel and casino. Balancing the mob and the police, Yates has to figure out how the pieces connect and who killed the girls if he wants to stay alive.
Perilous Gambit
NYPD homicide detectives Mike Stoneman and Jason Dickson are in Las Vegas for Jason's wedding when a Las Vegas drag queen and a South Dakota Senator are murdered. They shouldn't be involved, but Jason's new brother-in-law is the primary suspect. Things get worse when someone tries to murder his bride. With the odds of another murder mounting, Jason is jail, and the entire case threatening to destroy the wedding on top of their careers, Mike has to place the biggest bet of his life—one that could destroy everything.
Stripped
Detective Jonathan Stride learned the hard way that in Vegas you either hit a jackpot or go home broke. When two seemingly unrelated crimes occur—a hit-and-run and a celebrity murder—no one believes the two are related. Working with detective Serena Dial, Stride soon discovers there's a serial killer determined to dig up secrets Las Vegas would prefer to stay buried. They're thrown into a world of ruthless ambition where loyalty doesn't exist. As the two cases merge, Stride and Dial have to figure out how the clues from the past are linked to the crimes in the present before the killer can strike again.
Moon Music
A once-beautiful Vegas showgirl is found dead in the Las Vegas desert. Her body is brutally beaten and when Detective Sergeant Romulus Poe arrives on the scene, he can't help but see remnants of an unsolved case from twenty-five years earlier. When homicide detective Steve Jensen has ties to the dead girl, it raises Poe's strange history with Jensen's wife. Allison Jensen has her own reasons to be obsessed with the desert's past. As her research takes her deeper into the truth of what's buried in the desert, Poe realized it may hold the key to finding the killer.
Righteous
Ten years ago, Isaiah Quintabe's brother was killed and his attacker was never caught. His relentless search almost destroyed everything Isaiah built. But when he takes a new case, he finds himself in Las Vegas where loan sharks and gangsters are hunting a local DJ and her boyfriend. If they find the couple first, they'll lose their lives and Isaiah may lose his one shot at happiness. With every clue, Isaiah is pulled closer to discovering the truth about his brother's death and risks everything in his pursuit of answers.
Void Moon
Cassie Black is just a Porsche salesperson who just got out of prison. Instead of sticking to the straight and narrow, she heads to Vegas to take down a money man. It should have been a perfect crime, but everything goes wrong—and Cassie is on the run. To make everything worse, a brutal "fixer" is hot on her trail, killing anyone associated with the job. If she wants to survive, Cassie has to face why she took the job in the first place and find out who actually set it up—and why.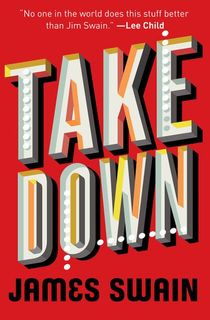 Take Down
They say the house always wins. But Billy Cunningham knows his scams are the perfect sleight of hand. As long as everything goes perfectly, that is. When one of his cons goes wrong, Billy has to help a casino stop a legendary family of thieves from hitting it. But Billy knows you never turn on your own. Now, he has to pull off the most elaborate con of his life balancing a sadistic casino owner, a vicious drug dealer, and a gaming agent out for blood. If he pulls it off, he and his team will walk away with the score of a lifetime. Getting the money isn't the hard part. It's figuring out how to get away in one piece.
Skim Deep
Nolan is determined to live the crime-free life and run his nightclub on the up-and-up. But when he goes to Vegas to elope, security cameras flag him, and he's accused of casing the casino. It's the perfect opportunity for a young thief determined to prove himself. Nolan will make the perfect patsy. But when Nolan's best man finds out the couple is missing, he has to make sure their trip ends with a honeymoon and not a funeral.
The Good Thief's Guide to Vegas
Part-time crime writer and thief Charlie Howard knows the art of any good con is creating just the right illusion. When famous illusionist Josh Masters shows an interest in Charlie's friend Victoria, he knows this is the perfect chance to take $60,000 in casino chips from Masters' room. But there's a dead woman in the bathtub, and Masters was playing his own game, cheating the casino before disappearing without a trace. Framed as his accomplice, Charlie has to figure out how to reimburse the casino or find himself buried in the desert.
Featured image via Wikimedia Commons.