Who doesn't love a wedding? The fancy clothes, the food, the drinks, the music—the party! There's a reason so many films, TV shows, and books incorporate wedding plots. Because emotions are at an all-time high, weddings are rife with opportunity for drama, conflict, mishaps—and yes, even mysteries.
Some of our favorite cozy mystery authors understand the oft-nefarious power of wedding bells—and to fabulous effect. In these books, when love is in the air—murder isn't far behind. From feuding families to jealous exes, weddings are a great opportunity for some matrimonial mayhem. We've compiled this list of 19 wedding-themed cozy mysteries for you to fall in love with.
Related: 16 Sexy Mystery Romance Books To Keep You Up All Night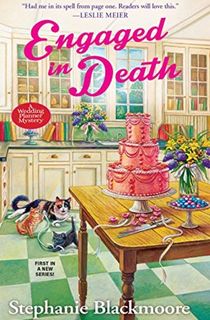 Engaged in Death
After she catches her fiancé cheating on her, Mallory Shepard gets an unexpected—and unwanted—fresh start when she inherits a mansion in her ex's hometown of Port Quincy, Pennsylvania. To say Thistle Park is run down would be an understatement. The wallpaper is peeling and it's nearly overrun with stray cats. Mallory figures the best she can do is fix the place up so she can sell it—and leave Port Quincy behind her.
As she begins her renovation, Thistle Park begins to grow on Mallory. Still, she's dealing with unwanted visitors all the time, and when one of them winds up dead on her front lawn, small-town gossip turns to the newcomer. Mallory calls in her sister Rachel to help her solve the mystery before she can become suspect number one.
Related: 9 "New Beginnings" Murder Mysteries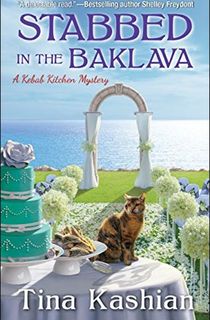 Stabbed in the Baklava
Ex-lawyer Lucy Berberian is happily settling into her new life running Kebab Kitchen, her family's Mediterranean restaurant on the Jersey Shore. It's a nice break from the stressful hustle and bustle of Philadelphia, and things between Lucy and her ex-boyfriend-turned-head-chef Azad seem to be heating up. Now, Kebab's Kitchen has a major business opportunity as they cater a high-society wedding. But the happy day comes to a screeching halt when the best man is found stabbed to death.
When suspicion turns to Azad, everything is suddenly on the line. It's up to Lucy to clear his name and rescue Kebab Kitchen's reputation—she'll just need to catch a killer to do it.
Related: 15 Hallmark Mystery Movies for a Night of Cozy Thrills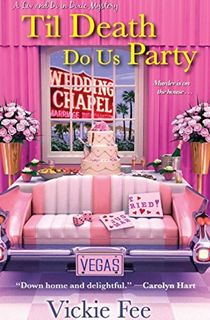 Til Death Do Us Party
Wedding planner Liv McKay is finally going to be able to actually have some fun at the ceremony when Mama and Earl bring the whole family to Las Vegas for their Elvis-themed wedding. After a few chaotic parties back home, Liv needs a break. But as everyone files into the Burning Love Wedding Chapel, disaster strikes when their Elvis-impersonating minister is murdered.
Now, with her cousin Little Junior at the top of the suspect list and Mama and Earl's big day on the line, time is of the essence. Liv enlists the help of her best friend Di to scour the neon-lit streets of Vegas and catch a real hound dog of a killer.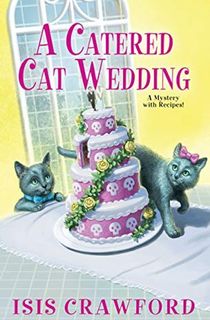 A Catered Cat Wedding
Sisters and catering business co-owners Bernie and Libby Simmons are working one of their strangest gigs yet, a wedding of two Russian blue cats. Their client is Susie Katz—Longely, New York's proud resident crazy cat lady. She's an absolute fiend for felines, but is far less enthusiastic about humans. This wedding is partly for her cats Boris and Natasha, but also to irritate the many enemies she's put on the guest list.
From a rival cat breeder, to her bird nerd of a neighbor, to the niece and nephew who are set to inherit her sizable fortune, all of Susie's foes turn up. When a prank gift unleashes mice all over the wedding tent and causes Susie's cats to scatter, everything goes downhill. Things get even worse when, hours later, as Susie searches through the empty tent for her pets, she is stabbed in the back. Now it's up to Bernie and Libby to track down a murderer before they get away with the purr-fect crime.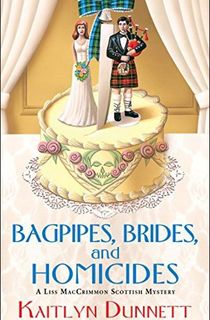 Bagpipes, Brides, and Homicides
Moosetookalook Scottish Emporium owner Liss MacCrimmon is facing the biggest weekend of her life. Not only are the Western Maine Highland Games coming to town, but she's also getting married! But the festivities turn sour when an eccentric professor is found dead. Liss tries to ignore her sleuthing instincts, but mysteries have a way of finding her—and now she'll have to discover the truth, or her happily ever after might end before it even starts.
Related: Scotland's Finest: Explore the Thrilling World of Tartan Noir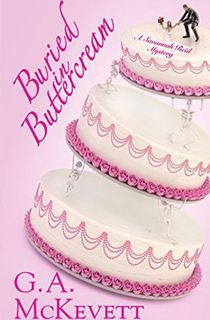 Buried in Buttercream
Private Investigator Savannah Reid can't wait to get married. Of course, because she loves her fiancé Dirk Coulter, but also so she doesn't have to deal with her wedding planner anymore. Once the go-to wedding planner for Hollywood's elite, a nasty divorce has led Madeline Aberson to a ruined reputation—and much less glamorous clients. By the time the big day arrives, Savannah is ready to kill Madeline, but it seems someone else had similar ideas.
When Savannah finds Madeline's body floating in the pool, surrounded by rose petals, she and Dirk agree to postpone the wedding. She is an investigator, after all. Now it's a race to find out who brought this diva to her demise.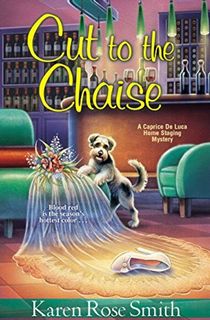 Cut to the Chaise
Although she's excited about her wedding, home stager Caprice De Luca is beginning to regret her choice of venue. She redecorated Rambling Vines Winery two years ago, but the business has taken a turn for the worse. With their reputation on the decline, someone is now planning to hurt the business even further. Just when it seems like things couldn't get worse, Rambling Vines' co-owner Michelle Dodd's estranged husband is found stabbed to death in the tasting room.
Now, Caprice will have to track down a killer with a taste for murder before her entire wedding goes down the drain.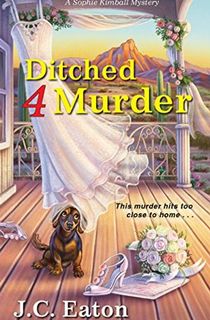 Ditched 4 Murder
When not working for a private investigator, Sophie "Phee" Kimball spends a lot of her time at her mother Harriet's retirement community. Recently, she's been roped into helping to organize her 74-year-old Aunt Ida's upcoming wedding. Ida is something of a bridezilla, but finding the perfect pastry becomes the least of everyone's worries when the body of a celebrity chef is found on the golf course just outside Harriet's door.
Phee's PI firm is quickly drawn into the case, which has her extra attention since her mother now fears for her safety. With the wedding still on the way and a killer on the loose, Phee will have to pull out every trick in her book.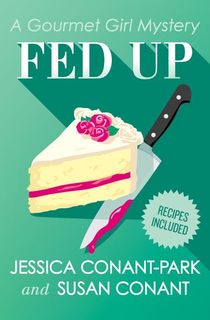 Fed Up
Between planning her best friend's wedding and her boyfriend getting a spot on a hit reality show, it's an exciting time for Chloe Carter. Josh is set to compete on Chefly Yours, where a lucky shopper gets to enjoy gourmet meals and the audience chooses the winner. All seems to be going well as a shopper's wife, Francine, dines on Josh's signature lamb chops and pesto gnocchi—until she drops dead. It seems someone snuck poison into the meal.
Chloe has several questions right from the start. Was the culprit one of Josh's fellow chefs or a prankster who went too far? And was Francine's final meal even supposed to be for her? As she investigates, secrets come to light that throw everything Chloe thought she knew about the case—and about Josh—into question.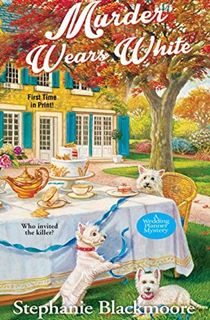 Murder Wears White
With renovations on her Thistle Park mansion almost complete, Mallory Shepard is hoping she'll be able to unveil it as a B&B just in time for her first official gig as a wedding planner. But a food tasting goes sour when the bride's aunt is poisoned. Now, the venue is a crime scene and this upcoming marriage is overshadowed by mystery.
As Mallory investigates, she learns this isn't the first murder in the bride's family. It's starting to seem like the man originally convicted might have been innocent. Suddenly, Mallory has two mysteries on her hands. But the real killer will do anything to bring Mallory's snooping to an end.
Related: 9 Fun and Quirky Whodunits by Female Mystery Authors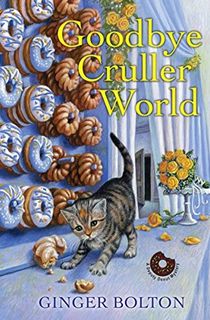 Goodbye Cruller World
Donut shop owner Emily Westhill is excited when a fellow business owner asks her to create a donut wall for her wedding reception. When the big day arrives, she enlists the help of her father-in-law and business partner to help hang the treats. The reception seems to be going off without a hitch, and the donuts are a big hit...until the groom takes a bite and collapses. Suddenly, this wedding has turned into a crime scene.
With suspicion turning towards the bride and her shop's reputation on the line, it's up to Emily to unroll this mystery and find the real killer before any other pastries get poisoned.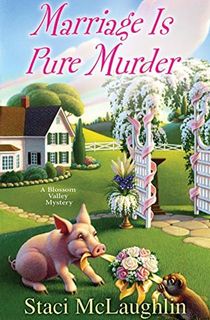 Marriage Is Pure Murder
Dana Lewis could think of no better venue for her upcoming wedding to Jason Forrester than her own job site, the O'Connell Organic Farm and Spa. In addition to her friends from the farm, it seems the whole town of Blossom Valley is pitching in. This includes florist Bethany Lancaster...until Dana discovers her body. When Dana does some digging, she learns her friend had a side business: blackmail.
The suspect list is long, and suspicions are growing faster than the flowers in Bethany's garden. When people start asking questions about Dana herself, she'll have to trade in her veil for a detective's hat before the real killer puts a stop to her happily ever after.
Related: 11 Funny Murder Mystery Books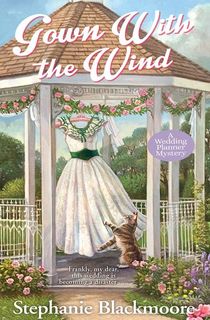 Gown with the Wind
Mallory Shepard is taking on one of her hardest jobs yet when she's hired to plan her ex's wedding. Keith's fiancé Becca has just decided to have the wedding be Gone With the Wind themed as a tribute to her sick grandmother, the owner of a vast array of memorabilia from the film. Mallory is already dealing with the feud between Becca's grandmother and Keith's mother, but Becca complicates things further when she has a spat with a childhood friend over her wedding gown—a replica of Scarlett O'Hara's infamous dress.
After Becca manages to get the dress, it seems like the situation has sorted itself out—until her friend is found dead in Becca's pool. Now, Becca is a murder suspect, and it's up to Mallory to track down the real killer and get the wedding back on track before the whole occasion ends up gone with the wind.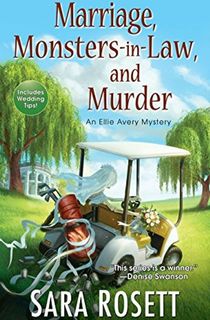 Marriage, Monsters-in-Law, and Murder
Ellie is hardly on vacation when her sister-in-law Summer asks her to help manage a destination wedding on Georgia's barrier islands. The whole thing is a bit of a handful between someone pranking the bride and two feuding mothers-in-law. When the best man shows up with the groom's bitter ex-girlfriend, Ellie assumes she's the prankster, but it's no laughing matter when a dead body turns up.
With the wedding in jeopardy, Ellie takes on the case. Did the high tensions in the wedding party drive someone to murder? Or is Summer the real target? It's a race against time to get the bride down the aisle before anyone else says "I do" to death.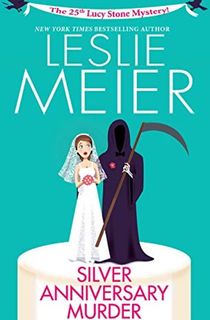 Silver Anniversary Murder
A town-wide silver wedding anniversary celebration has Lucy Stone remembering her own wedding from years ago. She's not sure what she would have done without her maid of honor, Beth Gerard. Although the two lost touch over the years, she still remembers her fondly. But before Lucy can reach out, she learns Beth is dead.
In the middle of finalizing her fourth divorce, some people think Beth committed suicide, but not Lucy. All of her former husbands seem to have an ax to grind, and Lucy has a feeling one of them might have let his anger drive him to murder. Leaving Tinker's Cove, Maine for New York City, Lucy is determined to figure out which bitter ex is the killer, but how far will this murderous man go to keep his secret?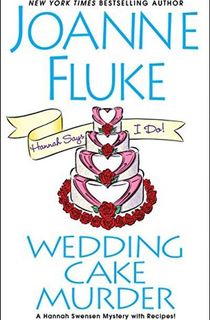 Wedding Cake Murder
Everything is finally going well in Hannah Swensen's life. She's engaged to the man of her dreams, and she's competing on the Food Channel's famous dessert chef contest show—which has just agreed to come film the rest of the season in her hometown of Lake Eden, Minnesota. Now, with the whole town watching, Hannah's sweets will be judged by Alain Duquesne—a chef as famous for his bad attitude as he is for his food.
But before Hannah can face his judgment, Alain is found murdered in the Lake Eden Inn's walk-in cooler. With everything thrown into disarray, it's up to Hannah to discover the truth.
Related: Where to Begin with Bestselling Cozy Mystery Author Joanne Fluke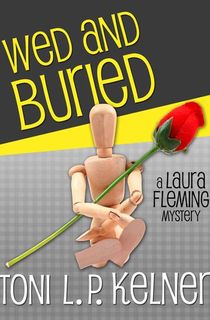 Wed and Buried
Laura Fleming is shocked when she learns that her near-80-year-old Aunt Maggie, a lifelong spinster, has eloped with Big Bill Waters, her hometown of Byerly's wealthiest businessman. Laura, her husband Jason, and their newborn daughter race down south to Byerly to find out just what happened. It turns out someone has been threatening to kill Big Bill, and Aunt Maggie is determined to get to the bottom of it. Lucky for her, Laura's experienced her fair share of mysteries too.
The suspect list is long. It seems Big Bill's business history has made him quite a few enemies over the years, and Aunt Maggie's old beau has just returned to town too. But when innocent people start getting caught up in this violent game, Laura will have to risk everything to expose a killer.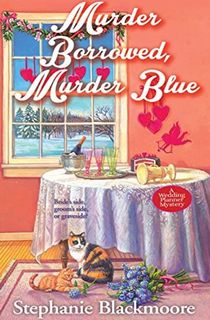 Murder Borrowed, Murder Blue
Mallory Shepard has a huge business opportunity when famous actress Dakota Craig chooses her Pennsylvania B&B as the venue for her upcoming wedding to her musician boyfriend. To make things even better, this star-studded Valentine's Day wedding is going to air on I Do, a popular reality show. But when the maid of honor drops dead, it's up to Mallory to find the killer.
With everyone refusing to postpone the wedding, Mallory has to launch an investigation along with managing preparations for the nuptials. On top of everything, the town gets hit with a foot of snow. But when it seems like the bride is the killer's next target, Mallory will have to race to solve this mystery before this wedding show goes true crime.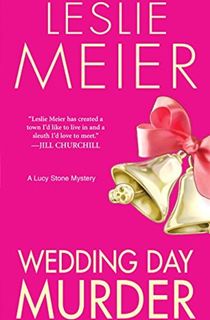 Wedding Day Murder
As a working mother, Lucy Stone has a hectic enough schedule as it is, but she's promised to help her friend arrange a high-profile wedding in town, and she doesn't go back on promises. The groom is internet mogul Ron Davitz, who has already managed to irritate all of Tinker's Cove with his big personality and his giant yacht—which he cleared out nearly every boat in the harbor to dock. But all the planning turns out to have been in vain when Ron's body is found floating in the harbor.
With his long list of enemies, Lucy suspects foul play. Shifting from wedding planning to amateur sleuthing, Lucy investigates her neighbors' grudges—but she may just have put herself in the killer's sights.