March is finally here, and for those of us in the Northern Hemisphere, that means it's time to start thinking about beach reads—whether we'll actually be on a beach for Spring Break or we're just anticipating warmer days. If you're craving a series that will hook you right from the start—and transport you to a thrilling world—look no further than Willow Rose's Eva Rae Thomas Mysteries! And if this series ends up being your latest addiction (spoiler alert: it will), you're in luck! The 10th book in this series of mystery books, Little Did She Know, is set to release on March 9.
The books follow former FBI profiler Eva Rae Thomas as she solves dangerous, high-profile cases in Florida—and tries to rebuild her life following her divorce. In the first book in the series, Don't Lie to Me, Eva Rae has promised her children she'll never do police work again. But when a disturbing murder rocks her hometown of Cocoa Beach, she can't help but get involved. Eva Rae always needs to find the truth, and that's what drives most of her actions throughout the series.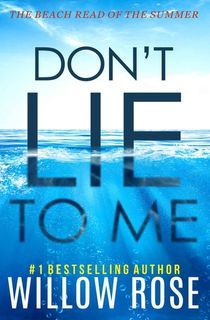 Eva Rae's adventures are always intriguing and dripping with suspense, and the series' latest installment, Little Did She Know, ups the ante. In the book, Eva Rae is brought in by her old employers at the FBI to investigate a case related to Clarissa Smalls, the daughter of one of Eva Rae's old friends. It was every parent's worst nightmare: 14 years ago, soon after Clarissa was born, she was stolen from the hospital—and the kidnapper left behind no evidence. Now, Clarissa has resurfaced, found lost and disoriented in the central Florida swamps.
This should be cause for celebration, but Clarissa has no interest in talking to her family—or, for that matter, telling the police anything about what happened to her. When another baby disappears from the same hospital in the same way, answers from Clarissa become imperative. That's where Eva Rae comes in: Having recently been reunited with her own missing sister after 35 years apart, authorities hope she may be able to connect with Clarissa. But when the truth comes out, Eva Rae will discover this case is far more personal than she could have ever imagined.