One of the world's most popular thriller writers, Jack Higgins—who passed away Saturday, April 9, 2022—gave new meaning to the phrase "overnight success." For 15 years, Higgins churned out hardboiled thrillers under his own name, Henry Patterson, and a variety of pseudonyms. His tales of top-secret missions and daring prison escapes earned the admiration of genre masters such as Alistair MacLean, but didn't sell well enough to allow Higgins to quit his day job as a college lecturer in Leeds.
Encouraged by a former teacher to let his plots develop from his characters rather than the other way around, Higgins tried something new for his 36th novel, The Eagle Has Landed (1975). It shot to the top of bestseller charts and stayed there for months, eventually selling 50 million copies and inspiring a popular Hollywood film starring Michael Caine, Donald Sutherland, and Robert Duvall.

But before Higgins could achieve his breakthrough, he first had to convince his agent that a tale featuring an ex-IRA gunman teaming up with a troop of Nazis to kidnap Winston Churchill could find any readers at all. The irony of that extra hurdle befits a life built on defying expectations. Abandoned by his father at a young age, Higgins spent his early years in his Protestant mother's hometown of Belfast, Northern Ireland, where he remembers cowering on the floor of a tram as gunshots rang out and being told by a Catholic priest that his "black Orange soul" was going straight to hell.
Related: 10 Must-Read Jack Higgins Thrillers

Living under the constant threat of sectarian violence taught Higgins that, in any conflict, both sides have their share of good guys and bad guys. During the same time, he developed a love of literature by reading Oliver Twist and The Christian Herald to his bedridden grandfather.
An indifferent student who recalls being caned by his grammar school headmaster and told that he wouldn't amount to anything, Higgins joined the British Army and was stationed for a time on the East German border. He finished his education at the London School of Economics and taught criminology and social psychology while raising a family and writing novels in his spare time.

The stunning popularity of The Eagle Has Landed and its antihero, Liam Devlin, changed the course of Higgins's life. He bought a mansion on the Isle of Jersey in the English Channel, hung out with Richard Burton, and appeared on the Johnny Carson and Larry King shows. "The Hollywood dream and the Hollywood weirdness all happened," Higgins once The Guardian. "My son thought it was all a load of pretentious rubbish; he was right, but I thought I'd just enjoy it anyway."

One iconic series character would be enough for most authors, but in 1992 Higgins reinvented his career once again with Eye of the Storm, the first novel featuring Sean Dillon. The thespian-turned-IRA-hitman-turned-British-intelligence-agent struck a chord with readers, propelling Higgins back to the top of the bestseller lists. The series has become his longest-running; the 22nd book in the Dillon series, The Midnight Bell, was published in December 2016, seven months shy of Higgins's 88th birthday.
Whether you're discovering this master of espionage for the first time or ready to take a deep dive into his extensive backlist, these 13 riveting Jack Higgins books are a great place to start. On every page, you'll meet characters just as tough, bold, and resilient as their inimitable creator.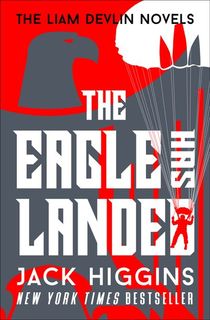 The Eagle Has Landed
IRA operative Liam Devlin wants to see England suffer, even if it means teaming up with the Nazis. So when a German military intelligence officer hatches a plot to kidnap Winston Churchill, Devlin agrees to be the inside man. Leading the mission is elite paratrooper Kurt Steiner, whose sense of honor has run him afoul of SS commanders in the past. But now he has a chance to redeem himself—or die trying. As Steiner and Devlin launch their raid, only a company of U.S. Army Rangers training on the English coast can prevent a devastating blow to the Allied cause.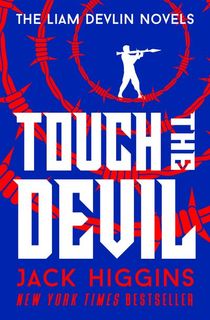 Touch the Devil
It takes a killer to catch a killer. That's the theory behind the decision to send Boston native, IRA assassin, and Vietnam War veteran Martin Brosnan after Frank Barry, an Irish terrorist who freelances in murder and destruction for the KGB. First, however, Brosnan needs to escape from the French prison fortress of Belle Isle. Enter ex IRA-agent Liam Devlin, who stages a daring jailbreak. No sooner is Brosnan a free man, however, than he's in the line of fire—Barry has learned of the plot and is ready to turn the hunter into the hunted.
Related: Splinter the Silence: 11 Gripping Val McDermid Books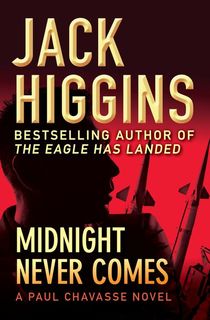 Midnight Never Comes
Gravely wounded during a failed mission in Albania, British spy Paul Chavasse recovers under the tutelage of a Chinese martial arts master. It's not just his physical strength that needs to be rebuilt; Chavasse is also a shell of himself mentally and emotionally. But when the Russians hatch a plot to steal a high-powered missile from the rugged coast of Scotland, Chavasse is the only man for the job. Can he rely on his new skills to see him through this dangerous mission, or will he crack under the pressure? The fate of Europe depends on the answer.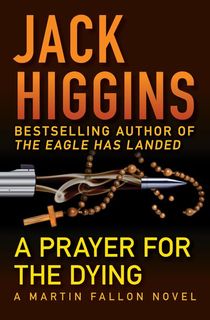 A Prayer for the Dying
After committing a tragic error, Irish revolutionary Martin Fallon is a wanted man—and a loose end for the IRA. Desperate to get out of Great Britain, he accepts a hit job in exchange for a passport and a boat trip to the U.S. But a priest witnesses the assassination and Fallon is ordered to kill him, too. Unable to bear the thought of taking another innocent life, he squares off against London's most vicious gangsters, the Meehan brothers, in a desperate attempt to atone for his sins.
Eye of the Storm
The 1991 mortar attack on 10 Downing Street provided the inspiration for this high-stakes thriller about a plot to assassinate the British prime minister. Hired by an Iraqi billionaire operating on orders from Saddam Hussein, IRA terrorist Sean Dillon first tries to kill Margaret Thatcher in France; when that fails, he plots to blow away her successor, John Major, along with the entire War Cabinet. Two of Higgins's other iconic IRA gunmen—Martin Brosnan and Liam Devlin—join in on the pulse-pounding, nerve-jangling fun.
Thunder Point
A scuba diver has made a bombshell discovery in the wreck of Martin Bormann's submarine: A watertight briefcase lies on the bottom of the ocean floor, filled with lists of high-level Nazi sympathizers in the UK and the U.S. When the diver dies before revealing the location of the wreckage, British intelligence recruits IRA hitman and expert diver Sean Dillon, currently awaiting death by firing squad in Yugoslavia. Offered a clean slate, Dillon flies to the Caribbean and enters a deadly game of cat-and-mouse with a Cuban drug smuggler and a British blueblood who will do anything to ensure that their families' secrets remain submerged.
The President's Daughter
An American president's secret love child becomes a pawn in a deadly game in this hair-raising adventure. President Jake Cazalet has never met his daughter, a child born out of an affair with a Frenchwoman in Vietnam many years ago. But now his only child is in mortal danger. A terrorist group has kidnapped her, and if Cazalet doesn't agree to a merciless bombing campaign on Israel's enemies, the young woman will die. Can ex-IRA gunman Sean Dillon, with the help of White House security agent Blake Johnson, find and rescue her before America declares war on the Middle East?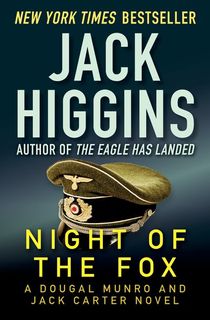 Night of the Fox
To retake Europe, the Allies must catch the Germans by complete surprise. So when a wounded U.S. Army engineer with knowledge of the Allies' military strategy, including the plans for D-Day, washes up on the coast of the Nazi-occupied island of Jersey, he has to be rescued—or eliminated—before he's caught and interrogated. The mission falls to Harry Martineau, an Oxford professor and elite secret agent who must outwit the local Gestapo—and Field Marshal Erwin Rommel—to save the American and keep hopes alive for a Europe free of Nazi rule.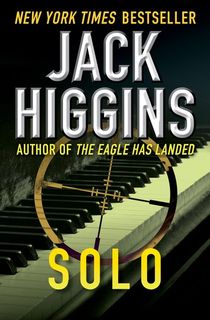 Solo
Most concert pianists didn't serve in the Foreign Legion, and most elite assassins aren't famous musicians. But the rules don't apply to John Mikali, who travels the world giving concerts and killing people on behalf of the KGB and other shadowy figures. When Mikali fatally injures an innocent young woman while fleeing the scene of a hit, he makes an enemy who's nearly as practiced at killing people as he is. A lethal member of the British SAS, Col. Asa Morgan will go to the ends of the earth to find Mikali and avenge his daughter's death.
Related: 8 Eric Van Lustbader Books That Will Delight Any Conspiracy Theorist
Cold Harbour
In the weeks leading up to D-Day, every scrap of information matters. So when Allied intelligence learns that the Nazi high command will be meeting at a French chateau to discuss the Atlantic Wall defense, a daring plan is hatched. Things quickly take a turn for the worse, however, when a French Resistance agent inside the chateau must be replaced at the last minute by her identical twin sister. To smuggle the woman behind enemy lines and gain a crucial advantage over the Germans, American OSS agent Craig Osbourne joins forces with an elite Royal Navy crew on a top-secret mission in the English Channel.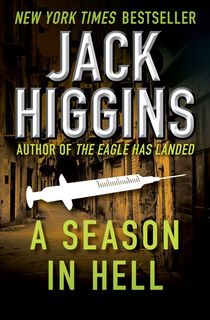 A Season in Hell
Wall Street lawyer Sarah Talbot and British special forces soldier Sean Egan are on a mission of vengeance in this gritty tale of the international heroin trade. A drug ring headed by the mysterious "Mr. Smith" is behind the deaths of Talbot's stepson and Egan's foster sister. On the hunt for Mr. Smith, Talbot and Egan get caught up in a Mafia feud in Italy and sectarian violence in Ireland, while trying to stay one step ahead of the coldblooded assassin Jago, who's systematically killing key witnesses before they can talk.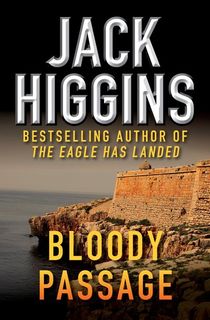 Bloody Passage
Jack Oliver has done plenty of things he isn't proud of, but the Vietnam War veteran and military intelligence officer draws the line at working for Mafia kingpin Dimitri Stavrou—until Stavrou kidnaps his beloved sister, Hannah. To free her, Oliver will first have to break Stavrou's stepson out of an impenetrable Libyan prison. It's a suicide mission, but Oliver's been on plenty of those before. This time, however, he holds an innocent life in his hands.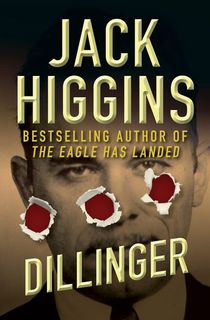 Dillinger
Higgins takes a thrilling trip into American criminal history in this reimagining of the final months of outlaw John Dillinger's life. After breaking out of an Indiana prison, Dillinger flees to Mexico, where he's recruited by a local crime boss to work security at a nearby gold mine. But the mine runs on slave labor, and Dillinger refuses the offer, even though it means signing his own death warrant. Hunted by corrupt local cops, Mexican bandits, and the FBI, Dillinger prepares to make another great escape—or go down in a blaze of glory.
This post is sponsored by Open Road Media. Thank you for supporting our partners, who make it possible for Murder & Mayhem to continue publishing the mystery stories you love.
Featured photo: Alchetron