As the nights grow longer and colder, now is the perfect time to pick up a new mystery series to follow you through this fall season. With so many great authors and impeccable stories to choose from, it may be overwhelming to figure out which one will be perfect to settle in with. Don't worry, we've got you covered. After digging through our expansive list of book bundles, we've narrowed it down to 15 of the most enthralling mysteries that will keep your attention from beginning to end.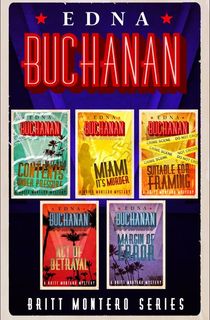 Britt Montero Series
Edna Buchanan's Britt Montero Series follows the titular Miami, Florida detective as she investigates an array of crimes. Beginning with the death of an ex-football star in Contents Under Pressure, Montero is faced with murders that relate to the city she calls home. There is never a dull moment in the Britt Montero Series, as each installment adds an extra layer of mystery to Miami and the detective. This collection of mysteries is ideal for the fan who wants to escape the cold with sweltering stories that only get hotter with each case.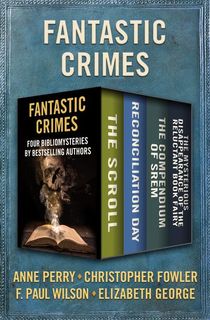 Fantastic Crimes
If you can't decide between one specific author or set of mysteries, look no further. The Fantastic Crimes collection includes four books by Anne Perry, Christopher Fowler, F. Paul Wilson, and Elizabeth George that feature their own unique story. With exhilarating tales of conspiracies, vampires, and more, they are sure to captivate you for the entirety of fall and become the highlight of your reading list for Halloween 2020.
Related: 14 Suspenseful Halloween Books That'll Keep You Guessing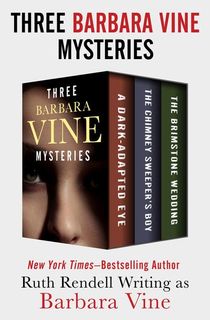 Three Barbara Vine Mysteries
Ruth Rendell is an irrefutable legend in the mystery genre and this collection of three mysteries, published under the name Barbara Vine, are proof. It includes A Dark-Adapted Eye, The Chimney Sweeper's Boy, and The Brimstone Wedding that range from stories of infidelity all the way to dark family secrets. As you'll discover, each story features its own blend of mystery with another genre, such as thriller and romance. These three Barbara Vine Mysteries are perfect for the reader who enjoys variety and is ready for a new love affair with the writing of Ruth Rendell.
Related: 13 Thrilling New Releases by Female Mystery Authors That You Need to Read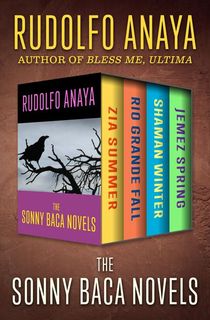 The Sonny Baca Novels
Rudolfo Anaya's Sonny Baca Novels tell the story of the titular detective as he navigates the southwestern landscape of America and unexpectedly stumbles upon brutal murders he is determined to solve. With intense amounts of suspense and a wealth of mysterious twists and turns, this series is perfect for the fan who is looking for variation in their reading. As you settle in for the fall, Sonny Baca's investigations will keep your attention with unexpected dangers that include nuclear threats and the disappearance of a political leader's daughter.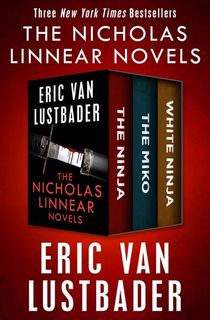 The Nicholas Linnear Novels
Nicholas Linnear has been trained in martial arts and was born with the natural talent needed to catch a killer. In Eric Van Lustbader's Nicholas Linnear novels, the detective uses his skills and knowledge of Japanese culture and history to bring criminals to justice. This series is filled with as much action as it is mystery, and is sure to appeal to fans of both genres.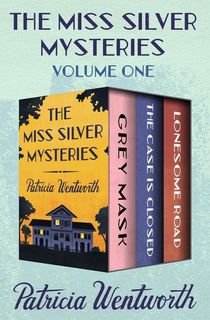 The Miss Silver Mysteries Volume One
Patricia Wentworth artfully crafts the story of a governess turned investigator in the Miss Silver Mysteries. This introduction to the expansive series is the ideal place to start for anyone who enjoys an independent detective who successfully uncovers various crimes. And the series is perfect for those who enjoy a multifaceted protagonist and the timeless writing of Agatha Christie. Patricia Wentworth's Miss Silver Mysteries Volume One will captivate you with the remarkably skilled detective all fall.
Related: 11 Authors Like Agatha Christie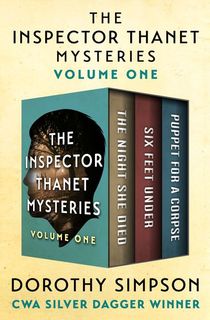 The Inspector Thanet Mysteries Volume One
Dorothy Simpson's Inspector Thanet Mysteries features a detective who investigates women who may be killers. With nothing as it appears to be, detective Luke Thanet must have an eye for detail and hold a magnifying glass to everyone he encounters. With each step forward, it seems as though he may be moving a few steps back, but these bumps in the investigation actually draw him closer to the culprit. No matter the challenge, he always cracks the case but the twists that take him there will keep you hooked for the entire series.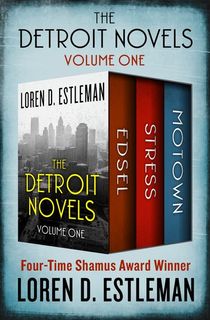 The Detroit Novels Volume One
Loren D. Estleman's Detroit Novels are set in the Motor City during various decades. They include significant moments in the Michigan city's history and investigators that will stop at nothing to see justice prevail. As racial tensions grow in the city of Detroit, each protagonist utilizes their impeccable skills to solve their case. If you enjoy a mystery that is expertly crafted around true events with remarkable characters, Loren D. Estleman's Detroit Novels Volume One is the perfect set for you.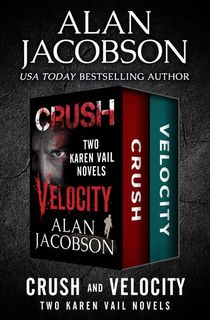 Crush and Velocity
FBI profiler Karen Vail's story is told in its entirety in Alan Jacobson's Crush and Velocity. Set on the West Coast, it follows the crimes of the Crush Killer and Vail's investigation into the heinous murders. Despite believing she's closed the case, there may be more to the story than she initially thought. With an intensely thrilling story, this set will enthrall any reader with its captivating mysteries and intriguing characters.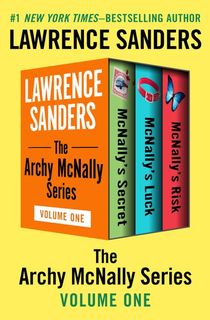 The Archy McNally Series Volume One
Lawrence Sanders's Archy McNally Series features a part-time detective who doesn't seem to take his job too seriously–until he is thrust into a world of crime, corruption, and family secrets. As McNally continues to delve deeper into his career as an investigator, the mysteries pile up around him and it is his duty to solve them. He's the playboy type who enjoys the thrill of the chase, whether its women or criminals.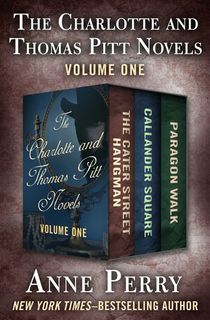 The Charlotte and Thomas Pitt Novels Volume One
If you've ever debated starting Anne Perry's The Charlotte and Thomas Pitt Novels, now is the perfect time to pick up the first volume with this book bundle. The series follows a Victorian era couple who solve murders, all while falling in love and starting a family. They are incredibly dedicated to their jobs no matter what obstacle may stand in their way. As murders pile up under bizarre circumstances, Charlotte and Thomas find themselves uncovering family secrets and corruption.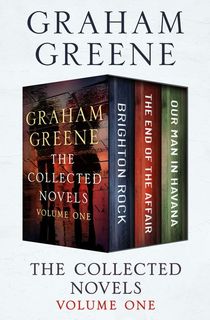 The Collected Novels Volume One
Graham Greene is known for his impeccable writing and beautifully crafted stories. In the first volume of his collected novels, you'll find his most astounding mysteries that feature the coverup of a murder, assassins, and an affair. It is the perfect season to explore the world of Graham Greene and his storytelling genius with this collection that includes Brighton Rock, The End of an Affair, and Our Man in Havana.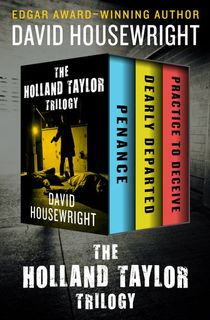 The Holland Taylor Trilogy
David Housewright's Holland Taylor Trilogy is the ideal set for anyone looking to read about a seasoned investigator who knows how to solve even the most challenging of crimes. Despite running into difficulties and false accusations along the way, Holland Taylor finds a way to ensure the real culprit is captured. This series will pull you in with the first page and keep you hooked from beginning to end.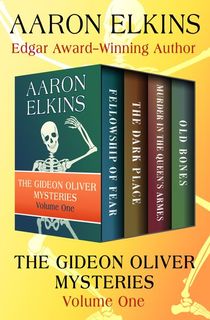 The Gideon Oliver Mysteries Volume One
If you're looking to explore the world of murder mysteries or are a longtime fan of the sub-genre, Aaron Elkins' The Gideon Oliver Mysteries Volume One is your perfect match. The four novels follow Professor Gideon Oliver as he comes face to face with murders, inexplicable skeletal remains, and even cryptids. With a brilliant mind and an eye for detail, he quickly turns from teacher to detective–and a successful one at that. There is no better way to enjoy the haunting atmosphere of the fall season than with Elkins' authorship on a detective who faces otherworldly monsters, as well as murders.
Related: 14 Murder Mystery Books You Won't Be Able to Put Down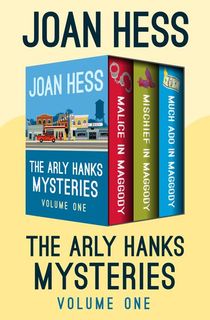 The Arly Hanks Mysteries Volume One
From author Joan Hess, the first volume of the Arly Hanks Mysteries features the titular character as she encounters a new life of investigative work as Maggody, Arkansas's chief of police. The once quiet town becomes the landscape for numerous murders and missing persons reports. With the remarkable ability to put two and two together, Arly Hanks is the only person who can solve the mysteries of Maggody. If you're a fan of the mysteriously macabre, Joan Hess's the Arly Hanks Mysteries Volume One is the perfect match for you this season.
This post is sponsored by Open Road Media. Thank you for supporting our partners, who make it possible for Murder & Mayhem to continue publishing the mystery stories you love.
Featured photo: Gabrielle Dickson / Unsplash