A new year means there's a whole new set of reads to look forward to—and luckily, today's thriller writers are more than happy to oblige. If your "To-Be-Read" pile is a little lacking at the moment (or if you simply can't resist adding just one. more. book.), take a look at the list of recommendations below. From a chilling Tana French-esque novel about a decades-old mystery to an irreverent marriage tale along the lines of Mr. and Mrs. Smith, the following new and upcoming thriller books are destined to become the most talked-about reads of 2019.
She Lies in Wait
Kicking off a year full of exciting new thrillers is an equally exciting new voice in crime fiction: Gytha Lodge's debut introduces us to Detective Chief Inspector Jonah Sheens, whose latest case hits closer to home than most. The 30-year-old corpse of Aurora Jackson—a girl Sheens knew as a rookie cop and who has become a fixture of local legend—has just been discovered in a secret hiding place in Southhampton. The key to understanding the circumstances of her death lies in the group of teenagers, now grown adults, who last saw her alive. It's up to Sheens to unite the band of old friends, unearth the secrets they've kept hidden, and piece together the events of the fateful summer night Aurora took her final breath. But with an investigation this personal, the findings have the potential to resurface painful memories best left undisturbed…With echoes of Tana French's Dublin Murder Squad series, She Lies in Wait is an atmospheric thriller from an author whose name you ought to know.
Publication Date: January 8, 2019
Related: Coming to a TV Screen Near You: Tana French's Dublin Murder Squad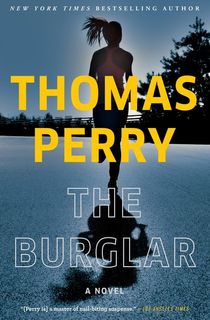 The Burglar
Twenty-something Elle Stowell has a skill set you wouldn't want to put on your resume. A professional cat burglar, she supports herself by breaking into the most impressive homes of Bel Air, where she snatches valuable items before pawning them off for big money. But a usual night of crime takes a frightening turn when, upon entering an art dealer's mansion, she stumbles across a bloody scene. Now a witness to a triple murder, she finds herself in danger of far more than possible prison time—someone out there wants to rob her of her life. Can Elle's familiarity with crime help her solve this one before she, in an ironic twist of fate, becomes a victim herself?
Publication Date: January 8, 2019
House Arrest
Lawson's D.C. "fixer" hero, Joe DeMarco, is back for a 13th installment that finds him in an uncomfortable position. Though he's no stranger to crime—after all, he often bends the law in the name of justice—he's now accused of murdering Lyle Canton, the House Majority Whip. Unable to prove his innocence from a prison cell, he enlists the help of Emma, a friend and one-time agent, to find the real culprit and free him of his chains. It's a search that uncovers old ties and bad blood between the victim and well-known billionaire Sebastian Spear, who blames Canton for the fatal car crash that killed his wife. To Emma, it's obvious that more than one person has the facts wrong—but it'll take all of her ingenuity to convince the FBI to switch their attentions from DeMarco to Spear.
Publication Date: February 5, 2019
Related: 10 Hard-Boiled Crime Novels for George Pelecanos Fans
The Silent Patient
Already bound for the big screen, this debut psychological thriller is generating lots of buzz for having "one of the most shocking, mind-blowing twists in recent memory" (Blake Crouch, New York Times-bestselling author of Dark Matter). Criminal psychotherapist Theo Faber is at the center of Michaelides' tale, and he's finally scored the assignment of a lifetime—former painter and alleged killer Alicia Berenson, who has remained tight-lipped about the night she was found covered in her husband's blood. But why would a woman who had everything tear it all apart with a single act of violence? And how can Theo get her to talk after so many years of stubborn silence? Answering these questions won't be easy—but Alicia's self-portrait, inspired by a tragic Greek heroine, may prove vital to Theo's case.
Publication Date: February 5, 2019
The Hiding Place
C.J. Tudor follows up The Chalk Man with another gripping thriller about a young man's return to his hometown. Teacher Joe Thorne may have come back to Arnhill to get a job—something he desperately needs if he hopes to stay afloat—but his old stomping grounds also hold the answers to an incident he's never been able to forget. His sister disappeared years ago, and while she eventually returned just a few days later, she was never the same again. It's a peculiar phenomenon that seems to be repeating itself in the present day, further increasing Joe's determination to understand the mysteries of Arnhill and how they relate to the traumas of his own past. His investigation places him in the path of old friends (who aren't so friendly anymore), old enemies (who still hold grudges), and an old mining tragedy that took the lives of 18 men in the 1940s—all propelling him towards shocking truths about himself, his sister, and the place he once called home.
Publication Date: February 5, 2019
The Wolf and the Watchman
If you're missing The Alienist or are drawn to historical thrillers, look no further than Niklas Natt och Dag's The Wolf and the Watchman. Set in 1793 Stockholm, it follows the unique partnership between war veteran Mickel Cardell and detective Cecil Winge as they try to put a name to a dredged-up corpse. There's just one problem: the body has no eyes, arms, or legs—so assigning an identity isn't a straightforward task. Meanwhile, other characters have their own set of crime-related problems—farmer boy Kristofer realizes city life isn't all fun and games while scandal forces Anna-Stina into a dangerous work environment—which eventually intersect with Mickel and Cecil's investigation. Altogether, these narratives paint a harrowing portrait of 18th-century Sweden as Mickel, Cecil, Kristofer, and Anna-Stina do whatever they can to survive in their treacherous world.
Publication Date: March 5, 2019
My Lovely Wife
Millicent and Tobias are living the American Dream—they have healthy relationships with their two beautiful children, a gorgeous Florida home, and steady careers as a real estate agent and tennis pro. But to keep the passion alive and their spirits high, the pair engage in some...offbeat extracurricular activities. As debut author Samantha Downing quickly reveals, Millicent and Tobias are actually code names—a necessary measure of precaution, given they're a prolific killing team. Part Dexter, part Mr. and Mrs. Smith, this is a "knock out...effortless page turner" about a husband and wife who believe that the couple who slays together, stays together (Publishers Weekly).
Publication Date: March 26, 2019
Little Darlings
On the night she gives birth to twin boys, Lauren Tranter is consumed by the anxieties of being new mother. But when she sees a creepy woman try to replace her sons with otherworldly "creatures," she's assaulted by a terror few ever come to know. With no support from the police or her husband—all of whom believe the vision was a product of her postpartum exhaustion—it's up to Lauren to protect her children from a danger even she doesn't fully understand. But when baby Morgan and Riley are stolen and swapped for changelings at the park one day, Lauren must rely upon a compassionate detective to uncover the truth and bring her real children back home. Little Darlings is a dark exploration of the pressures and challenges of motherhood, all encased in a twisty package that will resonate with fans of supernatural mysteries and thrillers.
Publication Date: April 30, 2019
Lock Every Door
When her employers give her a strict set of rules, apartment sitter Jules Larsen is more than happy to obey their orders. Fresh from a bad breakup, she'll doing anything to stay in the comfort of their home at the Bartholomew—one of Manhattan's most coveted addresses. But beneath the building's beautiful exterior is an ugly history that rears its angry head not long after Jules moves in. Her new friend and neighbor, Ingrid, has vanished without a trace—leaving Jules with no choice but to go back on her word and try to uncover what happened. Lock Every Door will have you locking your doors as Jules digs into the Bartholomew's gruesome past to ensure that she and Ingrid can have futures outside of its walls...
Publication Date: July 2, 2019
This post is sponsored by Penguin Random House. Thank you for supporting our partners, who make it possible for Murder & Mayhem to continue publishing the mystery stories you love.