With this week's release of Blade Runner 2049, we've been thinking about sci-fi noir—where the sheen of science fiction merges with the dark depths of noir to produce one killer genre. The original Blade Runner film is perhaps the best-known example of sci-fi noir, but the genre was born in fiction.
If you walk out of Blade Runner 2049 craving more like it, these sci-fi noir picks will hit the spot, from classics to contemporary visions.
The Caves of Steel (Robot series)
The Caves of Steel is the first novel in the Robot series. For the unforgettable "Three Laws of Robotics", you'll need to check out the short story collection, I, Robot. But for a game-changing science fiction noir, try The Caves of Steel. Asimov viewed science fiction as an adaptable genre, one that could combine with other genres, such as a detective story. The author's forward-thinking views contributed to the flourishing universe of sci-fi subgenres we have today.
The Demolished Man
This 1953 novel won the very first Hugo Award. When wealthy Ben Reich murders rival Craye D'Courtney, Class 1 Esper Lincoln Powell must find evidence of the crime. Despite his ability to read minds—all Espers can sense thoughts and emotions—Powell struggles to capture the desperate Reich.
Do Androids Dream of Electric Sheep
The genesis of Blade Runner itself, Do Androids Dream of Electric Sheep is often overshadowed by its adaptation. However, readers will be surprised by the depths contained in this slim novel. Do Androids Dream of Electric Sheep isn't just the story of a bounty hunter tracking down replicants—it's also about his family, the changes wrought on the environment, and religion.
Neuromancer
Harry Case was once a talented hacker. Caught stealing from his own employer, Case's punishment was expulsion from cyberspace (a term Gibson coined and popularized). When he is approached by former military officer Armitage to assist in taking down a drug lord, Case and his romantic interest, Molly, feel that something is off in the man's story. As they investigate Armitage's background, Case begins to realize that he's become part of something much, much bigger than he anticipated.
Dover Beach
This sci-fi noir also includes elements of dystopian fiction. Dr. Charles Winfield hires Wally Sands as a private investigator. But Winfield wants something else from Sands—he believes that he is the clone of a biochemist who was involved in the "limited" nuclear war that has demolished America, and he wants Sands to find his original.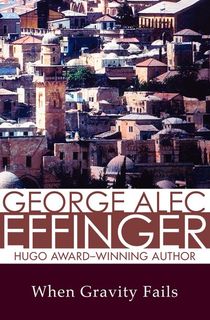 When Gravity Fails
The first in the Marîd Aurdran series, When Gravity Fails follows Marîd, a young hustler who claims to be fiercely independent from the rest of society. He's refused to have his brain wired, which allows others to quickly learn languages, talents, skills and change personalities. When a number of murders panic the city, a 200-year-old mafia leader, Friedlander Bey, commissions Marîd to try to discover the real killers. Drugs, sex, and darkness abound in this visionary series.
Ghost in the Shell
If all you know of this manga is the Scarlett Johansson film, forget everything and get reading. Major Motoko is a cyborg public security officer. While investigating the crimes of the mysterious "Puppet Master", Motoko begins to learn more about the origins of cyborgs—and her own past.
Gun, with Occasional Music
In this madcap sci-fi noir, technology has allowed children and animals to be "evolved"—animals can speak and think, and children are often more intelligent and mature than their parents. Down and out P.I. Conrad Metcalf has been hired to prove the innocence of Orton Angwine in the murder of a doctor. He soon realizes that no one in town wants this case solved—especially not Joey Castle, a ruthless kangaroo employed by the local mafia.
Tea from an Empty Cup
This novel features two intertwined story lines, caught up in Artificial Reality. When a young man dies in an AR parlor, detective Dore Konstantin quickly realizes that alternative reality has begun impacting real lives. Meanwhile, a young woman named Yuki is desperately seeking her boyfriend Tom, whom she believes has been sucked into an underground AR circle lead by Joy Flower. Both women must enter the AR world to solve the mysteries that confound them.
Chasm City
Tanner Mirabel has been sent to Chasm City to investigate and avenge the death of a client's wife. When he arrives, he finds that this city, previously the site of the most advanced civilization, is in chaos after the arrival of the Melding Plague. As he pursues the murderer, Mirabel begins to experience the horrific side effects of the plague, seeing visions of crimes of another man's life.
Altered Carbon
In this advanced society, human personalities are saved and uploaded to new bodies, allowing immortality for the very wealthy. Takeshi Kovacs is hired to investigate one man's apparent suicide after his personality is uploaded to a new body. The man, Laurens Bancroft, has no memories of 48 hours before his death, leading him to believe that he was murdered. Kovacs must solve this mystery—and death won't get in his way. A Netflix series of the novel is coming in 2018.
KOP
The first in the Juno Mozambe series, KOP follows Mozambe, a dirty cop whose conscience is beginning to itch. Mozambe lives on Legarto, a colonized planet whose chief export is being undercut by an Earth-based company. When Mozambe tries to expose the secrets of the crime syndicate that's been paying his bills, everything comes crashing down on him.
The Automatic Detective
Mack Megaton is a robot and aspiring private investigator. When his neighbors go missing, Mack decides to take on the case. This darkly funny sci-fi noir will appeal to fans of Raymond Chandler and Dashiell Hammett.
Limit
This German blockbuster of a novel melds together two storylines to create a modern masterpiece. Julian Orley has discovered how to make space travel accessible to all, but first must impress elite investors. Once the investors are in Orley's space hotel, he realizes that someone doesn't want the moon in his hands—they have a much more nefarious plan for it. Meanwhile, investigator Owen Jericho is on Earth, looking for a missing person. The investigation quickly becomes much more than Jericho bargained for.
Feature still from "Blade Runner 2049" via Columbia Pictures